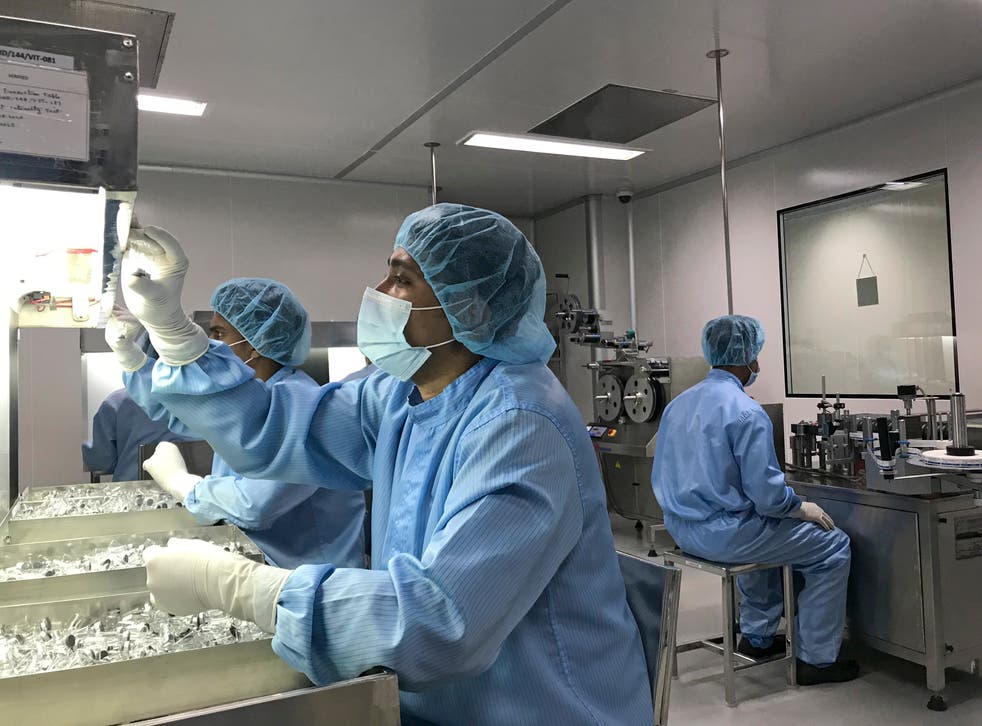 Here are the AP's latest coverage plans, top stories and promotable content. All times EST. For up-to-the minute information on AP's coverage, visit Coverage Plan at https://newsroom.ap.org.
_____________
ONLY ON AP
_____________
VIRUS OUTBREAK—VACCINE KNOW HOW — Across Africa and Southeast Asia, governments and aid groups, as well as the World Health Organization, are increasingly calling on pharmaceutical companies to share their coronavirus vaccine know-how and technology more broadly. They say it's the only way to meet a huge global shortfall in a pandemic that already has claimed nearly 2.5 million lives. The Associated Press found three factories on three continents who say they could make hundreds of millions of doses beginning in weeks. Pharmaceutical companies that took taxpayer money from the U.S. or Europe to develop inoculations at unprecedented speed say they are negotiating contracts and exclusive licensing deals with producers on a case-by-case basis to protect their intellectual property and for safety. By Lori Hinnant and Maria Cheng. SENT: 1,460 words, photos.
_____________
TOP STORIES
_____________
MYANMAR — Police in Myanmar's biggest city have fired volleys of tear gas at defiant crowds who returned to the streets to continue protesting against the military's seizure of power a month ago, despite reports that security forces had killed at least 18 people around the country a day earlier. The protesters in Yangon were chased as they tried to gather at their usual main meeting spot. SENT: 1,090 words, photos. With MYANMAR-REPORTER DETAINED — An Associated Press journalist has been detained by police while covering protests against the military coup in Myanmar. SENT: 400 words. MYANMAR-PHOTO GALLERY — One month in Myanmar under military control.
UNITED STATES-MEXICO -- President Joe Biden is planning a virtual meeting with Mexican President Andrés Manuel López Obrador — a chance for the pair to talk more fully about migration, confronting the coronavirus and cooperating on economic and national security issues. By Josh Boak, Mark Stevenson and Elliot Spagat. SENT: 820 words, photos. Meeting scheduled for 4:30 p.m. EST.
CUOMO SEXUAL HARASSMENT — The crisis enveloping Gov. Andrew Cuomo deepened Sunday as the state's attorney general demanded he grant her the authority to investigate claims he sexually harassed at least two women who worked for him. Top Democrats statewide appeared to be abandoning Cuomo in large numbers as he tried to retain some say over who would investigate his workplace conduct. SENT: 700 words, photo.
VIRUS OUTBREAK — With the floodgates set to open on another round of unemployment aid, states are being hammered with a new wave of fraud as they scramble to update security systems and block scammers who already have siphoned billions of dollars from pandemic-related jobless programs. The fraud is fleecing taxpayers, delaying legitimate payments and turning thousands of Americans into unwitting identity theft victims. Many states have failed to adequately safeguard their systems, and a review by The Associated Press finds that some will not even publicly acknowledge the extent of the problem. By Geoff Mulvihill and Andrew Welsh-Huggins. SENT: 1,220 words, photos.
TRUMP-CONSERVATIVES-FACT CHECK -- Donald Trump clung to his core election falsehoods in his first post-presidential speech, wrongly blamed wind power for the catastrophic power failures in Texas and revived a variety of the baseless claims that saturated his time in office, on immigration, the economy and more. By Hope Yen and Calvin Woodward. SENT: 1,020 words, photos. WITH: TRUMP-CONSERVATIVES. Former President Donald Trump called for GOP unity, even as he exacerbated intraparty divisions by attacking fellow Republicans and promoting lies about the election. By Jill Colvin. SENT: 1,040 words, photos.
GOLDEN GLOBES — "Nomadland" and "Borat Subsequent Moviefilm" took the top film honors at Sunday's Golden Globe Awards, capping a night that featured homebound winners accepting their awards. SENT: 1,350 words, photos. WITH: GOLDEN GLOBES-REVIEW- Tina Fey asked the tough question 10 minutes into the three-hour Golden Globes broadcast Sunday: Could this whole night have been an email? Well, maybe. SENT: 980 words, photos. GOLDEN GLOBE MOMENTS: There were the usual confounding results and general sense of chaos, compounded this year by Zoom fails and some awkward interchanges. SENT: 1,120 words, photos.. GOLDEN GLOBES-SCENE — Glam was back for the Golden Globes virtual, bicoastal awards night as nominees Zoomed in from around the world. SENT: 1,210 words, photos. GOLDEN GLOBES-LIST, GOLDEN GLOBES-BEHIND-THE-SCENES .
_______________________________
WHAT WE'RE TALKING ABOUT
_______________________________
WORLD TRADE ORGANIZATION — The new director-general of the World Trade Organization — the first African and first woman to hold the post — has arrived at its Geneva headquarters for her first day on the job. SENT: 320 words, photos.
SRI LANKA EXORCISM DEATH — Police in Sri Lanka say they have arrested two people in connection with the death of a 9-year-old girl who was repeatedly beaten during a ritual they believed would drive away an evil spirit. SENT: 220 words.
JAPA -POLITICS — The public relations chief for Japan's prime minister has resigned after she acknowledged she had a $700 dinner paid for by a broadcaster. SENT: 290 words, photos.
AUSTRALIA-PLASTIC — An Australian state has become the first in the country to ban some single-used plastic items including drinking straws, stir sticks and cutlery. SENT: 230 words.
FILM-BOX-OFFICE — A not-so-distant recovery for movie theaters could be on the horizon, as Warner Bros.′ live-action-animation hybrid "Tom & Jerry" debuted with $13.7 million in ticket sales, the best domestic opening of the year. SENT: 410 words, photos.
_________________________________
MORE ON THE VIRUS OUTBREAK
_________________________________
VIRUS OUTBREAK-INDIA — India is expanding its coronavirus vaccination drive beyond health care and front-line workers, offering the shots to older people and those with medical conditions that put them at risk. Among the first to receive a vaccine on Monday was Prime Minister Narendra Modi. By Aniruddha Ghosal. SENT: 1060 words, photos.
VIRUS-OUTBREAK-PHILIPPINES — The Philippines has launched a vaccination campaign to contain one of Southeast Asia's worst coronavirus outbreaks. It faces supply problems and public resistance, which it hopes to ease by inoculating top officials. SENT: 660 words, photos.
VIRUS OUTBREAK-GERMANY — Hairdressers across Germany have reopened for business after a 2½-month closure, another cautious step as the country balances a desire to loosen restrictions with concern about the impact of more contagious coronavirus variants. SENT: 400 words, photos.
VIRUS OUTBREAK-ALBANIA TOURISM — Tourism had been flourishing in the UNESCO-protected southern Albanian city of Gjirokastra. Following renovation of the city's center with its traditional 200-300-year-old homes on the slopes below the 13th-century fortress, many residents turned their homes into guesthouses — and welcomed 120,000 tourists in 2019 who came to sample their architectural beauty, hand-made ornaments and tasty cuisine. SENT: 670 words, photos.
________________________
WASHINGTON/POLITICS
________________________
UNITED STATES-CHINA-NUCLEAR -- China appears to be moving faster toward a capability to launch its newer nuclear missiles from underground silos, possibly to improve its ability to respond promptly to a nuclear attack, according to an American expert who analyzed satellite images of recent construction at a missile training area. By National Security Writer Robert Burns. SENT: 900 words, photos.
CONGRESS-ELECTIONS BILL -- As Congress begins debate this week on sweeping voting and ethics legislation, Democrats and Republicans can agree on one thing: If signed into law, it would usher in the biggest overhaul of U.S. elections law in at least a generation. By Brian Slodysko. SENT: 1,000 words, photos.
___________
NATIONAL
___________
OBIT-LOUIS NIX III - Former Notre Dame and NFL player Louis Nix III has died after being missing for several days, but many questions linger about the circumstances of his death. SENT: 380 words, photos.
_________________
INTERNATIONAL
_________________
CENTRAL AFRICAN REPUBLIC-HUMANITARIAN CRISIS — Monique Moukidje fled her home in Central African Republic's town of Bangassou in January when rebels attacked with heavy weapons, the fighting killing more than a dozen people. She is among an estimated 240,000 people displaced in the country since mid-December when rebels calling themselves the Coalition of Patriots for Change launched attacks to disrupt the Dec. 27 elections and then to destabilize the newly-elected government. SENT: 680 words, photos.
AFGHANISTAN-WASTED MONEY — A report released by the U.S. government's Afghanistan watchdog has found that America has wasted billions of dollars in the war-torn country on buildings and vehicles that were either abandoned or destroyed. The agency says that $7.8 billion were reviewed since 2008 on buildings and vehicles, but only $343.2 million worth of property "were maintained in good condition." SENT: 670 words, photos.
PERSIAN GULF-TENSIONS — Israeli Prime Minister Benjamin Netanyahu has accused Iran of attacking an Israeli-owned ship in the Gulf of Oman last week. Netanyahu spoke on Monday to Israeli public broadcaster Kan and said that "it was indeed an act by Iran, that's clear." SENT: 530 words, photos.
HONG KONG-CHINA POLITICS — Hong Kong police have brought 47 pro-democracy activists to court on charges of conspiracy to commit subversion under the national security law imposed on the city by Beijing last year. SENT: 270 words, photos. WITH: EXPLAINING HONG KONG ACTIVISTS ARRESTS — How a primary got Hong Kong activists in trouble. SENT: 530 words, photos.
ARMENIA POLITICS - Political tensions in Armenia further heightened Monday with supporters of the embattled prime minister and the opposition planning massive rival rallies in the capital. Prime Minister Nikol Pashinyan has faced opposition demands to resign since he signed a peace deal in November that ended six weeks of intense fighting with Azerbaijan over the Nagorno-Karabakh region. SENT: 480 words, photos.
FRANCE-SARKOZY — The verdict is expected on Monday in a landmark corruption and influence-peddling trial that has put French former President Nicolas Sarkozy in the spotlight. Prosecutors have requested a two-year prison sentence for him. Sarkozy, who was president from 2007 to 2012, firmly denied any wrongdoing during the 10-day trial. SENT: 750 words, photos.
AUSTRALIA RAPE ALLEGATIONS — Australian Prime Minister Scott Morrison is standing by an unnamed Cabinet minister after an anonymous letter was sent alleging the man had raped a 16-year-old girl more than 30 years ago. SENT: 780 words, photos.
EL SALVADOR-ELECTIONS — People in El Salvador are voting in legislative and mayoral elections that are seen as a referendum on whether to break the congressional deadlock that has tied the hands of upstart populist President Nayib Bukele. SENT: 690 words, photo. UPCOMING: Polls close at 6 p.m. Early results expected late Sunday night.
THAILAND-PROTESTS — A new faction of Thailand's pro-democracy movement has staged a protest march, linking their cause with that of demonstrators in Myanmar battling that neighboring country's coup-installed military government. SENT: 450 words, photos.
___________________
BUSINESS
___________________
FINANCIAL MARKETS — Asian shares have advanced on hopes for President Joe Biden's stimulus package and bargain-hunting after sell offs last week. Benchmarks in Japan, Australia and China rose on Monday. South Korean markets were closed for a national holiday. 540 words, photos.
___________________
ENTERTAINMENT
___________________
TV-OPRAH-MEGAN AND WILLIAM-INTERVIEW — Prince Harry says the process of separating from royal life has been very difficult for him and his wife, Meghan. SENT: 517 words, photo.
________
SPORTS
________
BBO-SPRING TRAINING RETURNS — The sun and the baseball have returned to Arizona and Florida for spring training games, which began on Sunday. So have the fans. All 30 teams in Major League Baseball are allowing fans to return to spring training in a limited capacity amid declining COVID-19 case numbers. SENT: 1,200 words, photos.
___________________
HOW TO REACH US
___________________
At the Nerve Center, Dave Clark can be reached at 800-845-8450 (ext. 1600). For photos, (ext. 1900). For graphics and interactives (ext. 7636). Expanded AP content can be obtained from http://newsroom.ap.org. For access to AP Newsroom and other technical issues, contact apcustomersupport(at)ap.org or call 877-836-9477.