'A search for anything to sell in ancient walls': How Covid sparked a rush of antiquities looting in Turkey
Archaeologist warns that historical sites unattended due to lockdown are being repeatedly ransacked by treasure plunderers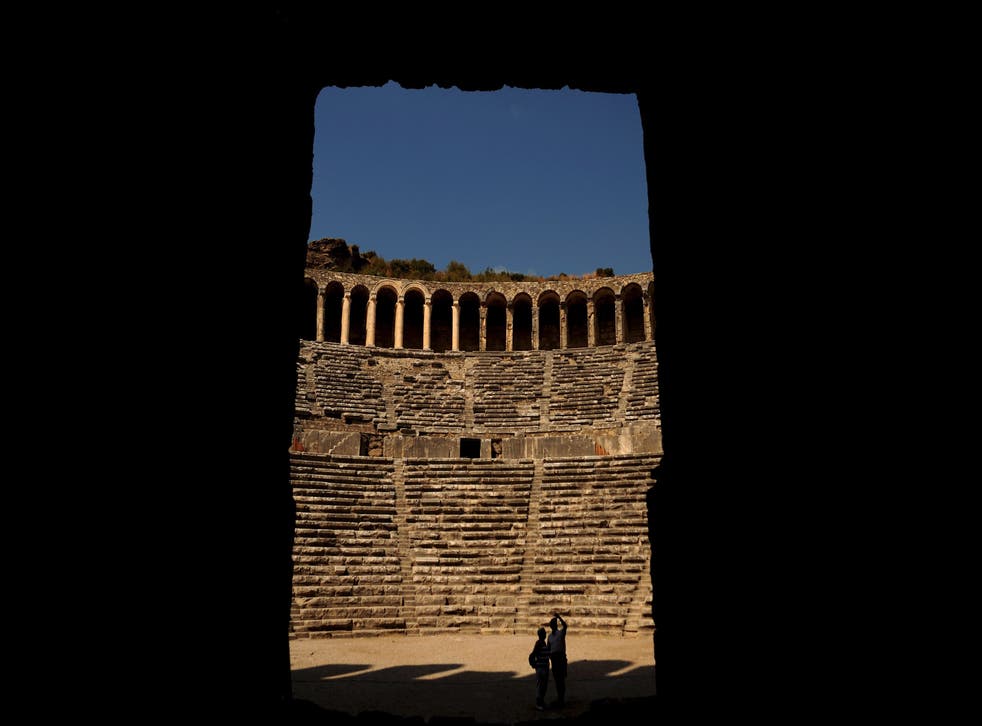 This article first appeared on our partner site, Independent Turkish
Cultural assets, including ancient ruins, are protected sites in Turkey. However, since the Covid-19 pandemic, looters have been taking advantage of the lengthy absence of guards and wardens, causing a rise in treasure hunting escapades and destruction of cultural assets across the country.
Throughout last year, several individuals were captured carrying out illegal excavations in archaeological sites as they tried to find golden historical artefacts in cities like Edirne, Igdir, Kastamonu and others. Some even used tools such as demolition hammers, dynamite and drills in their search for antiquities.
A rising number of historical sites have been destroyed in the past year. The number of individuals illegally accumulating exhumed artefacts in Turkey and abroad has also increased as part of their search for gold or other valuable items.
The 3,200-year-old Hittite Karabel relief, carved on a hill along the Karabel mountain pass in Kemalpasa in west Turkey, and the ancient cemetery in the Ercis district of Van in the southeast, which lasted for more than 5,000 years, are among many other historical sites ransacked.
"One of Turkey's greatest archaeological problems has been the destruction caused by treasure hunting and the smuggling of artefacts abroad. Unattended areas during the pandemic introduced an opportunity for treasure hunters", Nezih Basgelen, the archaeologist and founder of Archaeology and Art Publication, told Independent Turkish.
Explaining that he has on many occasions come across destruction during his work, Mr Basgelen drew attention to how today treasure looters go into sites equipped with generators, demolition hammers, construction machines, special cables and excavators.
Reliefs dating back three or four thousand years, which had remained intact until now, have been looted in the hope by plunderers that "there must be a door or gold behind the object", said Mr Basgelen. He recalls an incident where treasure hunters were caught placing dynamite in the narrow gorge of the Gulek Strait, an ancient passage on the Taurus Mountains between the Mediterranean and Central Anatolia.
"Cultural assets are regularly supervised by authorities, cultural tourism enthusiasts and nature lovers. However, during the lockdown, officials and conscious citizens were away from the field," Mr Basgelen said. "The pandemic left us without formal and informal observers. By the time incidents were reported to law enforcement and resolved, treasure hunters had already been working freely in the field for days without anyone's knowledge."
However, Mr Basgelen believes the increase in treasure hunting is not just owing to those taking advantage of the lockdown to carry out illegal activities. Rather, he argues that Turkey's economic hardship, due to the pandemic, is the leading factor in triggering it.
"In a time of economic difficulty, treasure hunting has become a glimmer of hope for some people. During the pandemic, ill-intentioned people wondered, 'could I find anything to sell in the ancient walls, castles or historical sites'. Some of those facing economic suffering dream of finding a treasure in the mountains and hills. Some people were spending the only money left in their pockets or selling their wife's jewellery to buy metal detectors", added Mr Basgelen.
Covid-19 has taken its toll on deep social injustice in Turkey. According to official figures, around 93 per cent of Turkey's total population lived in cities in 2020, while only 7 per cent lived in small towns and villages.
Mr Basgelen argues that the increasing gap between the urban and rural population in Turkey leads to deepening problems for the latter and, therefore, an increase in treasure hunting.
He called on volunteers to join the Cultural and Natural Heritage Monitoring Platform, a social media page launched in May 2020, to fight antiquity looting in Turkey.
"All cultural assets, stone monuments, tumuli, ancient sites and inscriptions across our country face the threat of treasure hunters and are in danger of destruction. Our cultural heritage, historical artefacts and the country's antiquities inventory, which have survived thousands of years to this day, are being lost one by one, to this type of annihilation", said Mr Basgelen. "As members of society – intellectuals, curators, archaeologists, art historians, architects, conservators and scientists – we have paused all other work to act at once and come together with interested parties and the authorities in order to prevent this destruction."
Stating that protection of cultural assets is the concern of people conscious of this realm, Mr Basgelen emphasised that it is essential to educate Turkish students about the importance of the country's cultural heritage, starting from primary school to colleges and other educational institutions.
He referred to the need for courses that will create passion towards and awareness of historical and environmental values, ancient artefacts and natural beings.
"Conservation training should be given to executives, people in close contact with the public, teachers, imams, as well as those who work in rural areas across the country, such as gendarmerie, and highway, village and forest officials," he said.
Mr Basgelen also stressed the importance of the media's role and emphasised the importance of creating content encouraging the protection of cultural assets on television channels, newspapers and social media.
Drawing attention to the danger of metal detectors being portrayed as symbols of treasure hunting activities in the news, Basgelen warned against press coverage becoming encouraging of the practice.
Translated by Cagatay Koparal. Reviewed by Esra Turk, Tooba Ali and Celine Assaf
Register for free to continue reading
Registration is a free and easy way to support our truly independent journalism
By registering, you will also enjoy limited access to Premium articles, exclusive newsletters, commenting, and virtual events with our leading journalists
Already have an account? sign in
Register for free to continue reading
Registration is a free and easy way to support our truly independent journalism
By registering, you will also enjoy limited access to Premium articles, exclusive newsletters, commenting, and virtual events with our leading journalists
Already have an account? sign in
Join our new commenting forum
Join thought-provoking conversations, follow other Independent readers and see their replies