Armenian protest leader Nikol Pashinyan fails in attempt to become PM
Government now risks war with its own people, says protest leader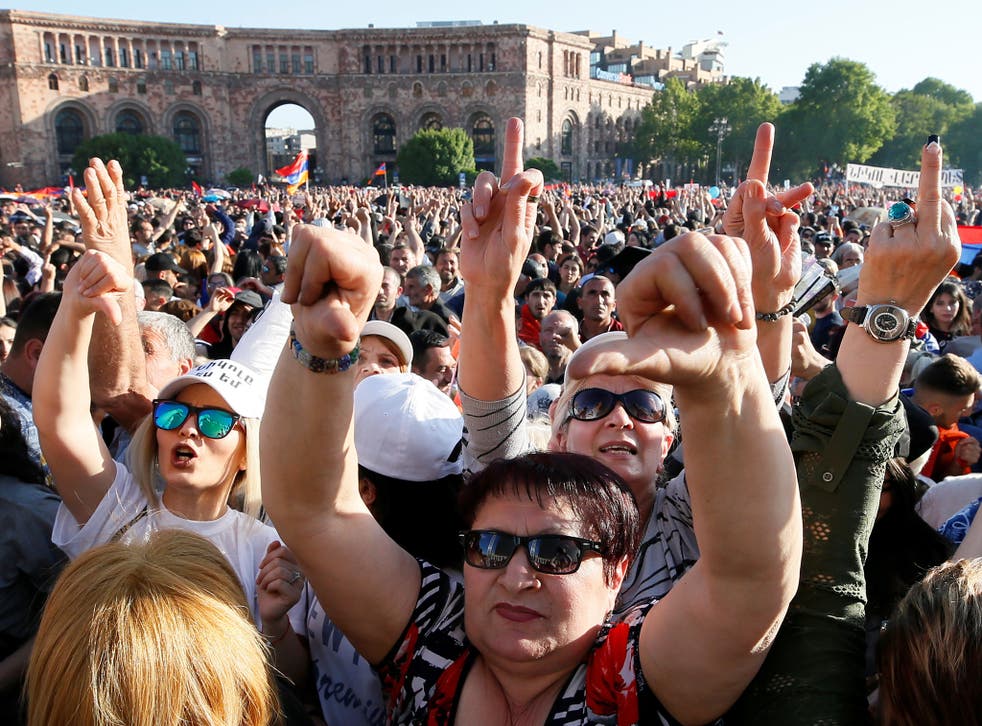 Armenians held their breath on Tuesday, as protest leader Nikol Pashinyan's unsuccessful attempt to become interim prime minister threatened to push the country into a deep political crisis.
With tens of thousands of his supporters rallying outside, Mr Pashinyan was in fact the only candidate under consideration. But while the charismatic former journalist commands the streets, the national parliament remains under the control of supporters of ousted prime minister Serzh Sargsyan.
To get over the finishing line, Mr Pashinyan needed the backing of at least six members of the ruling Republican Party faction. In the eventuality, he got one, losing 55 to 45.
The protest leader said the governing Republican Party now risked war with its own people.
A day earlier, there had been great hopes of a breakthrough, as Mr Pashinyan moved back from a hardline stance of no-negotiation. In an open meeting with the Republican Party in the morning, he talked about "turning the page" and creating an "environment of solidarity".
The leader of the ruling faction, Bagram Bagdasaryan, also hit a positive note, promising his party would not get in the way of voting or quorum.
But by Monday evening, Mr Pashinyan indicated serious disagreements remained. In a Facebook message, he called for Armenians to return to the streets. The Republican Party was preparing to disrupt the vote to try to stay in power, he said.
The tens of thousands of Armenians who answered his call watched proceedings on big screens from Yerevan's main square. It was not always great TV. Some preferred music, dance or alcohol to the marathon eight-hour session.
In parliament, a suited Mr Pashinyan was barely recognisable from the camouflage-wearing rebel who led the protests. Describing Armenia's revolution as "irreversible", he urged members of the ruling party to make a leap to the other side.
"The Armenia you knew and ruled is no longer," he said. "You still have time to redeem yourselves… but if not … [you] will be will be the reason for the tsunami that will result on our country's streets."
World news in pictures

Show all 50
As tempers frayed, loyal deputies turned to attack mode. They questioned the protest leader's credentials – he did not have the experience to cope with healthcare, education or the military, they said.
One said he threatened war with Russia –"there are no threats", replied Mr Pashinyan. Another suggested he was about to return the disputed Nagorno-Karabakh region to Armenia's arch enemy, Azerbaijan – "misinformation", Mr Pashinyan insisted.
When the final vote came through a little before 9pm local time, the crowd outside reacted with disapproval.
Up until now, Pashinyan's movement has not challenged the legitimacy of parliament. This vote now risks a major standoff, as protesters attempt to secure their street victory.
In the space of little over a fortnight, Armenia's peaceful revolution has moved quickly — mobilising broad popular support against Serzh Sargsyan's continued rule, avoiding a violent showdown, and forcing the longtime leader to resign. It has also guaranteed a near-neutral position from Russia, the major strategic player in the region. Moscow has been watching the conflict closely, but has refrained from making a Ukraine-style intervention.
Mr Pashinyan may now need to offer a bigger compromise to the country's elite if it is to make another bloodless step forward. Even if the protest leader is eventually sworn in as prime minister, he still needs victory in snap elections. And that will require major reform in the country's notoriously corrupt election process, still controlled by the governing party and its allies.
Armenia's constitution allows for a second vote in a week's time. If that also fails to produce a result, parliament will be dissolved, and snap elections will be held under the old election rules.
Join our new commenting forum
Join thought-provoking conversations, follow other Independent readers and see their replies