Armenian president says he is 'ready to stand between police and protesters'
 Armen Sarkissian, who helped design Tetris, has played key mediator role in recent upheaval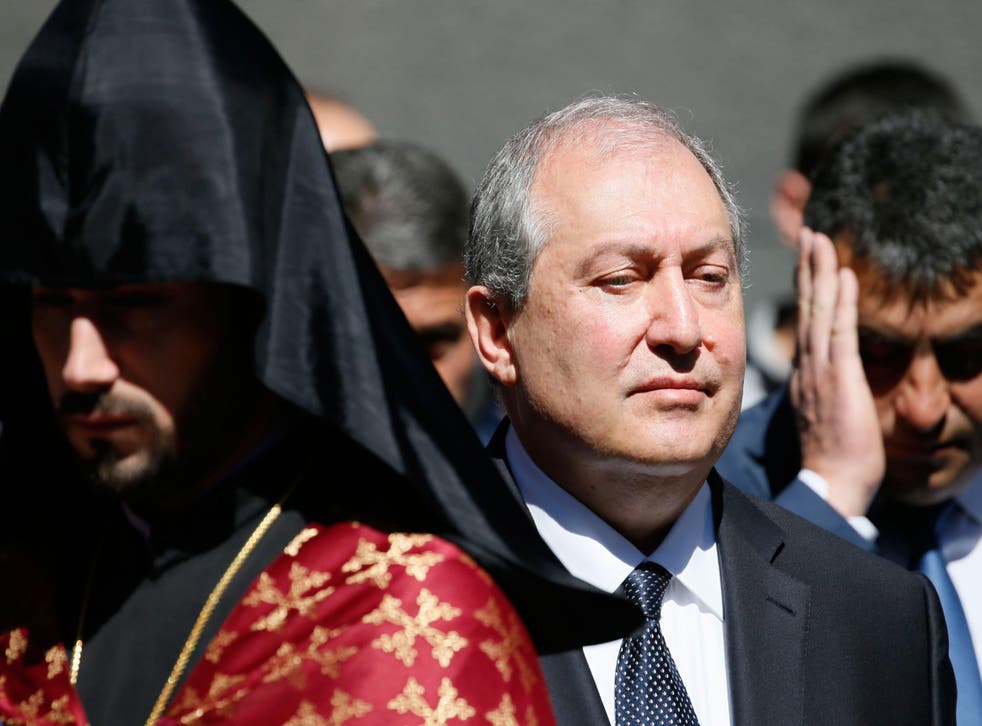 As one of the scientists behind the Tetris computer game, Armenian president Armen Sarkissian says he often reverts to logic models for political guidance. But there was little in his country's dramatic revolution – or "democratic change" as he puts it – that he could have predicted with mathematics.
"Humans are not machines," he tells The Independent. "They are much more complex."
After Armenia transitioned to a parliamentary system of government this year, Mr Sarkissian's office was supposed to have become non-political. The long-time ambassador to London was even nicknamed the "British Queen" on account of his largely ceremonial duties.
But as the standoff between the country's longtime leader Serzh Sargsyan and protest challenger Nikol Pashinyan enraptured a whole country, President Sarkissian was unexpectedly thrust onto centre stage, becoming an important mediator between the opposing factions.
As a second parliamentary vote next Tuesday looks set to approve Pashinyan as prime minister, Armenia looks finally to be walking back from the brink. But the road has not always been easy.
"It was quite hard work bringing the sides together," says Mr Sarkissian. "I did things that are not usually expected of a president, such as going into the crowds. But you couldn't do your job by simply sitting in an office."
The president's 21 April visit to a protest rally in Republic Square was a turning point in the protests.
Footage from the scene of a major protest in Armenia following transport shutdown
Many on the square – Mr Pashinyan included – remained suspicious of the president, still seen as a loose ally of the prime minister.
Some attacked him over his historic British citizenship. But Mr Sarkissian says he enjoyed a "fantastic" experience on the square and describes his relations with the protest leader as "constructive".
As the two men shouted into each other's ears, the president promised to arrange a meeting with Mr Sargsyan for the very next day.
"The one thing I emphasised was that this must be decided by dialogue and within the constitution," he says.
On 22 April, Mr Sargsyan and Mr Pashinyan met, but they failed to reach an agreement. And a few hours later, the situation threatened to get out of control when the protest leader, two fellow MPs and 200 supporters were plucked from a rally by police.
President Sarkissian says this was not a development he welcomed. He says he responded by convened a meeting with Mr Sargsyan and his leading officials the next day. They met in his modest residence in central Yerevan. And there, it seems, Mr Sargsyan's future was decided.
"Confidential meetings will remain confidential, but you can make your judgments from the results," says Mr Sarkissian.
"Straight from the meeting, the deputy prime minister went with a warrant to release the parliamentarians. And a couple of hours later, Prime Minister Serzh Sargsyan resigned."
The 65-year old says he intends to stay on in his role for the foreseeable future, casting himself as the father of a young nation of "survivors".
"We are all learning, and I'm ready to get involved again if things go wrong," he says. "I'm ready to stand between police and protesters if I have to."
World news in pictures

Show all 50
Swept along with mass popular support, Armenia's uprising and the road to Mr Pashinyan's likely premiership have been remarkably bloodless.
But it might not continue thus. The country's old elite still hold a grip over most of the levers of power. Corrupt forces still control the country's electoral systems, which will be crucial in in any snap parliamentary vote. And the decapitated ruling Republican Party is unlikely to miss a chance to strike back at some point in the near future.
Mr Sarkissian hints at the problems that lie ahead for Armenia's revolutionary leadership.
"Mr Pashinyan has shown himself to be a very talented politician, with an acute sense of public opinion," he says.
"But running the government provides a completely a different challenge. He will have to provide answers to all the questions he has asked. And people will have to realise that not everything that went before was black, and not everything will be white tomorrow."
But for the first time in a long time, the president is confident that Armenia is finally heading for less choppier waters.
"The models have become predictable again," he says. "And I'm proud of that."
Join our new commenting forum
Join thought-provoking conversations, follow other Independent readers and see their replies