Armenian prime minister cries 'coup' after army calls for his resignation
Army has accused Nikol Pashinyan of being 'unable to make sound decisions'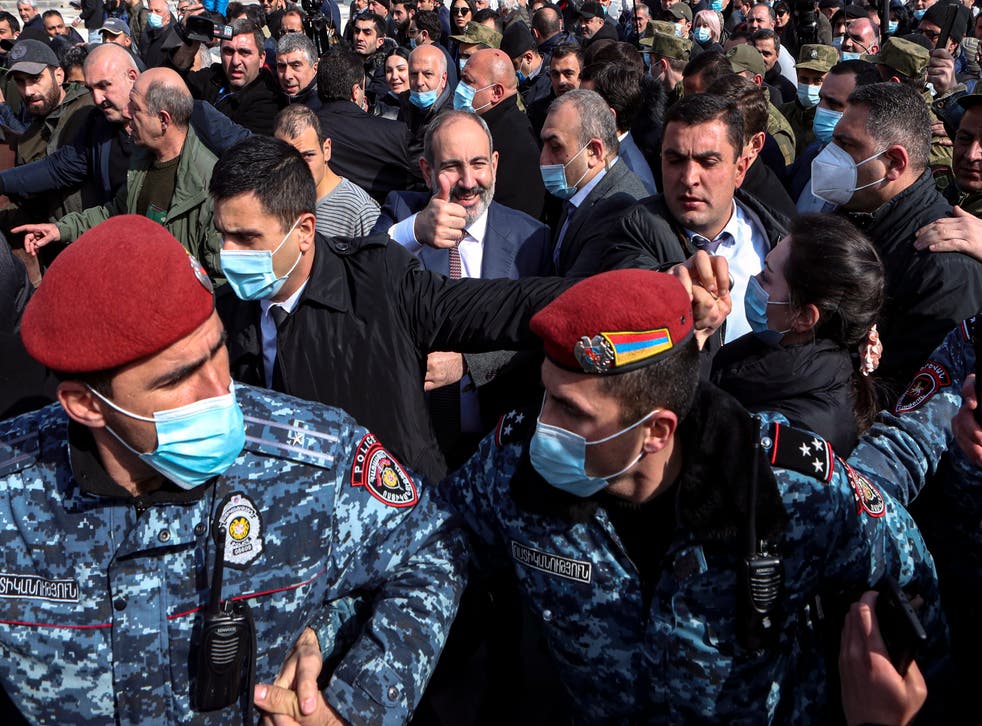 Armenian prime minister Nikol Pashinyan accused military leaders of attempting a coup against him on Thursday – moments after they called for his resignation.
A statement from the General Staff, signed by 40 top soldiers, said the embattled head of state and his government had proven "unable to make sound decisions" at a critical moment for the country.
"The army will always be with the people, as the people with the army," the text read.
Mr Pashinyan has shown no signs of accepting the ultimatum. On Thursday morning, he called on soldiers to stay loyal, and avoid "unacceptable" politicisation. He then signed an order for the dismissal of the head of the General Staff, Onik Gasparyan.
The under-fire prime minister also summoned supporters and police forces to the centre of the capital in what may yet turn into a dangerous standoff.
The trigger for the move by the army appears to be the sacking of one of Mr Gasparyan's deputies, after comments appearing to undermine the prime minister.
They came at a sensitive time for Mr Pashinyan, who is under intense local scrutiny following Armenia's poor military showing in the recent conflict with Azerbaijan over the disputed region of Nagorno-Karabakh.
In a settlement brokered in November by Russia, Yerevan was forced to cede all but a small corridor of territory to its arch-enemy. It was only saved from a more comprehensive defeat by the willingness of Moscow to intervene – and place thousands of its peacekeepers in and around the territory.
At the time, Mr Pashinyan said he had decided to sign the humiliating settlement only following "a deep analysis of the military situation".
"It's not victory, but there's no defeat," he said.
Hundreds of protesters disagreed, breaking into the government budding and ripping his nameplate off his office door. "Where's Nikol, where's the traitor?" they shouted.
Join our new commenting forum
Join thought-provoking conversations, follow other Independent readers and see their replies