Armin Meiwes: Interview with a Cannibal documentary sheds new light on one of Germany's most infamous murderers
'The flesh tastes like pork but stronger,' killer explains.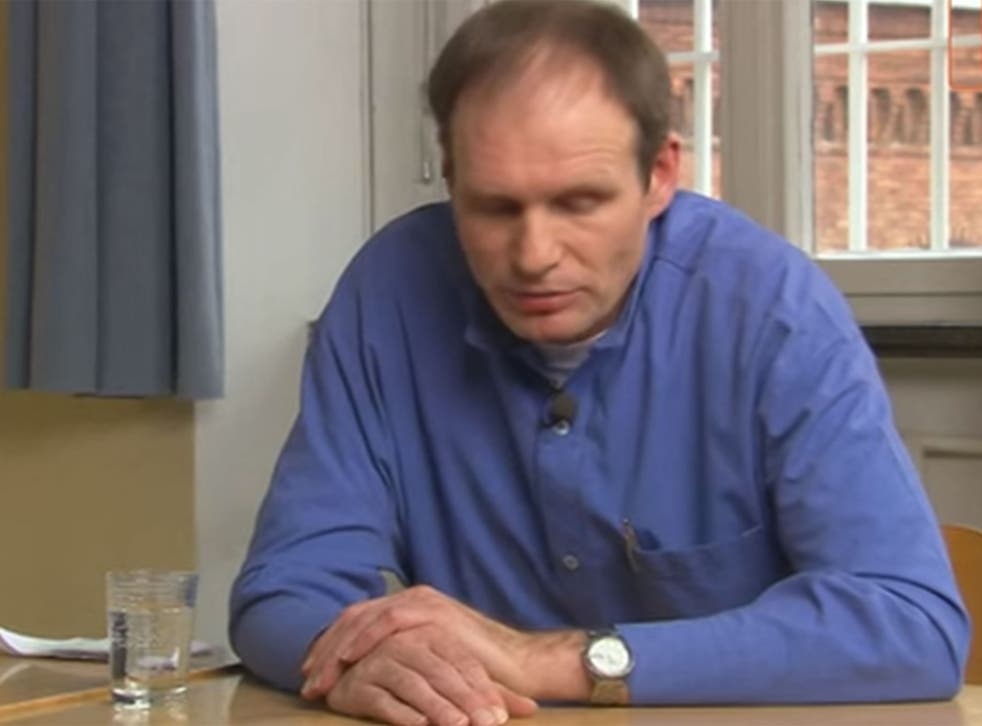 In March 2001, Armin Meiwes posted an advert on the internet. He was looking for a "young, well-built man who wanted to be eaten".
The 42-year-old computer engineer from Rotenburg, Germany, became known as Der Metzgermeister (the Master Butcher) in one of the most famous cases of cannibalism in history.
Now, a new documentary titled Docs: Interview with a Cannibal has been granted unique access to the man who became the first person in Germany to be charged with "murder for sexual satisfaction", or "love cannibalism".
It tells how Meiwes agreed to meet a man who responded to his advertisement, brought him to the farmhouse he owned, and eventually killed and ate him - filming much of it.
The footage of the act itself, which was shown in a closed room during the trial, is described in the documentary as "too disturbing to show", and so shocking that only 19 minutes of the four-hour video was shown.
In the documentary, Meiwes's behaviour as a child is described as "like most other children his age – he loved animals and found country life idyllic".
But Meiwes describes the traumatic experience - at the age of 5 - of watching his father abandoning his family, shortly followed by his two half-brothers; making him "the man of the house".
After the death of his mother, Meiwes said he began a "second life" on the internet and stumbled upon chatrooms about cannibalism where there were people offering themselves to be eaten.
Meiwes met others in hotel rooms, where they role-played cannibalistic acts - but no one was willing to actually go through with it.
Then Meiwes met his lover and victim Bernd Brandes, 43, after he replied to an ad Brandes placed on the internet, titled "Dinner – or your dinner" and offering "the chance to eat me alive".
He was Meiwes' ideal victim, the documentary explains.
"He wanted to sacrifice himself," the killed says.
In an interview from prison Meiwes describes the moment Brandes stepped off the train.
"I was nervous and excited," he says.
The two had sex at Meiwes' home but he said Brandes was not satisfied, adding: "He wanted to be eaten alive."
Brandes swallowed 20 sleeping tablets and half a bottle of schnapps before Meiwes cut off his penis, "with his agreement", and fried it for them both to eat.
Meiwes then ran a bath for Brandes and checked on him every 15 minutes, reading a Star Trek novel during this time.
In the early hours of the morning, Meiwes killed Brandes by stabbing him in the neck. He then chopped Brandes into pieces, put parts of him in the freezer, and buried the skull in his garden.
"I decorated the table with nice candles," he said.
"I took out my best dinner service, and fried a piece of rump steak – a piece from his back – made what I call princess potatoes, and sprouts. After I prepared my meal, I ate it.
"The first bite was, of course, very strange. It was a feeling I can't really describe. I'd spent over 40 years longing for it, dreaming about it. And now I was getting the feeling that I was actually achieving this perfect inner connection through his flesh. The flesh tastes like pork but stronger."
On the morning of 10 December 2002, police made a visit to the isolated farmhouse, acting on a tip-off from a young Austrian student who believed the man living there had killed and eaten someone.
Police found a kitchen in the freezer with a false bottom, containing what Meiwes claimed was wild pig.
During the trial, German prosecutors described how Meiwes had fantasised about killing and devouring someone – including his classmates – from the age of eight.
Professor Michael Baber, director of the Institute of Sexology and Sexual Medicine, suggests that Meiwes displays a "highly specific form of fetishism, where his desire for attachment and comfort is achieved by contact to the fetish. In the case of Armin Meiwes, the fetish is male flesh from a person he knows and likes, and who voluntarily wants to be eaten by him".
Meiwes was deemed fit to stand trial and convicted of manslaughter in 2004 but was re-tried for murder a year later. He was found guilty of murder and sentenced to life imprisonment in 2006.