As cardinals gather to elect Pope, Catholic officials break into a sweat over news that priests share €23m building with huge gay sauna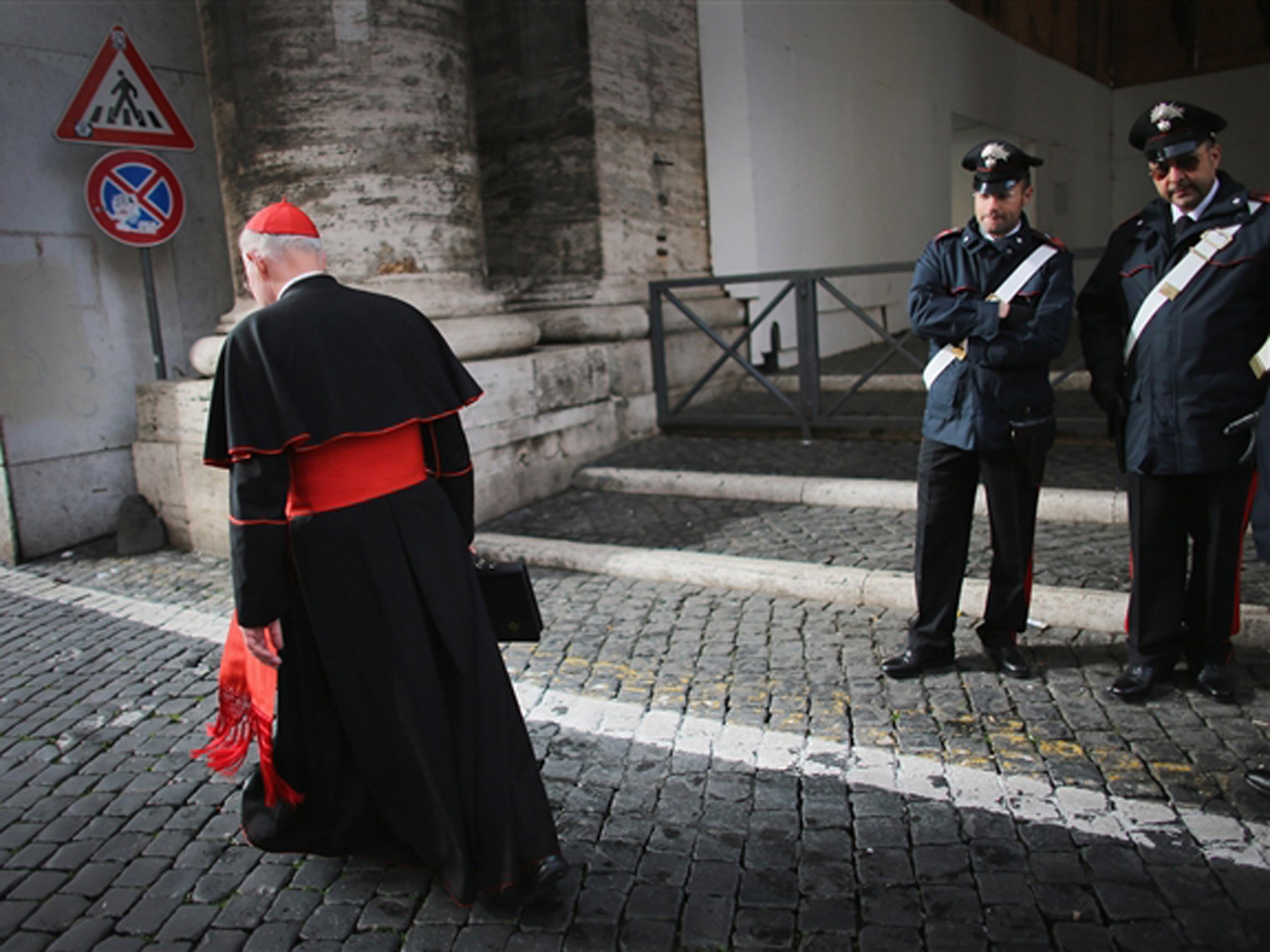 A day ahead of the papal conclave, faces at the scandal-struck Vatican were even redder than usual after it emerged that the Holy See had purchased a €23 million (£21 million) share of a Rome apartment block that houses Europe's biggest gay sauna.
The senior Vatican figure sweating the most due to the unlikely proximity of the gay Europa Multiclub is probably Cardinal Ivan Dias, the head of the Congregation for Evangelisation of Peoples, who is due to participate in tomorrow's election at the Sistine Chapel.
This 76-year-old "prince of the church" enjoys a 12-room apartment on the first-floor of the imposing palazzo, at 2 Via Carducci, just yards from the ground floor entrance to the steamy flesh pot. There are 18 other Vatican apartments in the block, many of which house priests.
The Holy See is still reeling from allegations that the previous pontiff, Benedict XVI, had quit in reaction to the presence of a gay cabal in the curia.
And with disgraced Scottish cardinal Keith O'Brien lending new weight to charges of hypocrisy against the Church's stance on homosexuality, La Repubblica newspaper noted that the presence of "Italy's best known gay sauna in the premises is an embarrassment".
Cardinal Dias, who is seen as a social conservative even by the current standards of the church hierarchy, is no doubt horrified to learn of the activities taking place a floor below.
It is not known, however, if the former archbishop of Bombay has popped downstairs to give spitiual guidances to the clients of the Europa Multiclub, given his belief that gays and lesbians can be cured of their "unnatural tendencies" through the "sacrement of penance".
The sauna's website promotes one of its special "bear nights", with a video in which a rotund, hairy man strips down before changing into a priest's outfit. It says Bruno, "a hairy, overweight pastor of souls, is free to the music of his clergyman, remaining in a thong, because he wants to expose body and soul".
There was further embarrassment for the Holy See when the press observed that thanks to generous tax breaks it received from the last Berlusconi government, the church will have avoided hefty payments to the Italian state. The properties are recognised as part of the Holy City.
Cardinal Tarcisio Bertone, Pope Emeritus Benedict's widely disliked right-hand man, who held the Vatican's purse strings during the last pontificate, was said to have been the brains behind the purchase of 2 Via Carduccio in 2008.
Readers on Italian gay websites were quick to make jokes at the cardinals' expense. One on the Gay.it site quipped: "'Oops, I took the wrong door, I thought it was the chapel.'…If you can't go to the gay sauna for fear of being seen what do you do if you have millions of Euros stolen from Italians? You buy the apartment block with the sauna inside."
Join our commenting forum
Join thought-provoking conversations, follow other Independent readers and see their replies