Ukraine protests: 'At least two demonstrators killed' in Kiev as clashes intensify
Security forces have chased protesters away from the site
Heather Saul
Wednesday 22 January 2014 08:21 Comments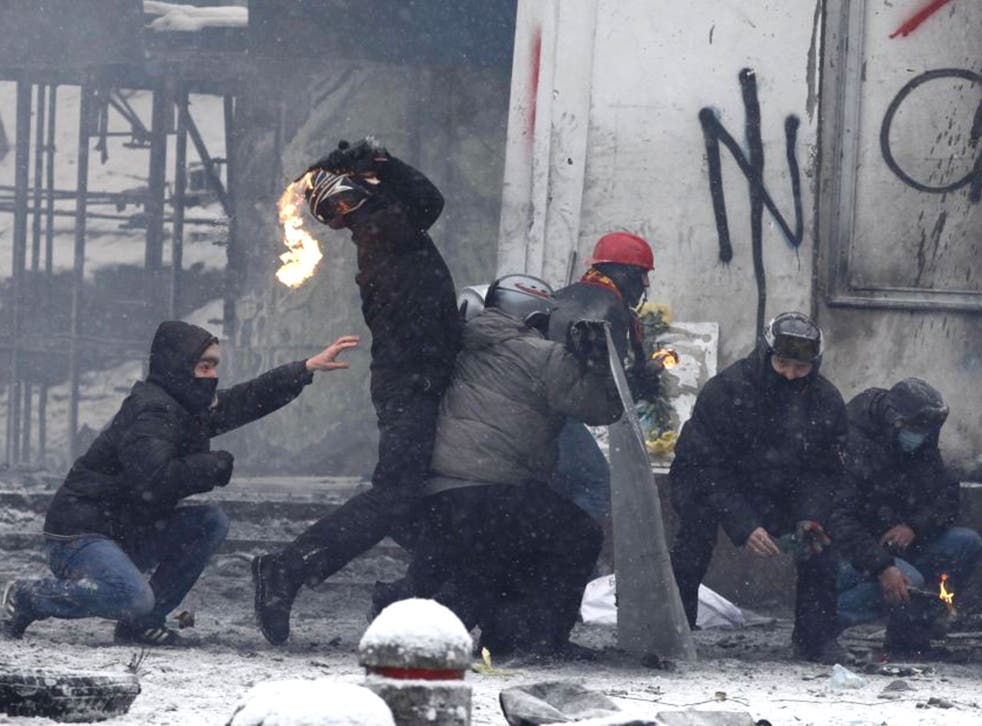 Ukraine descended further into chaos today as violent clashes between police and protesters left two dead and injured hundreds, in a situation spiralling "out of control" in the country's capital.
Escalating unrest resulted in the first two fatalities today, after the Ukraine's General Prosecutor confirmed two men had died of gunshot wounds and a criminal investigation has been opened.
Talks to resolve the crisis failed to yield any immediate results when President Viktor Yanukovych met with three opposition leaders, while the European Union warned they may have to "rethink their relationship with Ukraine" if proof emerges that peaceful protesters had been shot at or "a systematic violation of human rights" had taken place, Jose Manuel Barroso, the president of the EU Commission said.
"If there is a systematic violation of human rights, including shooting at peaceful demonstrators or serious attacks to the basic freedoms ... then we have to rethink our relationship with Ukraine and possibly (there will be) some consequences."
Russia's Foreign Minister Sergei Lavrov said yesterday Moscow is ready to discuss measures with the EU to "eliminate policies" that are creating "dividing lines" within the Ukraine, after warning that the "situation is getting out of control".
Police stormed barricades on Kiev's central square, detaining some protesters at 6am (GMT) this morning during heavy snowfall. Later, police began chasing protesters from the site of violent clashes, hours after the two protesters died. Helmeted riot police moved in on hundreds of protesters on Wednesday afternoon, beating and firing rubber bullets at some and sending people running.
The Ukraine Prime Minister Mykola Azarov denied reports that police had live ammunition and said opposition leaders should be held responsible for the deaths.
He said anti-government protests had brought "terrorists" onto the streets of Kiev and pledged to punish all "criminal action", even as protesters confronted police near government headquarters.
In pictures: Clashes between police and demonstrators in Kiev, Ukraine

Show all 51
Mr Azarov said: "As the Prime Minister of Ukraine, I officially state that the casualties, which unfortunately already exist, remain on the consciousness and responsibility of the organisers and certain participants of mass disturbances."
The EU also called on Ukraine's government and opposition to "engage in a genuine dialogue".
"I strongly condemn the violent escalation of events in Kiev overnight leading to casualties. The reported deaths of several protesters are a source of extreme worry," EU foreign policy chief Catherine Ashton said in a statement.
Hundreds of protesters have been injured in the clashes, which have been largely restricted to the main protest camp at Independence Square.
The US Embassy said it was revoking the visas of some Ukrainian officials linked to the violence and was considering further action. The embassy would not name the officials, citing privacy laws.
The Prime Minister Mykola Azarov had said police would use force if the unrest continued after new anti-protest laws were rushed through Parliament on Thursday.
Mr Azarov told state broadcaster Russia 24 yesterday evening: "If the provocateurs do not stop, then the authorities will have no other choice but to use force under the law to protect our people."
The two-month standoff, which has attracted hundreds of thousands of protesters to rallies in central Kiev, began after President Yanukovych abruptly spurned a pact with the European Union in favour of close ties with Russia.
His decision to instead turn to Russia for financial assistance outraged many people who had pinned their hopes for a more prosperous future on closer ties with the EU, rather than with their former Soviet rulers.
More to follow
Additional reporting by Associated Press
Register for free to continue reading
Registration is a free and easy way to support our truly independent journalism
By registering, you will also enjoy limited access to Premium articles, exclusive newsletters, commenting, and virtual events with our leading journalists
Already have an account? sign in
Join our new commenting forum
Join thought-provoking conversations, follow other Independent readers and see their replies