Athens burns again on riot anniversary
Police firebombed and stoned in protest over shooting of youth last year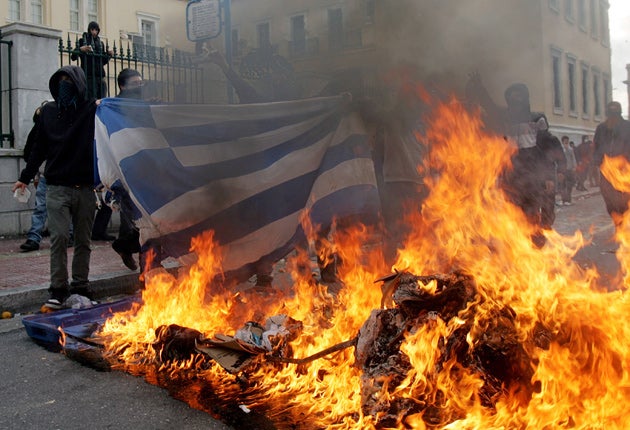 Masked youths hurled firebombs and chunks of marble at police during a march in Athens yesterday, the first anniversary of the police shooting of a teenager whose death sparked massive riots.
Officers fired volleys of tear gas as youths broke from a march of more than 3,000 people to smash the windows of shops and banks and set rubbish bins alight. The protesters were commemorating the death of 15-year-old Alexandros Grigoropoulos. The teenager's death sent youths rampaging through cities for two weeks in December last year.
The anniversary rioters hurled rocks and firecrackers at police. Authorities said 160 people were detained for public-order offences in Athens alone yesterday, a total of 270 over the weekend. Another 130 were detained throughout Greece, including 88 in the northern city of Thessaloniki, the second-largest city in Greece, where a similar demonstration also degenerated into violence. Youths threw petrol bombs at police, set fire to several cars and smashed 10 storefronts, including a Starbucks cafe. At least five protesters were injured. Sixteen officers were reported hurt.
In the capital's main Syntagma Square, police on motorcycles chased rioters amid scenes of chaos, with youths punching and kicking officers pushed off their bikes. One policeman who lost control of his motorbike struck and injured a woman on foot, who was taken to hospital in an ambulance. At least 6,000 officers were deployed across the city in an effort to contain the violence.
At Athens University, masked protesters broke into the building and pulled down a Greek flag, replacing it with a black-and-red anarchist banner. The dean was injured when the youths broke in and is now in intensive care, authorities said. A government official said: "We have about 600 to 1,000 people playing hide-and-seek with police in university buildings but we are determined to stop them."
A football match at Athens Olympic stadium between local clubs Panathinaikos and Atromitos was suspended for 30 minutes because of drifting clouds of teargas used by police against rioters outside the ground.
The new Socialist government, which came to power in October and has been confronted with a surge in armed attacks by far-left and anarchist groups, had warned of a zero-tolerance approach to violence at yesterday's commemorations. Reports say police formed snatch squads to capture breakaway groups intent on causing violence. At least 150 people were detained in a wave of police raids across the city all day on Saturday.
Join our commenting forum
Join thought-provoking conversations, follow other Independent readers and see their replies