German court rules 96-year-old 'Bookkeeper of Auschwitz' former Nazi SS guard must serve four-year prison sentence
Court rules former SS guard 'fit to serve the term despite his advanced age'
Harriet Agerholm
Wednesday 29 November 2017 12:40 Comments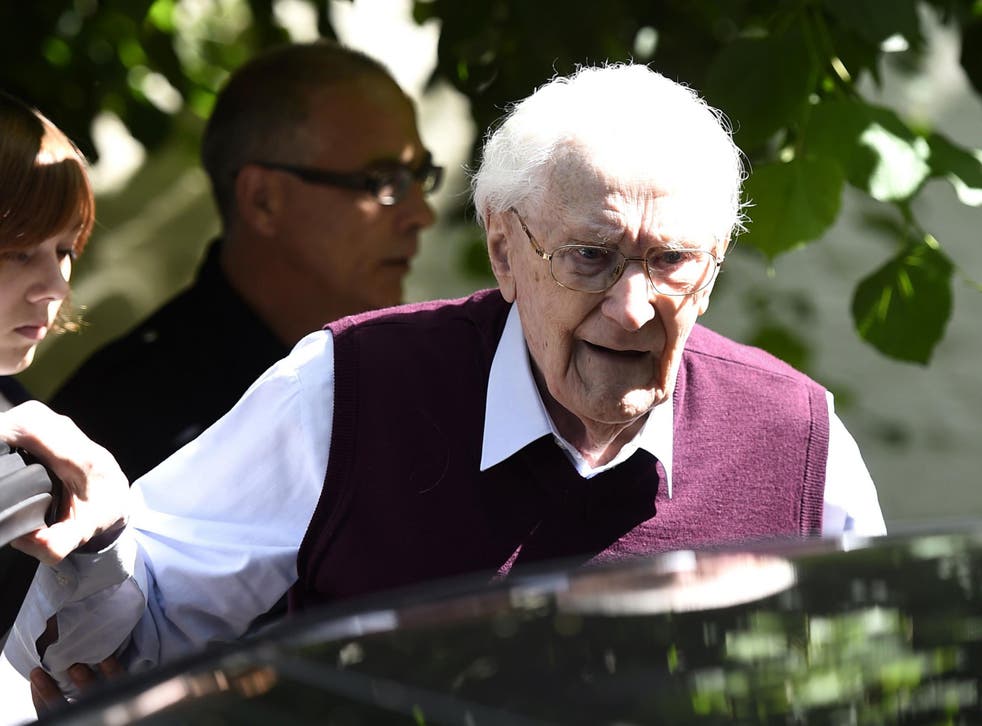 A 96-year-old former former Nazi SS guard who was known as the "Bookkeeper of Auschwitz" must serve a four-year prison sentence, a German court has ruled.
Oskar Groening was found guilty in 2015 of being an accessory to the murders of 300,000 people at the death camp in occupied Poland.
But he appealed his sentence and until now it was not clear whether he would serve time in jail. Authorities have previously been reluctant to enforce the penalty because of his old age.
The court in Celle, northern Germany, ruled on Wednesday he was not too elderly to serve his sentence.
"Based on expert opinion, the superior regional court finds that the convicted individual is fit to serve the term despite his advanced age," it said.
Jailing Groening would not violate his rights, the court said, since "appropriate precautionary measures" could be taken to meet any special requirements.
A court doctor concluded Groening was able to serve his sentence, on condition he was given appropriate medical care while in prison.
Groening worked as an accountant at Auschwitz-Birkenau between October 1942 and September 1944, during which time he counted money and valuables taken from those who were murdered at the camp.
He was also sometimes assigned to "ramp duty", where he guarded the stolen possessions.
Groening has publicly discussed his role, and in 2005 BBC documentary Auschwitz: the Nazis and the "Final Solution", said: "I saw the gas chambers. I saw the crematoria.
"I was on the ramp when the selections [for the gas chambers] took place."
Groening was 21 at the time and admitted he was an enthusiastic Nazi when he was sent to work at the camp in 1942.
World news in pictures

Show all 50
More than one million people, most of them European Jews, died between 1940 and 1945 in the Auschwitz camp.
Register for free to continue reading
Registration is a free and easy way to support our truly independent journalism
By registering, you will also enjoy limited access to Premium articles, exclusive newsletters, commenting, and virtual events with our leading journalists
Already have an account? sign in
Join our new commenting forum
Join thought-provoking conversations, follow other Independent readers and see their replies