Europe pulls up the drawbridge to refugees as German border closure sparks domino effect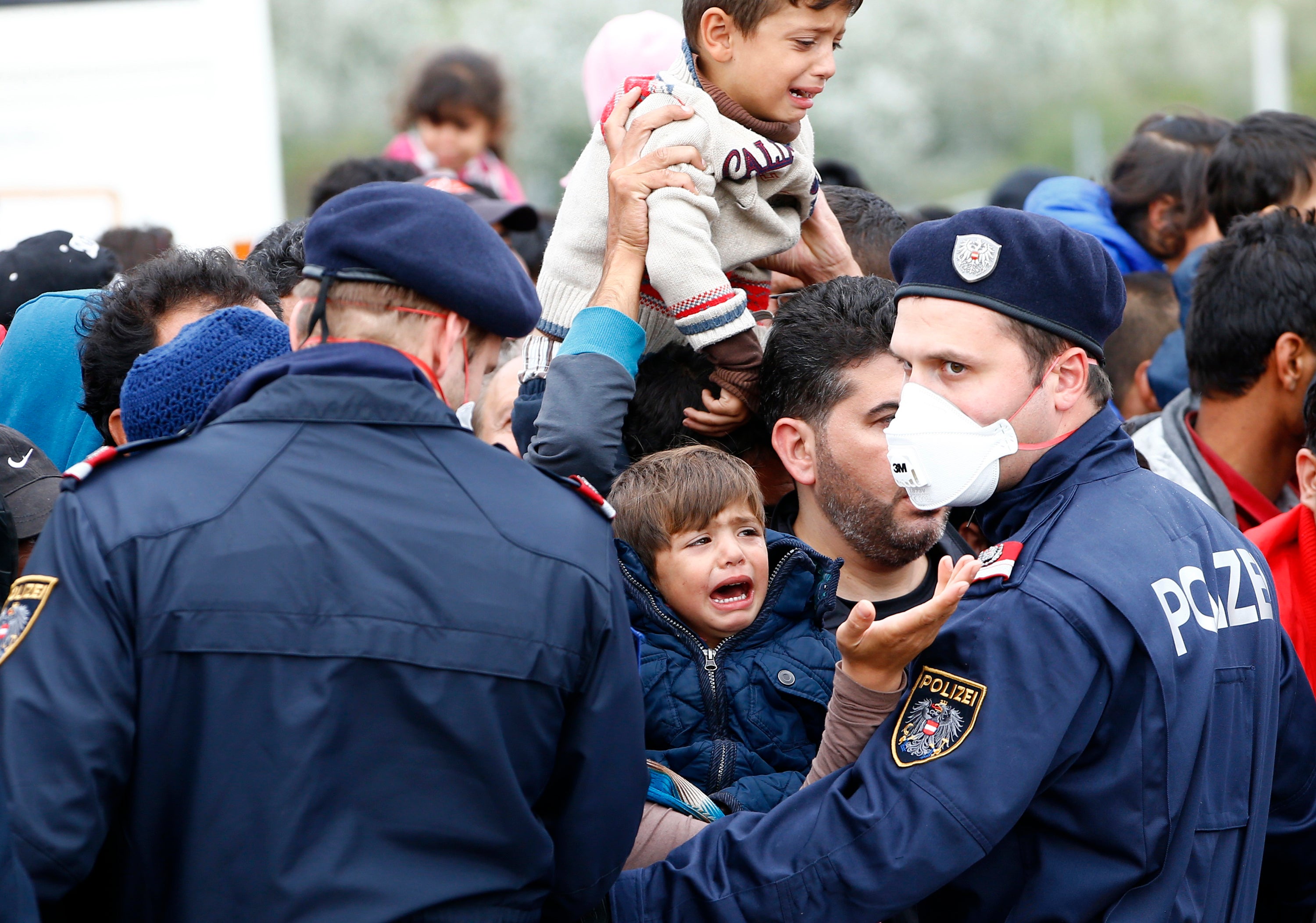 European countries halted nearly two decades of frontier-free travel after Germany sparked a domino effect of border closures and refugees set a new record for the most arrivals by land in one day.
Austria deployed military police in an effort to prevent the growing influx of people, entering its territory as a series of states responded to Berlin's unexpected decision by launching their own border checks.
Thousands of migrants had crossed into Austria from Hungary on foot overnight, filling up emergency accommodation nearby, including tents at the frontier.
Many more scrambled to enter Hungary before strict new rules take effect on Tuesday, when Budapest's right-wing government says the illegal flow of people into the country will stop.
Police said 7,437 migrants had been recorded entering Hungary from Serbia by 3pm UK time on Monday, beating the previous day's record of 5,809.
As mounted police stood by and a helicopter hovered overhead, Hungarian police in helmets blocked off the main informal crossing point and dozens of officers took up positions on a railway track used by migrants to enter the EU's Schengen zone of border-free travel.
Slovakia also vowed to impose controls on its borders with Hungary and Austria, while the Netherlands said it would make spot checks at its borders and other EU countries including Sweden and Poland said they were monitoring the situation to decide whether new measures were needed.
Austria's vice-chancellor Reinhold Mitterlehner told a news conference: "If Germany carries out border controls, Austria must put strengthened border controls in place. We are doing that now."
Meanwhile, European interior ministers were meeting in Brussels for a summit which is expected to soften demands from the European commission to mandatorily distribute refugees across 22 countries.
A four-page draft document prepared by EU ambassadors before the meeting reportedly focuses on "Fortress Europe" policies.
The document, obtained by the Guardian, allegedly sets out plans for "reception facilities" to "temporarily accommodate people" in Greece and Italy while they are identified, registered and finger-printed.
It also purportedly suggests that "rapid border intervention teams" are implemented at "sensitive external borders" to "identify persons in need of international protection and support their relocation."
"Irregular migrants" whose asylum claims fail will be "returned", according to the document. When return is not practicable then "detention measures" will be applied, it reportedly says, to prevent secondary movements to other EU countries.
On Sunday, Germany introduced temporary controls on its border with Austria.
Trains between Germany and Austria were also suspended for 12 hours until early this morning as Germany's vice-chancellor warned the country was "at the limit of its capabilities".
Germany's actions go against the principles of the Schengen zone, which allows free movement between several European countries, although the agreement does allow for temporary suspensions.
The controls on Germany's border with Austria led to traffic jams this morning, with authorities in Bavaria reporting a two-mile tail-backs on the A8 highway at Bad Reichenhall, near Salzburg.
Refugees march from Hungary to Austria
Show all 10
Regional Broadcaster Bayericher Rundfunk reported a four-mile queue on the A3 highway near Passau.
France has also called for tighter controls at Europe's borders to deal with the influx of migrants and to identify refugees from economic migrants.
French Interior Minister Bernard Cazeneuve called for centres where the thousands of migrants can be processed, as well as a common asylum process.
"Behind this humanitarian reality is a European reality," Mr Cazeneuve told RTL radio.
Additional reporting by various agencies
Join our commenting forum
Join thought-provoking conversations, follow other Independent readers and see their replies