Austria: European leaders celebrate defeat for far-right Hofer as 'the liberal majority pushes back'
'Perhaps Trump's election was the turning point'
Tony Paterson
Berlin
Sunday 04 December 2016 19:14 Comments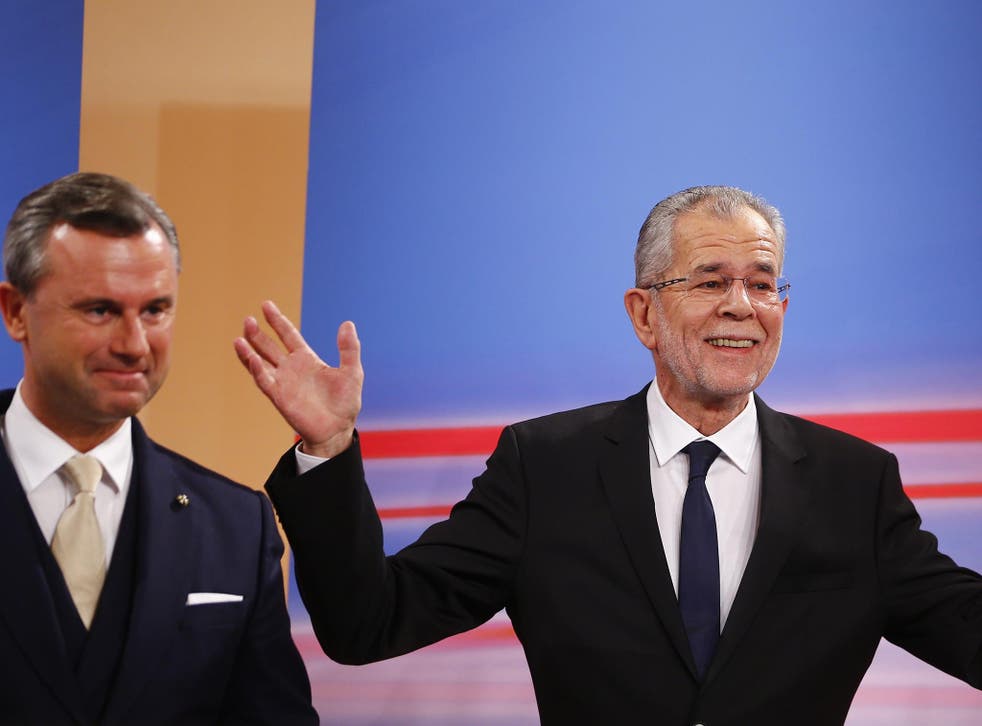 European leaders across the continent breathed a collective sigh of relief as Austria's eurosceptic, anti-immigration candidate, who threatened to become the country's first far-right head of state since the Second World War, was defeated in the country's presidential election.
Former Green party leader Alexander van der Bellen was re-elected in a closely fought poll after Norbert Hofer conceded defeat. Nationwide exit poll results released on Sunday showed that 72-year-old Mr Van der Bellen had secured a clear seven percent lead over his 45-year-old, far right Freedom Party opponent.
Mr Hofer was quick to concede defeat. On Facebook he said he was disappointed and "infinitely sad" at having lost the election. He congratulated his opponent on his victory.
Mr Van der Bellen, a former leader of Austria's Green party had campaigned with a vigorous pro-Europe message. "I believe that Austria's place is firmly at the centre of Europe," he told viewers in an interview shortly before voting.
By contrast his opponent, Mr Hofer, an aeronautical engineer, had delivered a strong anti-immigrant message and had suggested conducting a referendum in Austria on whether to keep the Alpine country in the European Union.
In response, German vice chancellor Sigmar Gabriel, who heads Germany's centre-left Social Democrats, told the Bild newspaper: "A load has been taken off the mind of all of Europe." He called the result "a clear victory for good sense against right-wing populism".
Ulrich Kelber, a deputy German justice minister and Social Democrat, said: "Perhaps (Donald) Trump's election was the turning point. The liberal majority pushes back."
Sunday's poll result was expected to be greeted with a huge sigh of relief from the European and Austrian liberals, who had feared that their country's would not only follow Britain with a decision to quit the EU, but saddle Austria with an unenviable reputation of becoming the first country in Europe to have a far-right president.
The result was also expected to be welcomed by Germany which had feared that a win by the Freedom Party in Austria would encourage similar gains by the far right in Germany and in neighbouring France an and Holland. Preliminary presidential election results showed Mr Van der Bellen had secured some 53 percent of the vote nationwide compared to 46 percent by Mr Hofer. Although the margin was expected to change, the overall result was not.
Sunday's election was a rerun of last May's poll which was narrowly won by Mr Van Bellen. However, the result was overturned by Austria's highest court because of irregularities in the count.
Analysts had pointed out that with Brexit and Donald Trump's US presidential election victory, much had changed in the world since last May, with voters turning increasingly against what they perceived as the political establishment.
Austria's presidential poll was being seen as a barometer of how well populist anti-immigration candidates could fare in forthcoming elections in Europe. Apart from Sunday's crucial constitutional vote in Italy, voters go to the polls in France, the Netherlands and Germany next year. In all three countries populist anti-immigration parties are on the rise.
Sunday's poll was one of the most acrimonious in Austria's country's post-war history. In Vienna, one newspaper dubbed the poll an "Election of Hate".
Mr Hofer's Freedom Party portrayed Mr Van der Bellen as a forgetful geriatric, and suggested he had worked as a spy for East Germany's hated Stasi secret police. Mr Van der Bellen used a video broadcast by an 89-year-old woman Auschwitz survivor to denounce his opponent as somebody who " brings out the basest in people."
Critics denounced Mr Hofer as a Nazi because of his anti-immigrant, nationalist rhetoric. On hundreds of his Freedom Party election campaign placards his photograph was defaced with a Hitler moustache.
"We think he is a Nazi. He is against women, foreigners and Europe. He comes from a party which was founded by Nazis," a young woman protester told Austria's ORF television channel filming a "No Nazi for President" demonstration in central Vienna on Saturday.
World news in pictures

Show all 50
But many of Mr Hofer's supporters back his outspoken criticism of Germany's Chancellor Angela Merkel, and her open door refugee policy which allowed more than a million refugees into Europe and Austria last year: "It was an invasion," said a 68-year-old Vienna pensioner called Siegfried. " It is as if we have been occupied on somebody else's orders. Now we are not allowed to say anything," he insisted.
A study published by the independent Vienna think tank, Agenda Austria on Sunday revealed that trust in Austria's established conservative and social democratic parties was sharply in decline and coincided with a negative attitudes to refugees and immigrants.
However the authors of the study said that unlike the UK and the US, there was little indication that poverty or the feeling of having been "left behind" fuelled the decline in trust. Agenda Austria said populist party supporters tended to have average incomes and hold secure jobs.
Register for free to continue reading
Registration is a free and easy way to support our truly independent journalism
By registering, you will also enjoy limited access to Premium articles, exclusive newsletters, commenting, and virtual events with our leading journalists
Already have an account? sign in
Join our new commenting forum
Join thought-provoking conversations, follow other Independent readers and see their replies