Austria's conservatives strike deal with far-right party founded by ex-Nazis to form coalition government
Agreement will make 31-year-old Sebastian Kurz the new Chancellor and Europe's youngest leader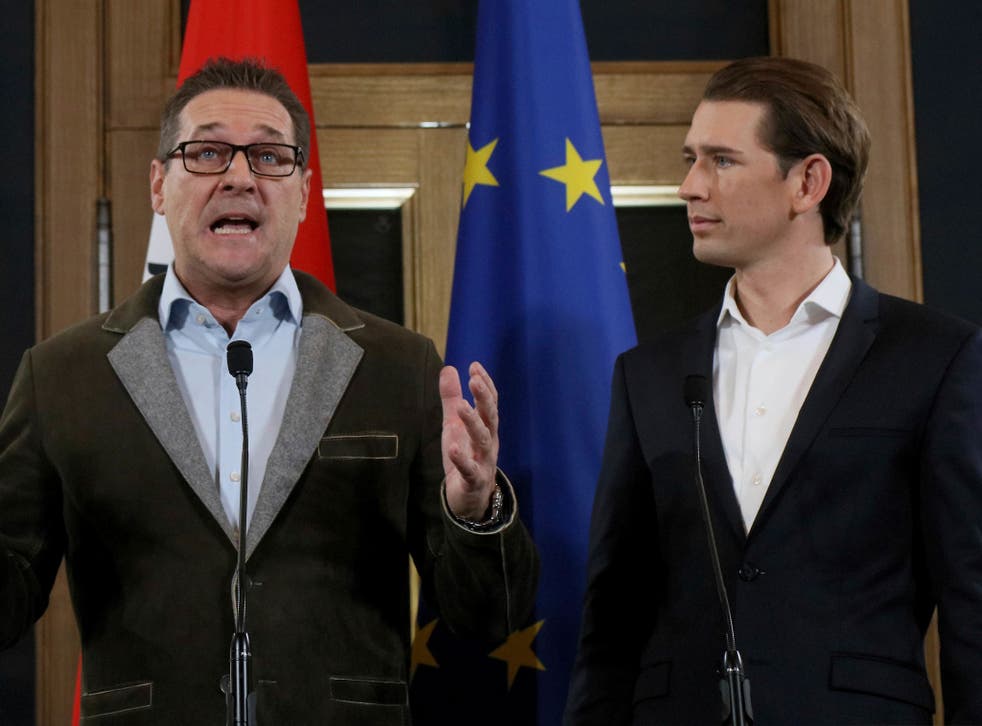 Austria's far-right Freedom Party has reached a deal with the conservative People's Party on creating a new coalition government.
The agreement will make 31-year-old Sebastian Kurz the new Chancellor and Europe's youngest leader.
Austria's People's Party finished first in the 15 October election. The party then embarked on coalition talks with the right-wing Freedom Party.
Mr Kurz and Freedom Party leader Heinz-Christian Strache announced on Friday that they had finalised an agreement on a new coalition, which will shift Austria to the right.
Mr Kurz is foreign minister in the outgoing government under Chancellor Christian Kern, a centre-left Social Democrat. His party has been the junior partner in that government.
Before the election, both parties campaigned on the need for tougher immigration controls, quick deportations of asylum-seekers whose requests are denied and a crackdown on radical Islam.
The Freedom Party was founded by ex-Nazis in the 1950s and waited until last month to stop wearing the traditional blue cornflower, which has links to the Nazi movement of the 1930s.
Austrian election results: Who is Sebastian Kurz?
Austria will hold the 28-nation European Union's rotating presidency in the second half of next year.
Neither leader addressed the new government's approach to European policy during their brief appearance on Friday evening.
Mr Kurz has stressed the importance of a pro-European direction, while the Freedom Party traditionally has been strongly Eurosceptic.
​He said that Austrians had voted "for change in our country, and we want to ensure this change in the next five years".
He also said it was important to ensure "a new political style in dealing with each other in Austria" after persistent bickering in the old government.
Join our new commenting forum
Join thought-provoking conversations, follow other Independent readers and see their replies