EU migrant crisis: 50 refugees found 'suffocated' in the back of single lorry in Austria, reports
Local media and officials suggest those who died were migrants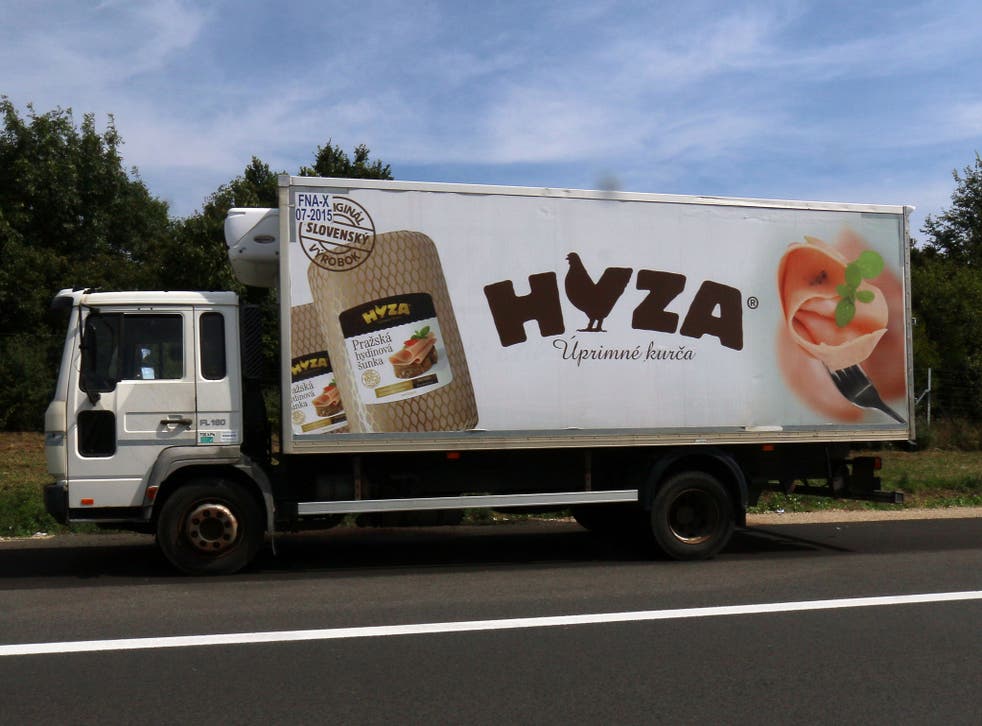 Up to 50 people, presumed to be asylum-seekers, have been found dead in the back of a lorry in Austria.
Officials referred to the dead as migrants, and local media reports suggested they died of "suffocation" after being trapped in the lorry's trailer. A police manhunt has been launched to find the driver, who is suspected of smuggling the victims into the country.
The bodies were found in the back of a refrigerated food delivery truck, which had been parked on the hard shoulder of the A4 road, Austria's "Eastern Motorway", near the town of Parndorf.
A spokesperson for the Austrian interior ministry confirmed to the Reuters news agency that the tractor trailer had been found, but was unable to provide a definitive death toll. "Unfortunately there are many dead people in there," he said.
'Today is a dark day'
Austrian police said the vehicle had been left abandoned at the site since Wednesday, but was only searched by officers on Thursday morning after it was repored by local workers.
They said there were between 20 and 50 bodies inside, and that they had been dead for some time and started to decompose.
Tweeting from the scene, Channel 4 News' Lindsey Hilsum said there was a "terrible smell of death as we passed".
Austria's interior minister Johanna Mikl-Leitner addressed the discovery of the lorry at a press conference in Eisenstadt, according to Krone.
She hit out at the "despicable methods" of migrant smugglers, saying they "belong behind bars", and said: "Today is a dark day."
Macedonia/Greece Border Crisis

Show all 10
Responding to the discovery of the bodies, Amnesty International's deputy director for Europe, Gauri van Gulik, said: "People dying in their dozens - whether crammed into a truck or a ship - en route to seek safety or better lives is a tragic indictment of Europe's failures to provide alternative routes.
"What's urgently needed is what Amnesty International has been saying for years: Europe has to step up and provide protection to more, share responsibility better and show solidarity to other countries and to those most in need."
Earlier on Thursday, Austrian police said they had stopped three lorries suspected of carrying migrants. They included one van which had taken 34 refugees, including 10 children, across the border into Austria.
The incident comes as Europe faced a continent-wide migrant crisis, with neighbouring Hungary reporting 3,241 illegal entry attempts - a record number - on Wednesday.
Hungary is close to completing a razor-wire fence spanning the full 110-mile length of its border with Syria, prompting a race for migrants to reach the effective start of the Schengen Area of free movement within the EU.
While the interior minister held her press conference, Austria's president Heinz Fischer was in Vienna for the Western Balkans Conference. The migration crisis was set to top the agenda at the summit between the EU and six Balkan states including Macedonia and Serbia.
Register for free to continue reading
Registration is a free and easy way to support our truly independent journalism
By registering, you will also enjoy limited access to Premium articles, exclusive newsletters, commenting, and virtual events with our leading journalists
Already have an account? sign in
Register for free to continue reading
Registration is a free and easy way to support our truly independent journalism
By registering, you will also enjoy limited access to Premium articles, exclusive newsletters, commenting, and virtual events with our leading journalists
Already have an account? sign in
Join our new commenting forum
Join thought-provoking conversations, follow other Independent readers and see their replies