People dressed as Austrian folklore figure Krampus injure five teenagers at pre-Christmas parade in Salzburg
'My daughter now has a cast on her right hand, both her feet are covered with welts and are swollen and bloody'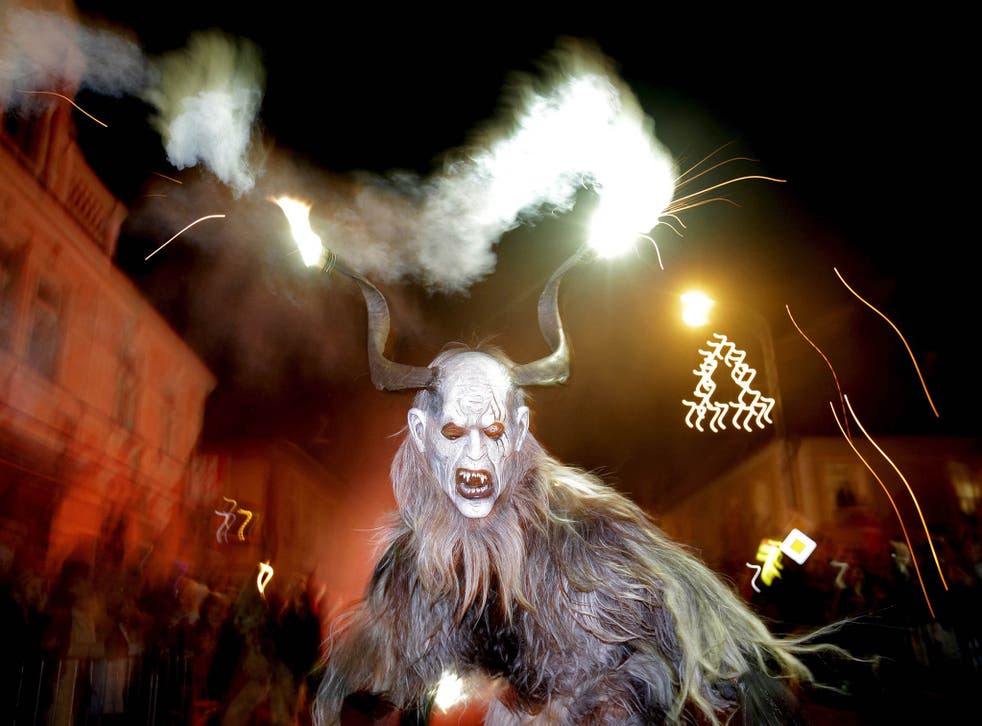 Teenagers attending a pre-Christmas event in Salzburg have been left with injuries after people dressed as the Krampus, an Austrian folklore horned figure that punishes badly behaved children, got out of hand.
Austrian news website, The Local, reported that five teenagers, aged between 15 and 18 were reportedly hit on the hands and legs with whips and tree branches by the group.
It went on to say that people who partake in dressing up in the event as the horned character, described as the Christmas devil, are often fuelled by alcohol.
The traditional parade event, known as Brucker Krampuslauf, in its 18th year was attended by around 2,000 people, but organisers and police said they were unaware of the situation until witnesses had reported it.
Around 400 people dressed as a Krampus, which is described as being the opposite of Father Christmas, were celebrating the event.
Those dressed parade through the streets to perform a traditional ritual that is thought to disperse the ghosts of winter.
One 15 year-old victim's father told Österreichischer Rundfunk, the national public broadcaster, that he was outraged by the incident.
"My daughter now has a cast on her right hand, both her feet are covered with welts and are swollen and bloody.
In pictures: Krampus night in Austria

Show all 7
"This violence has nothing to do with tradition."
Christian Kasbacher, one of the event organisers, said it was only after the event that he knew people had been hurt.
"Obviously it's awful when people are injured at such a big event. Of course we will be investigating this, and speaking to the witnesses."
Three Red Cross ambulances were sent to the scene and took five people to hospital for treatment.
The general public Hospital Zell am See confirmed five people were treated for injuries in connection with the event, with some patients suffering serious injuries.
Doctors at the hospital said they would be passing on information about the assaults to the police.
Register for free to continue reading
Registration is a free and easy way to support our truly independent journalism
By registering, you will also enjoy limited access to Premium articles, exclusive newsletters, commenting, and virtual events with our leading journalists
Already have an account? sign in
Register for free to continue reading
Registration is a free and easy way to support our truly independent journalism
By registering, you will also enjoy limited access to Premium articles, exclusive newsletters, commenting, and virtual events with our leading journalists
Already have an account? sign in
Join our new commenting forum
Join thought-provoking conversations, follow other Independent readers and see their replies