Austrian government plans to seize house where Adolf Hitler was born to stop neo-Nazi pilgrimages
Officials have been locked in a dispute over renovations with the building's owner for years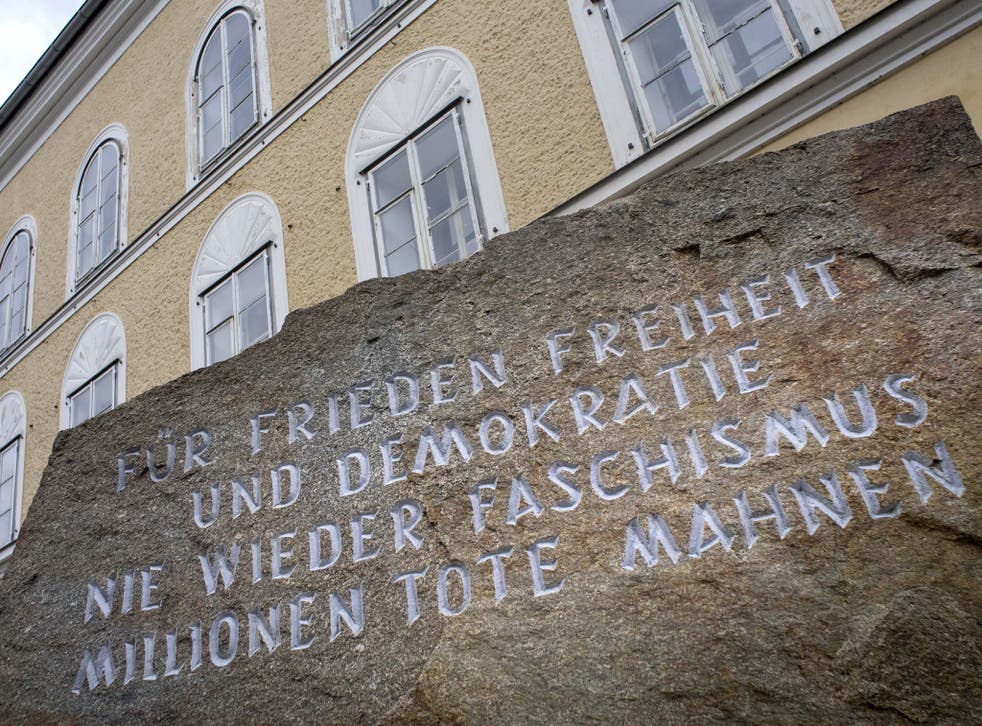 The Austrian government is attempting to seize the house where Adolf Hitler was born to prevent it becoming a rallying point for Nazi sympathisers.
The building, in the town of Braunau am Inn, is unmarked except for a memorial stone, which reads: "For peace, freedom and democracy. Never again fascism – the millions of dead remind us."
No mention of the former dictator's name is made but that has not stopped the house becoming a focal point for both neo-Nazi and anti-fascist groups.
Video: Proposals to rent out Hitler's birth house resisted
It has been on loan to the government since 1972, being used for many years as a centre for people with disabilities, but a dispute over renovations with owner Gerlinde Pommer has left the house empty since 2011.
Karl-Heinz Grundböck, a spokesperson for the Austrian interior ministry, said the government's new plan would include compensation for her.
"We are currently examining the creation of a law, which would force a change of ownership and pass the property to the Republic of Austria," he told the AFP news agency.
"We have come to the conclusion over the past few years that expropriation is the only way to avoid the building being used for the purposes of Nazi sympathisers."
The 17th Century house is the subject of heated local debate, with some residents wanting it demolished – a move forbidden by its protected status as part of Braunau am Inn's historic town centre.
Others have called for it to become asylum seeker accommodation or a museum commemorating Austria's liberation from the Third Reich.
Hitler exhibition breaks Germany's last taboo

Show all 20
Hitler's parents rented rooms in the building while his father worked in the town as a customs official.
After his birth on 20 April 1889, the future Führer only lived in Salzburger Vorstadt 15 for weeks before his family moved to another address in the town.
The Hitler family left Braunau when he was three years old and he did not return until 1938, after annexing Austria to become part of Nazi Germany.
Austrian officials hope the appropriation law will come into force by June, Der Spiegel reported, and have enlisted an expert commission to develop proposals for the building's future use.
Register for free to continue reading
Registration is a free and easy way to support our truly independent journalism
By registering, you will also enjoy limited access to Premium articles, exclusive newsletters, commenting, and virtual events with our leading journalists
Already have an account? sign in
Register for free to continue reading
Registration is a free and easy way to support our truly independent journalism
By registering, you will also enjoy limited access to Premium articles, exclusive newsletters, commenting, and virtual events with our leading journalists
Already have an account? sign in