Aylan Kurdi: Little boy whose tragic death changed Britain's response to the refugee crisis laid to rest in Kobani
His father, Abdullah, said he never wants to leave the war-torn city again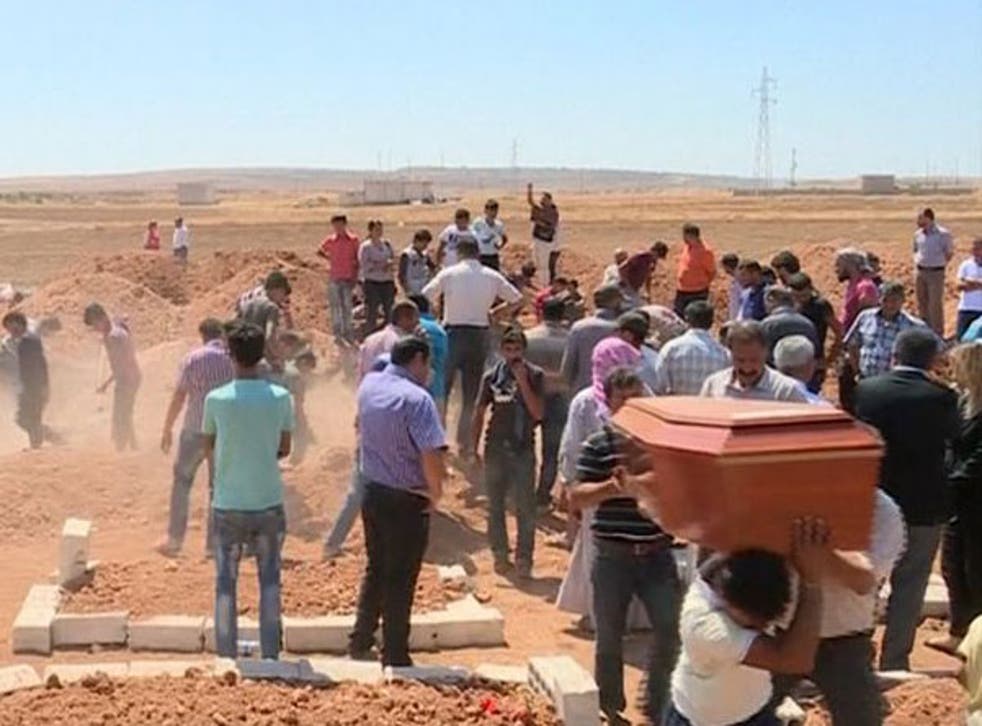 Aylan Kurdi has been laid to rest in his war-torn home of Kobani alongside his brother and mother as his death continued to send shockwaves through the world.
His father, Abdullah, wept with relatives as the three-year-old's tiny body was lowered into the ground.
Along with his five-year-old brother, Galip, and mother, Rihan, he was buried in the dusty Martyrs Cemetery as dozens of mourners gathered to pay their respects.
Kobani has been ravaged by the Syrian civil war, being besieged by Isis for several months last year, sparking bombing campaigns and street fighting that destroyed much of the city.
The fighting sent most of its residents fleeing over the nearby border to Turkey, including Aylan and his family, but his father told his loved ones he never wants to leave home again.
"He only wanted to go to Europe for the sake of his children," said Suleiman Kurdi, an uncle of the grieving father. "Now that they're dead, he wants to stay here in Kobani next to them."
Speaking to reporters as he travelled with his children's bodies from Turkey to Syria earlier on Friday, Mr Kurdi said governments in the Middle East, not just Europe, need to help the refugee crisis.
"I want Arab governments - not European countries - to see (what happened to) my children, and because of them to help people," he added.
Mr Kurdi had previously described his sons as "the most beautiful children in the world".
They were among 12 people to die after two boats capsized while trying to reach the Greek island of Kos from Turkey.
Mr Kurdi described how the overloaded boat flipped over moments after the captain panicked and abandoned the vessel in rough waves, leaving him to watch as his loved ones were swept away.
"I was holding my wife's hand. My children slipped away from my hands," he said. "We tried to hold on to the boat. Everyone was screaming in pitch darkness."
Turkish police have arrested four suspected traffickers over the deaths, all believed to be Syrian men.
Images of Aylan's body, washed up face-down on a Turkish beach – reignited anger over the deaths of thousands of desperate refugees trying to reach Europe and dissatisfaction with the EU's response.
David Cameron has announced that Britain will take in "thousands more" Syrian refugees in response to a tide of public support.
The refugee crisis - in pictures

Show all 70
A petition started by this newspaper for the UK to welcome its fair share has been signed by more than 250,000 people, while prominent politicians are among thousands more sharing pictures of themselves with the message "refugees welcome".
The United Nations refugee agency estimates more than 300,000 people have used dangerous sea-routes so far this year to reach Europe, with around 2,500 losing their lives.
Many of those refugees have fled Syria's four-year civil war, in which more than 250,000 people have been killed and some 11 million — half of the country's population — driven from their homes.
This newspaper has started a campaign for the UK to welcome a fair share of refugees.
Click here to sign The Independent's petition
Additional reporting by agencies
Join our new commenting forum
Join thought-provoking conversations, follow other Independent readers and see their replies