Aylan Kurdi's last words were 'Daddy, please don't die' as father battled to save him
The three-year-old Syrian boy was buried by his father yesterday
Lizzie Dearden
Saturday 05 September 2015 12:42 Comments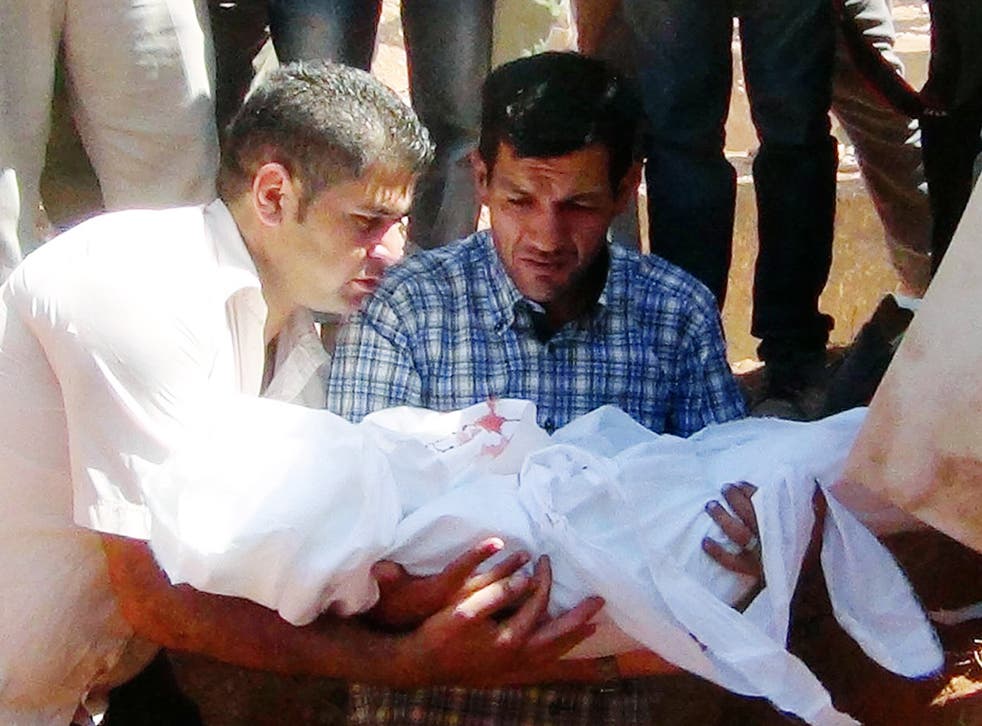 As Aylan Kurdi's father battled to save him from drowning in the Aegean Sea, the little boy begged him not to die, according to his distraught aunt.
Tima Kurdi told The Times her brother, Abdullah, desperately tried to keep his wife and two children afloat after their dinghy capsized in the early hours of Wednesday morning.
But he had to watch them die one by one.
"When the boat flipped upside down and the waves kept pushing him down, those two boys were in his arms," Ms Kurdi told the newspaper.
"He said he tried with all his power to push them up above the water to breathe and they screamed 'Daddy, please don't die.' "
Three-year-old Aylan's body washed up on a beach in Turkey, the country his family had left just hours after paying smugglers thousands of pounds to take them to the Greek island of Kos.
In a separate interview with the Associated Press, Ms Kurdi said she blamed herself for the deaths of her sister-in-law and two young nephews.
"I blame myself because my brother does not have money," she said.
"I sent him the money to pay the smuggler. If I didn't send him the money, those people still (would be) alive."
Aylan, his five-year-old brother Galip and mother, Rehan, were among 12 people who drowned on the night.
The refugee crisis - in pictures

Show all 70
They were buried by their father in their war-town hometown of Kobani yesterday.
Mr Kurdi told relatives he never wants to leave Syria again.
"He only wanted to go to Europe for the sake of his children," said Suleiman Kurdi, an uncle of the grieving father. "Now that they're dead, he wants to stay here in Kobani next to them."
He had previously described his sons as "the most beautiful children in the world".
Photos of Aylan's body reignited anger over the deaths of thousands of desperate refugees trying to reach Europe around the world, sparking calls for increased efforts by EU governments to give them a home.
David Cameron has announced that Britain will take in "thousands more" Syrian refugees in response to a tide of public support.
This newspaper has started a campaign for the UK to welcome a fair share of refugees.
Register for free to continue reading
Registration is a free and easy way to support our truly independent journalism
By registering, you will also enjoy limited access to Premium articles, exclusive newsletters, commenting, and virtual events with our leading journalists
Already have an account? sign in
Join our new commenting forum
Join thought-provoking conversations, follow other Independent readers and see their replies