Aylan Kurdi's story: How a small Syrian child came to be washed up on a beach in Turkey
More has emerged about the death of three-year-old Aylan, pictured here smiling with his brother, whose story has given a face to the refugee crisis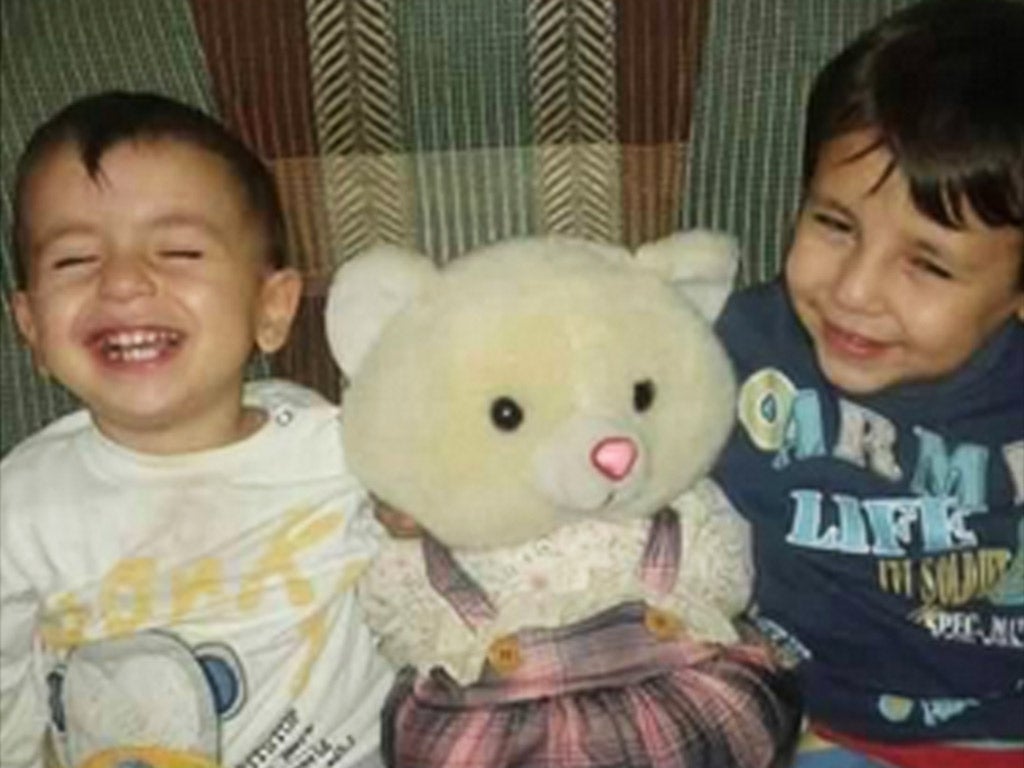 Surviving family members of Aylan Kurdi have revealed how the Syrian three-year-old came to be washed up dead on a beach in Turkey on Wednesday morning.
Aylan's distraught father, Abdullah Kurdi, tried and failed to hold on to his wife and two sons after their boat to the Greek island of Kos capsized. He has reportedly now said his only wish is to return their bodies to their home town of Kobani and then "be buried alongside them".
The family had been making the treacherous journey across Turkey to Europe in the hope of joining Abdullah's sister, Teema Kurdi, a hairdresser who has lived in Vancouver, Canada for more than 20 years.
The Independent has taken the decision to publish the image, which some may find offensive, lower down in this article because among the often glib words about the "ongoing migrant crisis", it is all too easy to forget the reality of the desperate situation facing many refugees.
Speaking to the National Post's Terry Glavin, Ms Kurdi said she had learned of Aylan's death, as well as that of his brother Galip and mother Rihan, at 5am on Wednesday morning. The images of Aylan emerged in Turkish media at around midday, and have since sparked international outrage over the refugee crisis.
Glavin told BBC Radio 5 live on Thursday that Ms Kurdi had heard from family members about Abdullah's desperate battle to save his family in the sea.
"There's a terrible story he told about swimming from one to the other, finding one [son] who seemed to be alright and then going to another, finding him drowned... and then going back to the first boy and finding him drowned," he said.
"He made it, but his wife didn't."
Jenan Moussa, a journalist with Dubai's Al Aan TV, said she had confirmed with sources in Kobani that the Kurdish family hailed from the recently-embattled Syrian city.
She said Abdullah was a barber originally from Damascus, who fled from Kobani to Turkey but "dreamed of a future in Canada" for his family.
"Abdullah paid €4000 (£2900) for his family to get on a 5m-long dinghy from Bodrum to Greece. He borrowed money. This was not their first attempt to get to Greece.
"When in the dinghy, the sea got rough. Turkish smuggler abandoned boat, left passengers struggling. Boat capsized after one hour.
"After it capsized, the family clung to the boat. Mr Abdullah tried to hold his two children and wife with his arm, but one by one they were washed away by waves."
According to Turkey's state-run Anadolu news agency, police have detained four suspected human traffickers one day after the three members of the Kurdi family and nine other refugees died in the short Aegean straight between Turkey and Kos.
Officers said the men were detained on a beach on Turkey's Bodrum peninsula and, according to Anadolu, they were suspected of acting as intermediaries for illegal crossings.
The refugee crisis - in pictures
Show all 70
Three other children drowned in the same crossings as Aylan and his family, while seven people were rescued and two reached the shore in life jackets.
Thousands are making the same journey from Turkey to Greece's easternmost islands each day. It is considered one of the safest routes to Europe and beyond.
The majority are from Syria though some have also fled Afghanistan and Iraq. The UN's refugee agency, the UNHCR, says the number crossing the Mediterranean has now exceeded 300,000 this year.
Join our commenting forum
Join thought-provoking conversations, follow other Independent readers and see their replies