Azerbaijan's display of dead soldiers' helmets sparks outrage in Armenia
Park publicly degrades victims of war and their families, Armenia says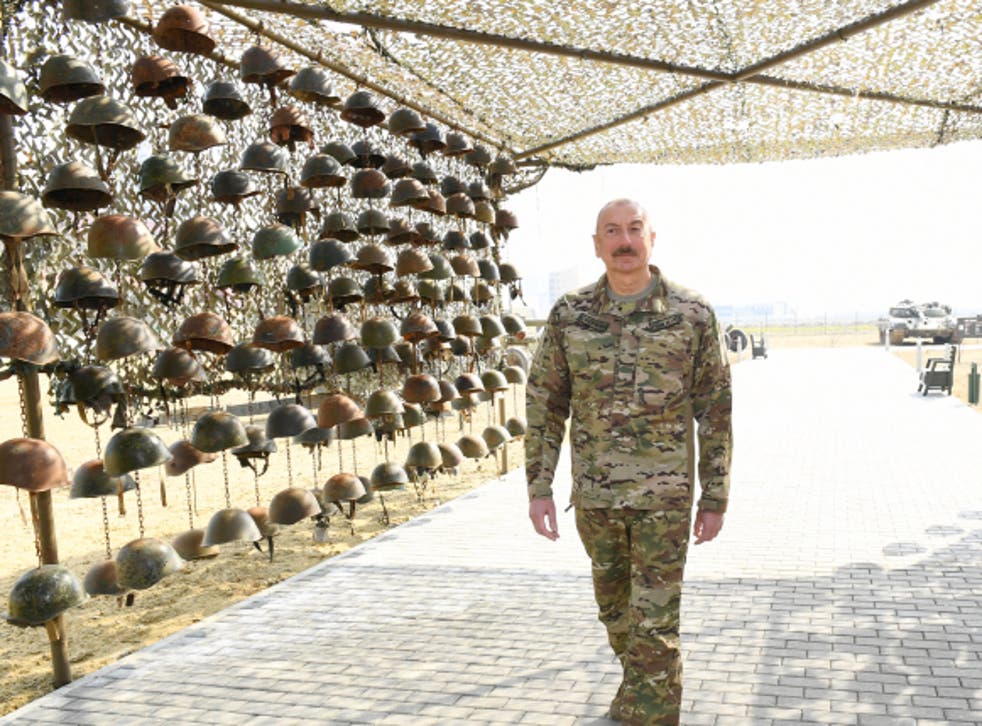 A "park of trophies" in Azerbaijan displaying the helmets of dead Armenian soldiers has sparked outrage in Yerevan.
The two neighbouring countries have been embroiled in a decades-long ethnic conflict over the disputed Nagorno-Karabakh region, a mountainous area close to the border.
War gripped the region in September last year, resulting in 6,000 deaths - with nearly half those fatalities Armenia troops.
Weeks of bloodshed ended in November. Armenia lost and subsequently ceded chunks of territory to Baku.
On Monday, Azerbaijani President Ilham Aliyev visited a site dedicated to remembering the war, which contains military equipment seized from Armenia troops during the conflict - including the helmets of dead soldiers.
Mr Aliyev said the "park of military trophies" shows "everyone the strength of our army".
In a video posted to his website, he added: "[Everyone] will see our willpower, and how hard it was to achieve victory".
Armenia's foreign ministry responded furiously, saying the trophy park "publicly degraded the memory of the victims of the war, missing persons and prisoners of war, and violating the rights and dignity of their families."
In a statement, the ministry added: "Azerbaijan is finally consolidating its position as a global centre of intolerance and xenophobia."
Arman Tatoyan, the Armenian ombudsman, said the park was proof of "genocidal policy" that "clearly confirms institutional hatred towards Armenians in Azerbaijan".
Past outbreaks of fighting in the Nagorno-Karabakh region have killed some 30,000 people since 1988.
The public park is due to open to the Azerbaijani public soon.
Join our new commenting forum
Join thought-provoking conversations, follow other Independent readers and see their replies