Azerbaijan releases election results… before the polls even open
Electoral commission accidentally publish results showing a victory for Ilham Aliyev, the country's long-standing President, a day before voting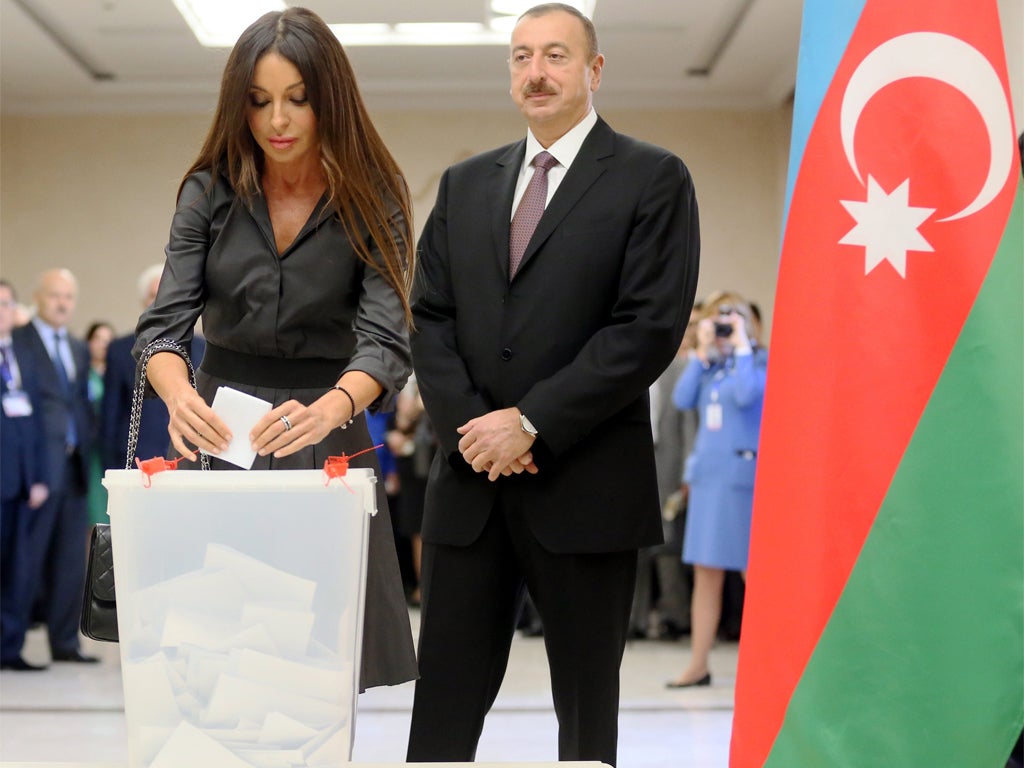 Critics have long viewed Azerbaijan's elections as predetermined, but the country appears to have gone a step further this year by publishing results before the polls have even opened.
The mistake came when an electoral commission accidentally published results showing a victory for Ilham Aliyev, the country's long-standing President, a day before voting. Meydan TV, an online channel critical of the government, released a screenshot from a mobile app for the Azerbaijan Central Election Commission which showed that Mr Aliyev had received 72.76 per cent of the vote compared with 7.4 per cent for the opposition candidate, Jamil Hasanli. The screenshot also indicates that the app displayed information about how many people voted at various times during the day. Polls opened at 8am.
Although instances of ballot-stuffing have been documented in past elections, this apparent leak of the premature results shows a more serious degree of vote falsification, Meydan TV's managing director, Emin Milli, told The Independent.
"They will stuff the ballots, and in the end they will still write the numbers they want to write," said Mr Milli, who has been imprisoned for his dissident views.
Exit polls showed even better results for Mr Aliyev, giving him 92 per cent of the vote. He is running for his third term since replacing his father as President in 2003. Limits on presidential terms were abolished in 2009 after an allegedly rigged referendum.
Happy Baku, the agency that developed the app, has disputed that it showed predetermined election results. A statement published on its website said the results came from testing the app using data from opinion polls and "did not have any relation to this year's elections".
The reported head of Happy Baku, Vusal Isayev, contacted Meydan TV's social media manager, Hebib Müntezir, on Facebook to explain this and to ask the website to take down its news article. Meydan TV says it has screenshots of the entire conversation.
The Organisation for Security and Cooperation in Europe said the 2008 presidential election in Azerbaijan suffered from a lack of competition and "a restrictive media environment," and the Council of Europe has criticised the "lack of credible challengers" in this year's election.
The electoral commission refused to register Rustam Ibragimbekov, the Oscar-winning film director who had been chosen as the unified opposition candidate, on the grounds that he had dual Russian and Azerbaijani citizenship. Russia had failed to act on his request to give up his citizenship.
Join our commenting forum
Join thought-provoking conversations, follow other Independent readers and see their replies