Baby found alive in Turkey quake building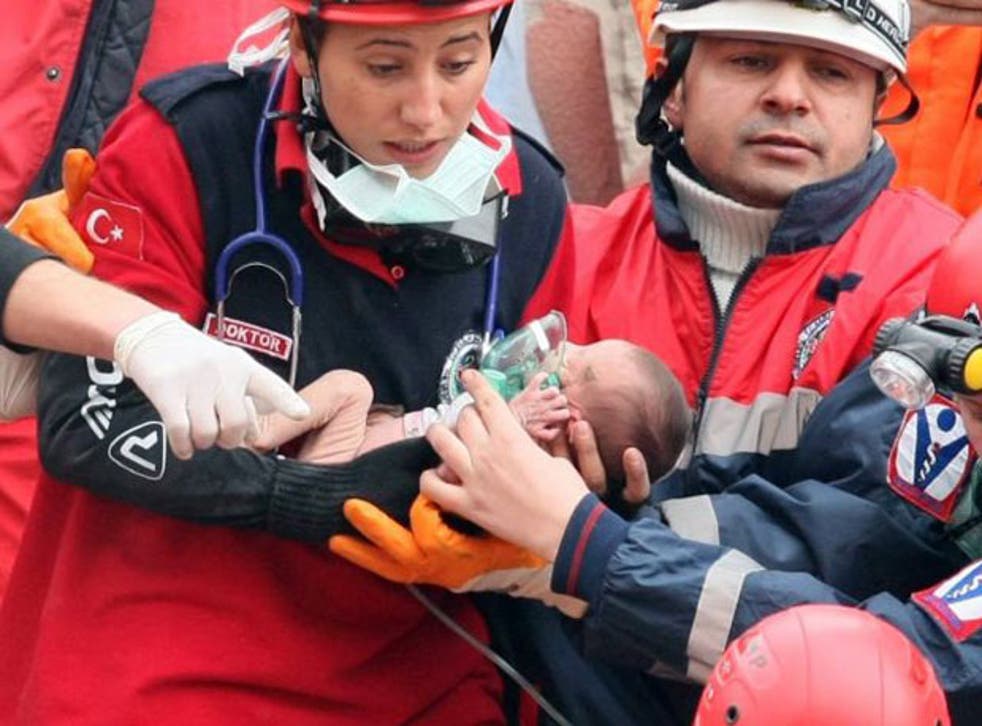 Rescuers pulled a two-week-old baby girl alive from the wreckage of a collapsed apartment block today as they battled to find survivors from a earthquake in eastern Turkey that killed at least 432 people and left thousands homeless.
The baby's mother and a grandmother were also brought out alive on stretchers to jubilant cries from onlookers who followed the dramatic rescue under cold, pouring rain.
"It's a miracle!", said Senol Yigit, the uncle of the baby, Azra, whose name means "purity" or "untouched" in Arabic. "I'm so happy. What can I say. We have been waiting for two days. We had lost hope when we first saw the building," he said sobbing.
However, hope of finding more people alive under tonnes of rubble faded with every passing hour as rescuers pulled out more bodies.
The death toll from the 7.2-magnitude quake rose to 432, from an earlier 366, the Disaster and Emergency Administration said. The final count was likely to rise further as many people were still missing and 2,262 buildings had collapsed.
Thousands slept for a second night in crowded tents or huddled around fires and in cars across a region rattled by aftershocks in Van province, near the Iranian border.
The centre of Van, a city of one million, resembled a ghost town, and in the hard-hit town of Ercis thousands of people roamed the streets.
With victims accusing the central government of being slow in delivering aid to a region inhabited mostly by minority Kurds, Ankara said it was sending more tents and blankets. In some distribution centres, fighting broke out among desperate victims to grab tents from overwhelmed aid workers.
The prime minister's Disaster and Emergency Administration said priority should be given to delivering tents, blankets, sleeping bags, water and food to the victims. Electricity cuts have hampered rescue efforts, and there are worries about the weather with winter snows less than a month away.
"We have no tents, everybody is living outdoors. Van has collapsed psychologically, life has stopped. Tens of thousands are on the streets. Everybody is in panic," Kemal Balci, a construction worker, said as he awaited news on friends injured in the quake at a hospital in Van.
"Aid has been arriving late. Van has been reduced to zero. We have no jobs, no bread, no water and there are nine members in my family. If the government doesn't give a hand to Van it will be like Afghanistan. Van has been pushed back 100 years."
The quake, Turkey's most powerful in a decade, is one more affliction for Kurds, the dominant ethnic group in impoverished southeast Turkey, where more than 40,000 people have been killed in a three-decade-long separatist insurgency.
In an escalation of hostilities, Turkish warplanes struck targets overnight in northern Iraq, where the separatist militants have bases.
Some 500 soldiers have crossed the border with armoured vehicles in the wake of an attack last week by Kurdistan Workers Party (PKK) fighters that killed 24 Turkish troops, security sources said.
Quake rescue efforts focused on Ercis, a town of 100,000 that was worst hit, and Van, the provincial capital.
Emergency workers extracted the infant girl alive from the wreckage two days after she was buried with her mother under an apartment block.
The mother was clutching the child to her chest when they were reached by rescuers, who then set about rescuing the mother and a grandmother who were also still alive.
"We're going to get them out soon," a rescuer assured the other grandmother, whose eyes brimmed with tears of joy at the survival of her grandchild, who was born prematurely.
Elsewhere, exhausted workers used machinery, jackhammers, shovels, pick axes and bare hands to comb through rubble. Every so often, they would shout for silence and generators and diggers would stop, straining to hear voices under rubble. Seconds later the drone of the machinery would start again.
The Turkish Red Crescent has said it is preparing temporary shelter for about 40,000 people, although there are no reliable figures for the homeless. Many residents spent the night outside fearing any return to their damaged homes.
Officials said 12,000 more tents would reach Van today after complaints that entire families were cramming into tents. Authorities have been criticised for failing to ensure that some of the neediest, particularly in villages, received tents as night temperatures plummeted.
"Life has become hell. We are outside, the weather is cold. There are no tents," said Emin Kayram, 53, sitting by a campfire in Ercis after spending the night with his family of eight in a van parked nearby. His nephew was trapped in the debris of a building behind him, where rescue workers dug through the night.
"He is 18, a student. He is still stuck in there. This is the third day but you can't lose hope. We have to wait here."
How fast Ankara manages to deliver aid and long-term relief to the survivors might have political consequences in a region plagued by poverty and the Kurdish insurgency, analysts said.
Prime Minister Tayyip Erdogan, who won a third consecutive term with a strong majority at a June election, has pledged to push reforms in parliament and rewrite the constitution to address long-time Kurdish grievances in an effort to end violence. Erdogan traveled to the region on Sunday, and President Abdullah Gul has also announced plans to visit.
"If we want to win the hearts of our brothers of Kurdish origin, we should act now. We should beat the outlawed Kurdistan Workers Party (PKK) with this approach, which is more effective than arms," leading analyst Mehmet Ali Birand wrote.
There were scenes of chaos at one aid centre in Van, where a crowd of survivors including women broke out in a fight when new tents arrived. Police intervened but proved ineffective.
The government has received offers of aid from dozens of countries, including from former ally Israel, but has so far accepted aid only from Bulgaria, Azerbaijan and Iran.
"The prime minister runs for help when it's Palestine or Somalia, sends ships to Palestine, almost goes to war with Israel for the sake of Palestinians, but he doesn't move a muscle when it comes to his own people," said Emrullah, a young man of about 18.
"He rejects aid offers from around the world, but we need tents here."
Reuters
Register for free to continue reading
Registration is a free and easy way to support our truly independent journalism
By registering, you will also enjoy limited access to Premium articles, exclusive newsletters, commenting, and virtual events with our leading journalists
Already have an account? sign in
Register for free to continue reading
Registration is a free and easy way to support our truly independent journalism
By registering, you will also enjoy limited access to Premium articles, exclusive newsletters, commenting, and virtual events with our leading journalists
Already have an account? sign in
Join our new commenting forum
Join thought-provoking conversations, follow other Independent readers and see their replies