Baby Trump balloon set to join protests in Ireland for US president's visit
'There's going to be a massive show of resistance - it would be an honour for the Trump baby to be part of it'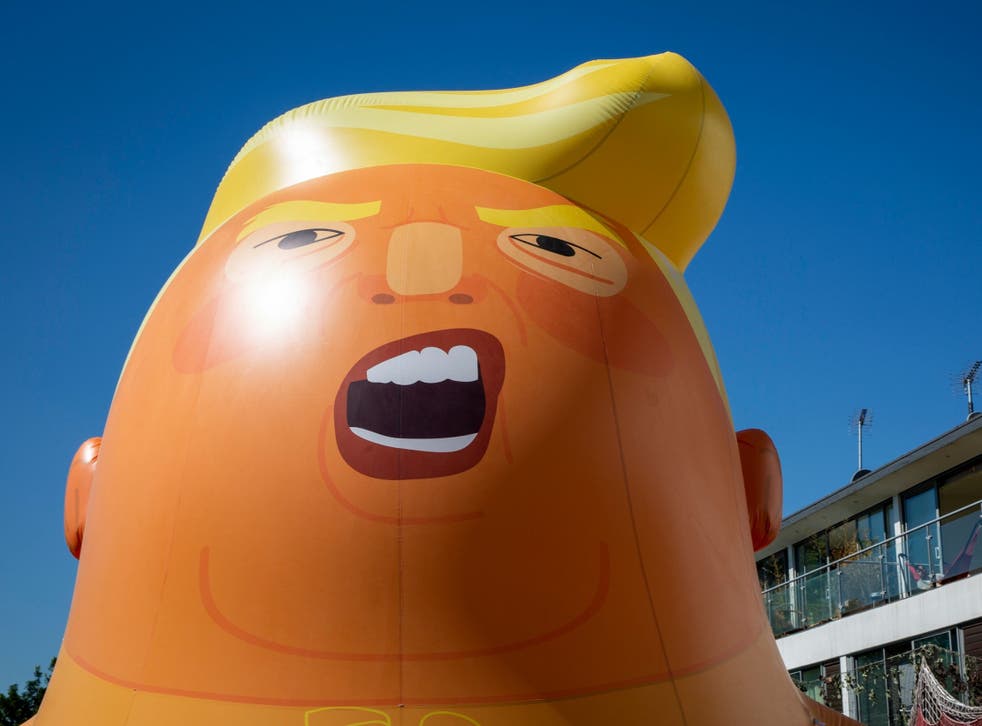 A giant balloon depicting Donald Trump as an angry baby is set to head over to Ireland to join protests planned for the US president's in November.
The White House confirmed Mr Trump's visit on Friday, triggering preparations by Irish activists for "large scale public demonstrations" against the divisive figure.
British campaigners behind the baby balloon protest said the Irish trip was "an excellent opportunity" to troll Mr Trump again.
The six-metre high blimp – which shows the US president wearing a nappy and holding a smartphone – was first seen at anti-Trump protests in London while the president was in the UK for talks with Prime Minister Theresa May.
"We'd love to take the Trump baby over to Ireland for the president's visit," Kevin Smith, one of the organisers, told The Independent.
"When we passed our original crowd-funding target, we said we'd use the excess money to take the Trump baby wherever we could to globally troll Donald, and so this would be an excellent opportunity.
Mr Smith added: "We've been so inspired by all the people in the streets in Ireland that have been fighting for things like gay marriage and abortion rights, so we're presuming there's going to be a massive show of resistance to Trump's politics of hate and division and it would be an honour for the Trump baby to be part of that."
The best anti-Trump placards from the London protests

Show all 14
Earlier on Satruday, the Green Party in Ireland revealed details of a "Not Welcome in Ireland!" protest in Dublin on 10 November.
Green Party leader Eamon Ryan urged people to "show their disgust and rejection of the Trump administration's policies… in large-scale mass protest around the country."
The Irish Labour leader Brendan Howlin said his own party would "join with likeminded people to oppose this visit".
Mr Trump is expected to make the trip to Ireland either just before or just after his visit to Paris to take part in Armistice Day commemorations, marking the 100th anniversary of the end of the First World War.
Ireland's prime minister Leo Varadkar made the invitation on his visit to the White House in March.
Register for free to continue reading
Registration is a free and easy way to support our truly independent journalism
By registering, you will also enjoy limited access to Premium articles, exclusive newsletters, commenting, and virtual events with our leading journalists
Already have an account? sign in
Register for free to continue reading
Registration is a free and easy way to support our truly independent journalism
By registering, you will also enjoy limited access to Premium articles, exclusive newsletters, commenting, and virtual events with our leading journalists
Already have an account? sign in
Join our new commenting forum
Join thought-provoking conversations, follow other Independent readers and see their replies