Balkan floods: Land mines dislodged as 3,000 landslides hit Bosnia and Serbia
Belgrade braced itself for a river of water expected to hit the city on Monday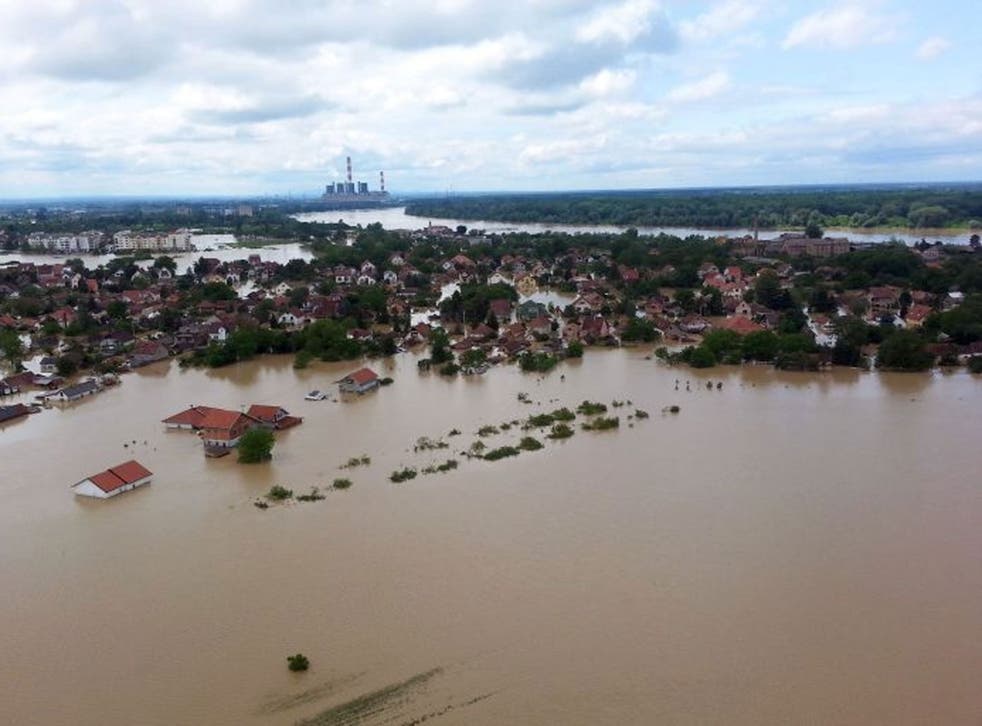 At least 34 people have died after three months' worth of rain fell across the Balkans on Sunday, triggering over 3,000 landslides which destroyed entire towns and villages, and displaced tens of thousands of people from their homes.
By Sunday, the water had receded in some locations, and revealed the devastation caused by the deluge.
But on Monday morning, Belgrade was bracing itself for a river water surge that had threatened to inundate Serbia's main power plant and cause major power cuts in the capital.
The floodwaters have also disturbed the nearly 120,000 unexploded land mines left from Bosnia's 1992-1995 war, as well as warning signs marking where the unexploded weapons lie.
An estimated 2,100 landslides were triggered by rainfall across Bosnia's hilly terrain on the weekend, while neighbouring Serbia reported 1,000.
Bosnian officials say about a million people — more than a quarter of the country's population — live in the worst-affected areas.
More than 10,000 people have now been rescued from the town of Bijeljina in northeast of the country, with the Bosnian Army reporting it had 1,500 troops helping on the ground.
But rescue teams have had to contend with many bridges having been washed away, leaving communities dependent on airlifts.
Helicopters crews from the European Union, Slovenia and Croatia were also aiding rescue efforts, in the worst flooding seen in the region since records began 120 years ago.
In pictures: Serbia and Bosnia floods

Show all 30
Rescuers have urged people to go to the balconies or rooftops of their houses with bright fabric to make themselves visible, in order to help helicopter crews airlift families from rooftops before their homes are engulfed by water.
"The situation is catastrophic," said Bosnia's refugee minister, Adil Osmanovic, as more casualties are expected.
Serbian Prime Minister Aleksandar Vucic said on Sunday that 12 bodies have been found so far in Obrenovac, the site of the country's biggest coal-fired Nikola Tesla power plant.
The country's energy minister, Aleksandar Antic, appealed to people to conserve power - calling the threat to the plant "very serious."
"It is a very demanding task," he said, acknowledging that officials would have no other way to protect the port city of more than 70,000.

People have been evacuated from six villages in the north-eastern city of Brcko in Bosnia, which was in danger of being overwhelmed by flood water.
Brcko Mayor Anto Domic called on the Defense Ministry to use helicopters to lower steel barriers that could be backed by sandbags to contain the water.
Meanwhile in the nearby city of Orasje, civil protection commander Fahrudin Solak said the Sava River was spilling over another portion of the city's flood barrier while emergency workers attempted to reinforce it with sandbags.
Large parts of eastern Croatia were also underwater, with several villages cut off and hundreds still fleeing the flooded zone in boats and trucks. Refugees were being housed in sports halls and schools, and aid centers were set up to distribute medicine, food, blankets and clothing.
The hillside village of Horozovina, near the northeastern town of Tuzla, was practically split in two by a landslide that swallowed eight houses. More than 100 other houses were under threat from the restless earth. Residents told stories of narrow escapes from injury or death.
"I am homeless. I have nothing left, not even a toothpick," Mesan Ikanovic, a Horozovina resident said, adding: "I ran out of the house barefoot, carrying children in my arms."
Ikanovic said 10 minutes separated him and his family from likely death. He carried his 7-year-old daughter and 4-year-old son to safety.
Additional reporting by agencies
Join our new commenting forum
Join thought-provoking conversations, follow other Independent readers and see their replies