Baltic nations tense as search for 'Russian submarine' continues
Civilian vessels have been order to stay at least six miles from military operations, while a no-fly zone has also been established
Rose Troup Buchanan
Tuesday 21 October 2014 10:46 Comments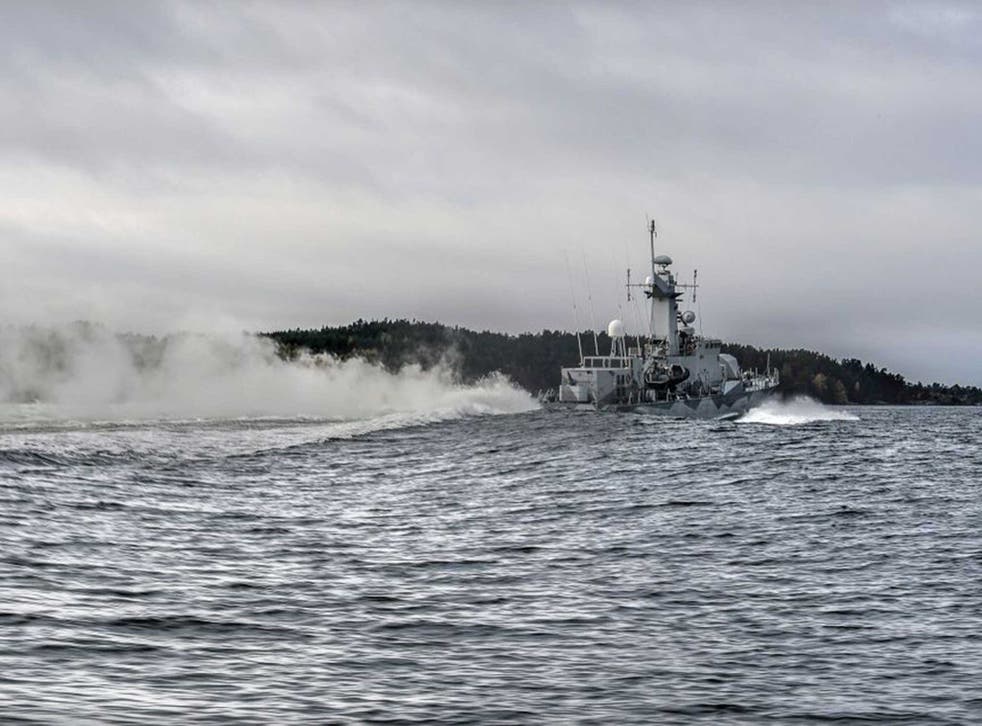 The Swedish military's alleged hunt for a damaged Russian submarine has put neighbouring Baltic countries on edge as they witness a mobilisation of forces unseen since the Cold War.
The search intensified yesterday after civilian vessels were order to stay at least six miles away from the Swedish warship conducting the search, while military forces simultaneously imposed a no-fly zone over large parts of the Baltic archipelago, including Sweden.
Sweden's Rear Admiral Anders Grenstad claimed the armed forces had made three separate sightings of "foreign undersea activity" in the past few days, amid rising speculation the submarine is Russian.
The Russian government have strongly denied any involvement.
The news comes as Swedish daily SVT reported last night that the armed forced had knowingly provided misleading information over the location of the submarine to the media, after the publication of an image appearing to show a submerged object in the seas yesterday.
Rear Admiral Grenstad explained although he had not wished to "deceive" the media, the armed forces did "not want to give any opponent too much information."
Swedish naval ships, helicopters and ground troops combed the Stockholm archipelago for a fourth consecutive day for signs of a foreign submarine or smaller underwater craft that officials suspect may have entered Swedish waters illegally.
Although Sweden hasn't linked any country to the suspected intrusion — and Moscow suggested it was a Dutch sub — the incident sent a chill through the Baltic Sea region, where Russian forces have been accused of a series of border violations on land, sea and air in recent months.
A spokesperson for the Netherlands has also denied any involvement, saying a submarine involved in the exercises was anchored in Tallinn, Estonia, for the weekend.
"Closely following events in the Swedish territorial waters, may become a game changer of the security in the whole Baltic Sea region," Latvian Foreign Minister Edgars Rinkevics wrote on Twitter two days ago.
The hunt began on Friday after information, provided by a "credible source", indicated there was a foreign object in Sweden's seas.
An unnamed source at the Russian Defence Ministry claimed its submarines and ships have been "fulfilling their tasks in the world's oceans," according to plan, Russian news agencies reported.
"There have been no emergencies or accidents with Russian military vessels," the anonymous spokesman was also quoted as saying.
Additional reporting from AP
Register for free to continue reading
Registration is a free and easy way to support our truly independent journalism
By registering, you will also enjoy limited access to Premium articles, exclusive newsletters, commenting, and virtual events with our leading journalists
Already have an account? sign in
Join our new commenting forum
Join thought-provoking conversations, follow other Independent readers and see their replies