Barcelona attack: Three suspects could be on run as investigation focuses on imam at centre of Spain terror cell
Suspected radical imam preached at mosque in Ripoll, the town home to most of the young Barcelona and Cambrils attackers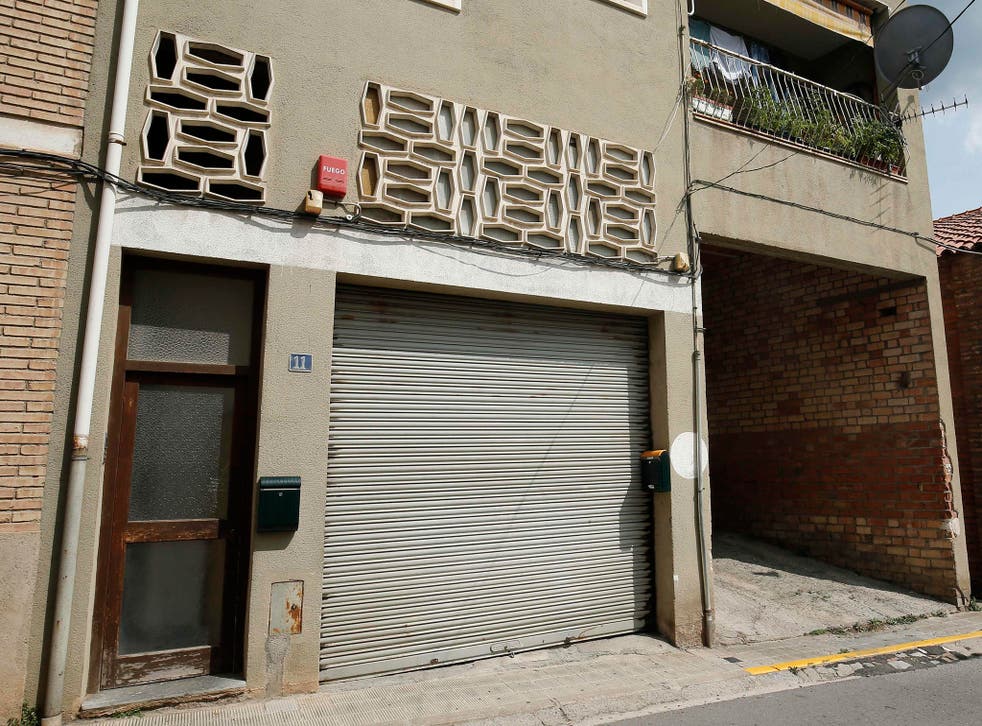 Spanish police have raided the home of an imam they believe may have been at the centre of a plot to commit the terror attacks that killed 14 people.
A van was used to kill 13 and injure more than 130 people in Barcelona on Thursday, and hours later a second attack took place in the seaside town of Cambrils, leaving one person dead and 13 injured.
Police have released a diagram naming 12 suspects in the attack, three of whom are currently believed to be on the run.
They include 22-year-old Younes Abouyaaqoub, who is thought to have been at the wheel of the van that ploughed into crowds of people on Barcelona's La Rambla thoroughfare.
A graphic published by El Pais names the five attackers shot dead in Cambrils, including Moussa Oukabir, at least two people killed in an explosion in Alcanar and four suspects in detention. Three others - Youssef Aalla, imam Adelbaki Es Satty and Abouyaaqoub - are feared to be at large.
The alleged cell includes four pairs of brothers, all from the picturesque Pyrenean town of Ripoll, and most are believed to be of Moroccan origin.
Police believe that Es Satty may have been the ringleader of the undetected terror cell, who was possibly responsible for radicalising a group of attackers who included a former waiter, extreme sports instructor and teenage football fan.
The imam, in his 40s, has travelled to Belgium several times since 2015, El Periodico reported, and was linked to suspected al-Qaeda recruiters behind the 2004 Madrid bombings.
Interior of house of suspected Barcelona van driver
Es Satty was last seen on Tuesday after telling his flatmate he was going to Morocco, Spanish newspaper La Vanguardia reports.
He is said to have a wife and children in his home country but lived and preached in Ripoll - the town that was home to the vast majority of named attackers including a 17-year-old boy among those shot dead in Cambrils.
Police have also connected the attacks with a large explosion in the town of Alcanar about 120 miles south of Barcelona, on Wednesday night, in which they believe Es Satty may have been killed alongside other plotters.
Investigators confirmed that they had found the remains of at least three people in the Alcanar house, which is thought to have been used as a bomb factory and as a base from which the group planned the attacks in Barcelona.
It is thought they may have planned to use large butane gas canisters for even larger scale attacks, and newspaper El Espanol said one plan could have been to drive a lorry full of explosives into Gaudi's world-famous Sagrada Familia cathedral in Barcelona.
Information from a rental company indicated that the attackers had earlier tried to rent a large lorry, but were prevented from doing so when the driver failed to produce the necessary paperwork.
​Josep Lluis Trapero, the head of Catalonia's police force, said investigators believe plotters were preparing multiple assaults for "some time" before their base was accidentally destroyed.
One or more attack was being planned in Barcelona and the perpetrators had material to carry out a much bigger assault, Mr Trapero told a press conference.
"Because of [the explosion in Alcanar] the attack in Barcelona and the one in Cambrils were carried out in a more rudimentary way than originally planned," he added.
Mr Trapero said none of the suspects were previously known to security services for terrorism, raising questions over how a large group of young men was able to be radicalised and prepare multiple attacks without detection.
Isis claimed responsibility for both attacks in a new statement released on Saturday that attributed the atrocities to "covert units" of "Islamic State soldiers".
The group's statement included a reference to an extra attack on a bar using "light weapons" that did not take place and included an incident where a car drove through a police checkpoint after the van attack.
Investigators have not confirmed the ramming, after which a man was found stabbed to death inside the car, is linked to the attacks but there is mounting speculation that one of the terrrorists could have hijacked the car and fled.
Isis' statement referred to the targets as Jews and "Crusaders" – a term used to describe Christians and citizens of countries in the US-led coalition against Isis.
At a press conference on Saturday, Spanish interior minister Juan Ignacio Zoido said police had "dismantled" the cell and no new attacks were imminent, but Catalan police said searches remained underway for extremists that pose a continued threat.
Barcelona Attack

Show all 30
Fears were continuing to grow over the fate of seven-year-old Julian Cadman, a dual British-Australian national, who became separated from his mother during the Barcelona attack.
Julian's father and grandmother are believed to have arrived in Spain on Saturday after travelling from Australia.
Victims from 34 nationalities were among those killed and injured in the two attacks. Local authorities have identified eight victims of the attack in Barcelona as an Italian, two Portuguese, three Spanish, one Spanish-Argentine and an American.
The victim of the second assault in Cambrils has been identified as a Spanish woman, who died of her injuries in hospitals.
Family members and government officials have also said another two Italians, a Belgian and a Canadian are also amongst the dead..
King Felipe VI and Queen Letizia visited the victims of the atrocity and spoke to medical staff at Barcelona's Hospital del Mar before laying a wreath amid floral tributes on La Rambla.
​Authorities said 53 people injured in the attacks were still in hospital on Saturday, with 13 in a critical condition and 22 in a serious condition.
Register for free to continue reading
Registration is a free and easy way to support our truly independent journalism
By registering, you will also enjoy limited access to Premium articles, exclusive newsletters, commenting, and virtual events with our leading journalists
Already have an account? sign in
Register for free to continue reading
Registration is a free and easy way to support our truly independent journalism
By registering, you will also enjoy limited access to Premium articles, exclusive newsletters, commenting, and virtual events with our leading journalists
Already have an account? sign in
Join our new commenting forum
Join thought-provoking conversations, follow other Independent readers and see their replies