Barcelona attack: Moroccan imam at centre of Spain terror cell had links with Madrid bombers and Belgium
Investigation widening amid fears van driver may have fled into France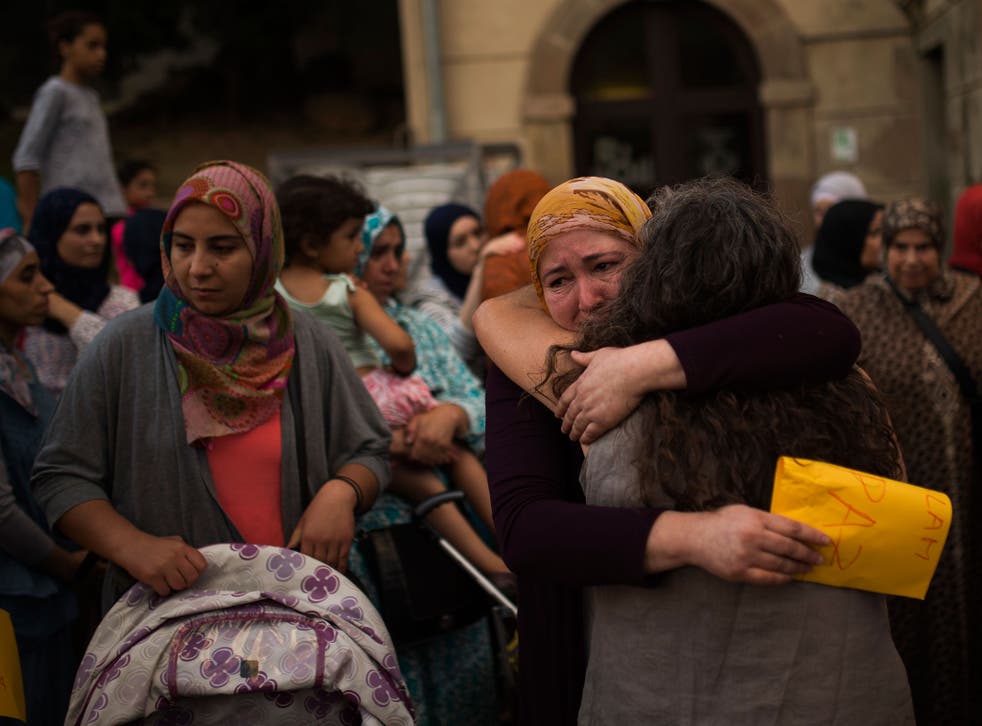 The imam believed to be the ringleader of the Spain attackers had links with the 2004 Madrid bombers and recently travelled to Belgium, it has emerged.
Investigators are piecing together the background of Isis supporters who launched two deadly attacks in Barcelona and Cambrils as the driver of the van used to kill 13 people remains at large.
Police say they cannot rule out the possibility that Younes Abouyaaquoub, a 22-year-old Moroccan who could be the only surviving member of the terror cell, has escaped into France and travelled onwards through Europe.
The investigation into the attacks has spread to several countries recently visited by attackers, including Morocco, France and Switzerland.
Belgian media reported that the suspected ringleader of the attack, Moroccan imam Abdelbaki Es Satty, spent at least three months in the country.
The mayor of Vilvoorde, once a notorious jihadi hub, confirmed Es Satty lived in the city from January to March 2016 – the month that saw Isis' attacks launched in nearby Brussels – but the Belgian immigration minister said he was not registered with authorities.
Hans Bonte said Es Satty attempted to work at mosques in the city but was refused by community members who reported his arrival to the police.
Mass held for Barcelona terror victims as manhunt continues
Belgian authorities said they contacted their Catalan counterparts for information but were told he was not known to be radicalised, De Redactie reported.
The imam is not believed to have been under surveillance by Spanish security services, despite his apparent extremist connections following a period in prison in 2012.
Acquaintances of Es Satty said he was not religious until being jailed for smuggling hashish and meeting Rachid Aglif, who was serving time for his part in the al-Qaeda inspired Madrid bombings.
In 2015 he started teaching at a mosque in Ripoll, the quiet Spanish town home to most of the Spain attackers.
Friends and relatives said the plotters, including a waiter and extreme sports instructor, appeared to lead normal lives until they started attending Es Satty's sermons.
A woman who knew members of the cell said the imam repeatedly preached about jihad and killing "infidels", adding: "I feel like I could have done something. I feel a little bit guilty now.
"Everybody knew it. It was an open secret. But I can't say it because these people are dangerous and they could come after me. I don't trust anybody now."
Leaders of Es Satty's former mosque denounced the terror attacks, but denied the preacher was anything other than "a normal imam".
At least three sets of brothers and cousins were among the cell's alleged members – a pattern previously seen among large groups of European foreign fighters joining Isis in Syria and in terror attacks including Paris, Brussels and Boston.
Only one, suspected van driver Abouyaaqoub, is known to remain alive after fleeing from the scene of the rampage that left 13 people dead and more than 100 injured on La Rambla.
Family members told Reuters that Abouyaaqoub started showing more religiously conservative behaviour within the past year, refusing to shake hands with women during a visit to his birthplace in Morocco in March.
They expressed shock and anger after discovering his alleged involvement in the Barcelona attack, with his mother, Hannou Ghanimi, telling reporters in she wanted her son to give himself up to police and would rather see him in prison than dead.
His brother, El Houssaine, and first cousins Mohamed and Omar Hichami were killed alongside Moussa Oukabir and Said Aalla by police in the second ramming attack in the resort town of Cambrils.
Es Satty was one of at least two plotters killed in an accidental explosion that destroyed a house they were using as a bomb factory in Alcanar on Wednesday night.
Eyewitness: Cambrils terror suspect was 'smiling and taunting' after being shot by Spanish police
There are reports that possible bomb maker Youssef Aalla may have died in the explosion that wounded fellow plotter Mohamed Chemlal.
He has been detained alongside Driss Oukabir, Mohammed Aalla and Salh el Karib.
Police said traces of the volatile explosive TATP, used in Isis' Manchester, Paris and Brussels attacks, was found alongside around 120 bottles of gas in the ruins in Alcanar.
Josep Lluis Trapero, the head of Catalonia's police force, said the original plan to create huge vehicle bombs was foiled by the accidental blast, which rushed plotters into "rudimentary" assaults the following day.
"Our thesis is that the group had planned one or more attacks with explosives in the city of Barcelona," Mr Trapero said.
He would not confirm that Abouyaaquoub was behind the wheel in Barcelona but confirmed that officials did not know where he or the driver are.
Asked whether Abouyaaquoub could have crossed into France, he replied: "We don't have any specific information on this but it cannot be ruled out."
It would not be the first time a terrorist has managed to flee across borders in the immediate aftermath of an attack.
Barcelona Attack

Show all 30
Paris attacker Salah Abdeslam was driven through a police checkpoint into Belgium on the night of Isis' November 2015 massacres, while Berlin attacker Anis Amri managed to reach Italy before being shot dead by police.
Carles Puigdemont, the head of the Catalan government, denied reports that the CIA warned local police that Barcelona could be Isis' next target.
Catalonia has become increasingly known as a centre of extremism, with almost one third of Isis-linked arrests in Spain made there, according to an analysis by a Spanish think tank.
A 2007 cable from the US State Department warned of the risk of radicalisation in Catalonia and called for a regional counter-terror hub to be set up in Barcelona.
The missive, which was later published by Wikileaks, said Spanish and American authorities had identified the region as a "major Mediterranean centre of radical Islamist activity" that had become a "magnet for terrorist recruiters".
Officials said Catalonia housed al-Qaeda and Ansar al-Islam recruiters, as well as a terror cell including an unnamed imam arrested earlier that year.
The State Department cited men with a North African background at particular risk for radicalisation in "circumstances would provide fertile ground for terrorist recruitment", adding: "The threat is clear."
The cable described Catalonia as "a prime base of operations for terrorist activity" but claimed Spanish authorities had little intelligence on or ability to penetrate the groups.
Questions remain over how the cell of more than a dozen plotters were able to plan multiple and sophisticated terror attacks without detection, and on the extent of Isis' involvement in the massacres.
Register for free to continue reading
Registration is a free and easy way to support our truly independent journalism
By registering, you will also enjoy limited access to Premium articles, exclusive newsletters, commenting, and virtual events with our leading journalists
Already have an account? sign in
Register for free to continue reading
Registration is a free and easy way to support our truly independent journalism
By registering, you will also enjoy limited access to Premium articles, exclusive newsletters, commenting, and virtual events with our leading journalists
Already have an account? sign in
Join our new commenting forum
Join thought-provoking conversations, follow other Independent readers and see their replies