Battle of the blondes: Madonna vs Le Pen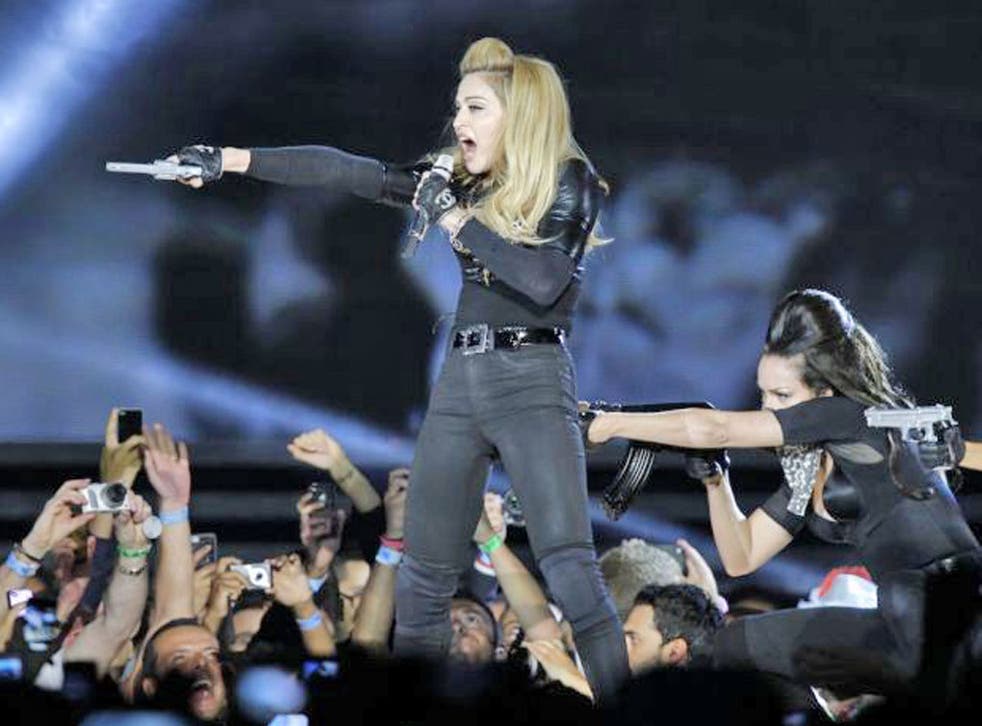 Two of the world's most celebrated blondes, Madonna and Marine Le Pen, are to face off in court after the American singer showed an image of the French far right leader with a swastika on her forehead during a concert in Paris at the weekend.
The National Front (NF) said yesterday that it would bring a formal legal complaint for "making public insults" after the pop diva displayed the swastika-embellished face of Ms Le Pen as the Stade de France on Saturday night.
The same image has appeared at other concert's during Madonna's world tour. The extreme nationalist party warned last month that it would bring a legal action if it was shown in France.
Ms Le Pen's father, the NF founder, Jean-Marie Le Pen, has talked of a claim for €1,000,000 (£785,000) in damages but any punishment inflicted by a French court is likely to be much smaller.
"This is yet another provocation, intended to try to overcome [Madonna's] problems with her fans during a tour which is a complete flop," said a senior NF official, Florian Philippot, yesterday.
While performing the song Nobody Knows Me Madonna was backed by a series of images on a giant screen. As at previous concerts, the images included the deposed Egyptian president, Hosni Mubarak, Pope Benedict XVI and Marine Le Pen, with a swastika imposed on her forehead. After a few seconds, the image of Ms Le Pen gave way to a picture of Adolf Hitler.
Madonna, 53, often makes political statements during her concerts. The 43 year old Ms Le Pen, meanwhile, has attempted to clean up the image of the NF since she replaced her father as the party's president in January.
Register for free to continue reading
Registration is a free and easy way to support our truly independent journalism
By registering, you will also enjoy limited access to Premium articles, exclusive newsletters, commenting, and virtual events with our leading journalists
Already have an account? sign in
Register for free to continue reading
Registration is a free and easy way to support our truly independent journalism
By registering, you will also enjoy limited access to Premium articles, exclusive newsletters, commenting, and virtual events with our leading journalists
Already have an account? sign in
Join our new commenting forum
Join thought-provoking conversations, follow other Independent readers and see their replies