Beckham wins! Paris wins! Charity wins! But so does Qatar
The footballer's transfer to the French capital is a coup for all concerned – especially an Emirate with an image problem, says John Lichfield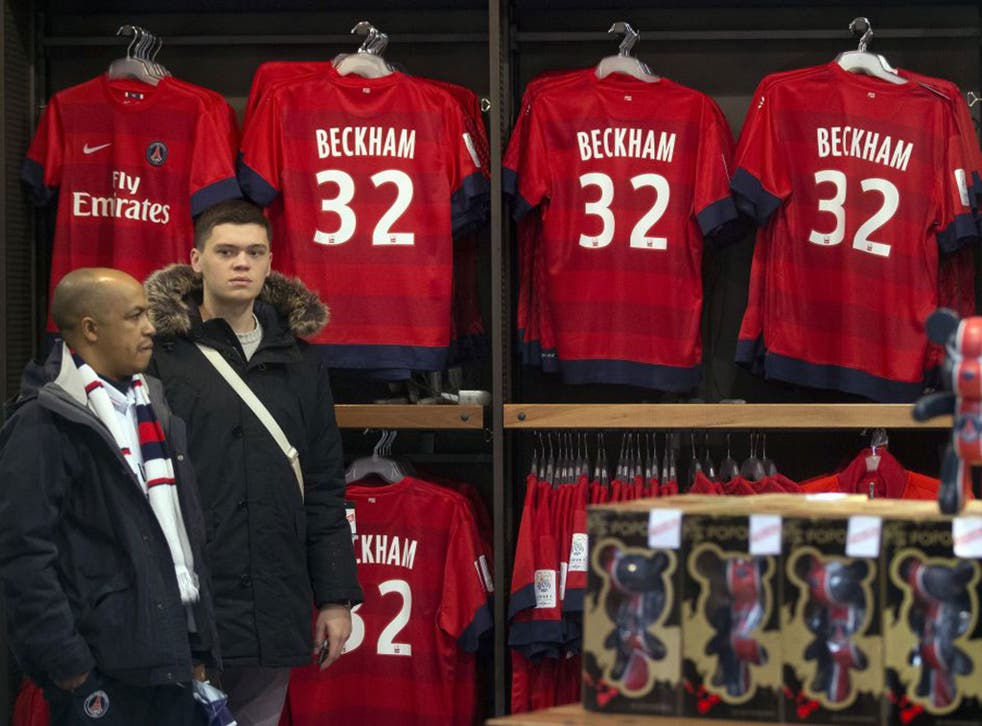 The announcement was like a David Beckham free kick: a twist in the trajectory of events so unexpected that it was in our net before we knew how to react.
The richest and most popular footballer in the world was going to play for the richest club in the world for free. Better still, he was going to give his wages to a children's charity.
What was going on? A tax avoidance scam? A publicity stunt? Was this simply a heart-warming tale of a wealthy superstar bringing together two of the things that he loved most: football and children?
Even if you accept that Beckham was sincere – as he appears to be – doubts are justified. Beckham's motives may be innocent and laudable. Those of Paris Saint-Germain (PSG) and the club's Qatari owners are more practical, even cynical.
PSG's decision to sign Beckham, below, in the twilight of career has nothing much to do with football. At the press conference to un
veil Beckham (as if he needed unveiling), the club's president, Nasser al-Khelaifi, described him as an "asset" who would "add big value" to PSG. For PSG, read "Qatar".
Beckham, 37, has signed a contract for five months, one month of which is in the close season in June. There are only 15 games left in the French league season. Beckham will miss two or three matches while he gets fit.
Even with cup games and European games, "Le Spice Boy", as the French call him, may end up playing only a handful of matches in the blue and red of Paris Saint-Germain. He is, nonetheless, expected, to win multiple victories for PSG and for Qatar PLC.
"Beckham 32" shirts were flying off the shelves at the PSG shop on the Champs Elysees today at €110 a time. Shirt sales are a detail. The signing of "brand Beckham" is about raising the profile of a perennially under-achieving club and, more importantly, raising the profile of Qatar.
The Qatari ownership of PSG is part of a relentless strategy to turn the tiny emirate into a sporting, cultural and entertainment giant. The emirate's mysterious capture of the rights to host the World Cup in 2022 is under increasing criticism and scrutiny.
FIFA has been presented with new evidence that the vote in 2010 was influenced by money. There are growing doubts about Qatar's ability to hold the competition in June and July 2022 when temperatures in the Gulf reach 50 degrees centigrade.
Many PSG fans have been unhappy with the way the Qataris have thrown their oil millions around since they bought the club in 2011. Local heroes have been pushed out. Not all the highly-paid replacements have performed well. There was violent criticism in France, from politicians of both Right and Left, when PSG tried to attract Beckham a year ago on a reported salary of €800,000 a month.
Hence, the value to the Qataris of this week's surprise-within-a-surprise. PSG were not only signing the most popular footballer in the world. David Beckham was going to play for PSG for the kicks – and for the kids.
Gilles Dumas, founder of Sportlab and a French expert on sportsmarketing, said today that from the PSG – and Qatari – viewpoint, this was a "perfect publicity coup".
"PSG's image suffered from a deficiency in soul," he said. "People love football because the sport awakens the emotions of childhood in them. To make this link (between signing Beckham) and (a charity for) children, was perfect. Just what they needed."
There are, of course, also tax advantages. Beckham is also expected to earn an unstated amount from PSG from image rights and merchandising. Under French law, such earnings are taxed at 30 per cent.
His "salary" – which will go straight to an as yet unnamed children's charity – would have been taxed at around 55 per cent, including social levies. The 75 per cent super-tax planned by President Hollande will not take effect until next year.
To be fair to Becks, it should be pointed out that many star footballers, including PSG's Zlatan Ibrahimovic, insist on being paid "net of tax". In other words, the club pays them extra to cover the cost of taxes. Beckham (even though he already earns an estimated £36m from image rights) could have asked for similar treatment. Instead he agreed that his PSG football salary and bonuses should go straight to charity.
On the other hand, Beckham made it clear at his press conference that part of the deal with Qatar Sports Investment includes a continuing promotional or sporting role for PSG – and therefore, in effect, for Qatar – when his playing career ends. There was nothing to suggest that THAT would be charity work. During the lengthy negotiations with PSG 12 months ago, before he decided to stay with LA Galaxy for another season, Beckham was also offered a TV consultant's role with the Qatari-owned Al Jazeera network.
The arrival of "Le Spice Boy" was almost universally welcome by the French football world today.
After all the teasing about Gérard Depardieu's departure into Russian or Belgian tax-exile, here was a global "star" moving to France.
The manager of the France team, Didier Deschamps, said that Beckham's arrival was "wonderful news". With most French stars moving rapidly to France or German or Spain, even the arrival of a super-annuated super-hero like Beckham would raise the profile of the French domestic game, he said.
Beckham's future opponents in the French league are delighted. Romain Danzé, the Rennes defender, who is reported to earn a miserly €60,000 a month – less than a tenth of Beckham's non-salary – tweeted today: "No seriously, David Beckham!!! Wow, that's great! Thanks to PSG for letting us play against such stars."
So everyone is happy. Everyone wins. David Beckham gets to play a little longer and become even more popular. PSG and Qatar are taken more seriously as players in world sport. A children's charity, perhaps in one of the troubled, multi-racial Paris suburbs, will receive a €4m windfall.
An undercurrent of unease remains, however. One retired French football manager told The Independent today: "Of course, I love Beckham. Everyone loves Beckham. But I am worried about what the Qataris are doing at PSG and in football and sport generally. Whatever it may be, I don't think it's got much to do with the long-term best interests of football."
Register for free to continue reading
Registration is a free and easy way to support our truly independent journalism
By registering, you will also enjoy limited access to Premium articles, exclusive newsletters, commenting, and virtual events with our leading journalists
Already have an account? sign in
Register for free to continue reading
Registration is a free and easy way to support our truly independent journalism
By registering, you will also enjoy limited access to Premium articles, exclusive newsletters, commenting, and virtual events with our leading journalists
Already have an account? sign in
Join our new commenting forum
Join thought-provoking conversations, follow other Independent readers and see their replies