Belarus receives nuclear bombs 'three times size of Hiroshima bomb' from Russia
'The bombs are three times more powerful than those (dropped on) Hiroshima and Nagasaki'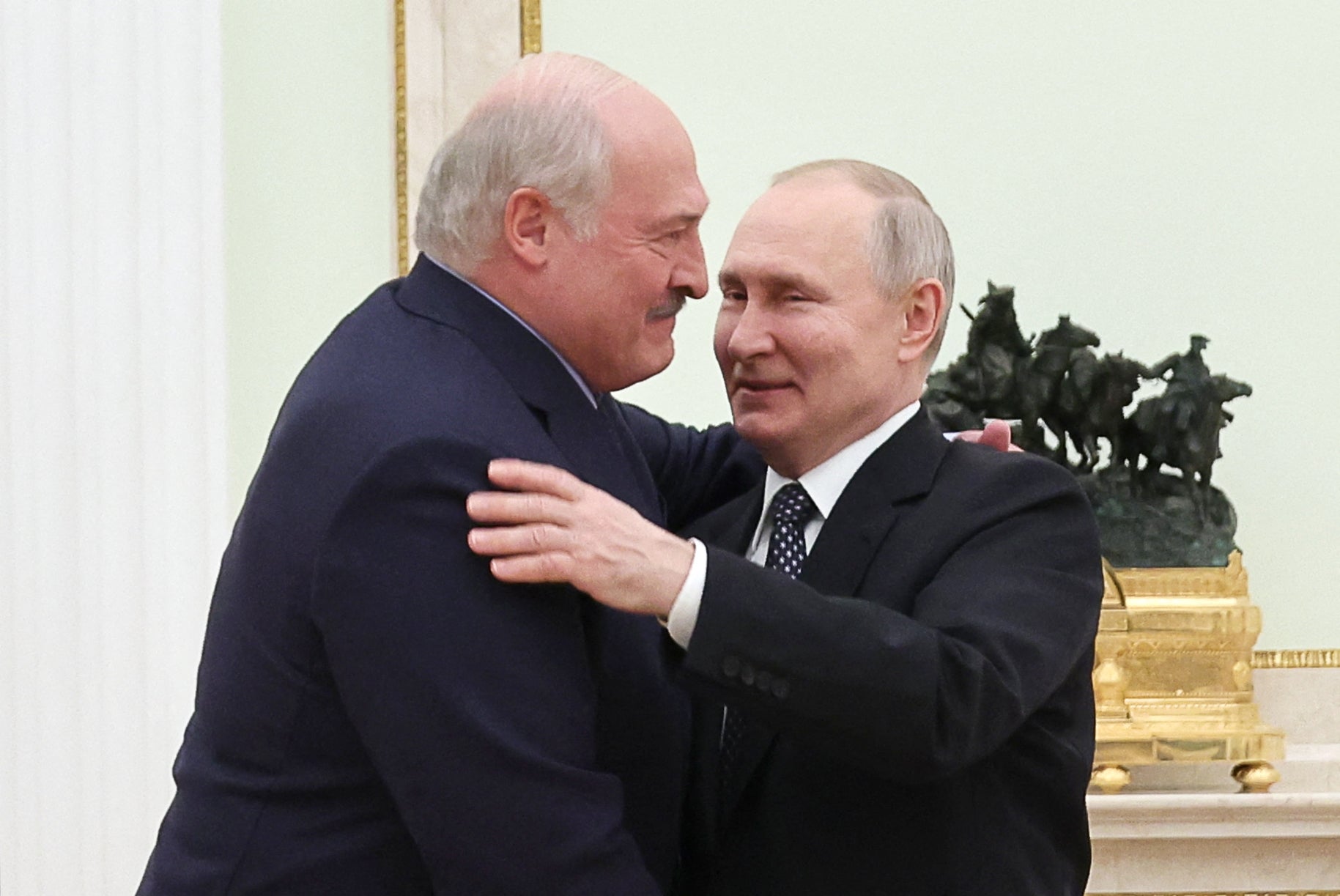 Belarus has started taking the delivery of Russian tactical nuclear weapons, president Alexander Lukashenko announced, claiming that some of these were three times more powerful than the atomic bombs dropped on Hiroshima and Nagasaki in 1945.
Mr Lukashenko said that "the bombs are three times more powerful than those (dropped on) Hiroshima and Nagasaki", adding to his previous statement that he didn't simply ask Mr Putin for the weapons, but "demanded" them.
The Vladimir Putin ally was speaking to the Russian state TV channel Rossiya-1 on a road in a forest clearing with military vehicles and a storage facility visible in the background seen around him.
This will be the first such warhead deployment by Moscow, comprising shorter-range less powerful nuclear weapons that could potentially be used on the battlefield, outside of Russia since the fall of the Soviet Union.
The interview was posted on the Belarusian Belta state news agency's Telegram channel on Wednesday.
This comes five days after the Russian president announced plans to start deploying tactical nuclear weapons in Belarus, even as Moscow will retain their control, after the special storage facilities to park them were ready.
Mr Lukashenko further confirmed his close ally's statement in the state television interview where he said Belarus has numerous nuclear storage facilities from the Soviet-era and has restored five or six of them.
On control of nuclear weapons in Russia's hands as a move to prevent the arsenal from being used up quickly, Mr Lukashenko played down the concern and said that Mr Putin and he could pick up the phone to each other "at any moment".
Just hours before on Tuesday, he had said that the Russian tactical nuclear weapons will be physically deployed on the Belarusian territory "in several days" and he had the facilities to host longer-range missiles too if ever needed.
Mr Lukashenko further alleged that Belarus has "always been a target" for the West.
"They (the West) have wanted to tear us to pieces since 2020. No one has so far fought against a nuclear country, a country that has nuclear weapons," Mr Lukashenko said, adding that the nuclear deployment will act as a deterrent against potential aggressors.
Belarus has been an active participant in Russia's full-scale invasion of Ukraine as it has consistently allowed its territory to be used by Russian forces to attack Kyiv.
The first announcement of tactical nuclear weapons was made in March by Mr Putin who had blamed the US deployment of such weapons in a host of European countries over many decades.
The US, however, maintained that it did not see any signs of Russia's willingness to prepare for nuclear weapons use in the continuing invasion, as it criticised the decision of deployment by Mr Putin.
Join our commenting forum
Join thought-provoking conversations, follow other Independent readers and see their replies