Belarus protest: Up to 200,000 defy threats to deploy army as pressure piles on Lukashenko
Demonstrators warned government will not hesitate to use force as embattled dictator filmed with automatic rifle at residence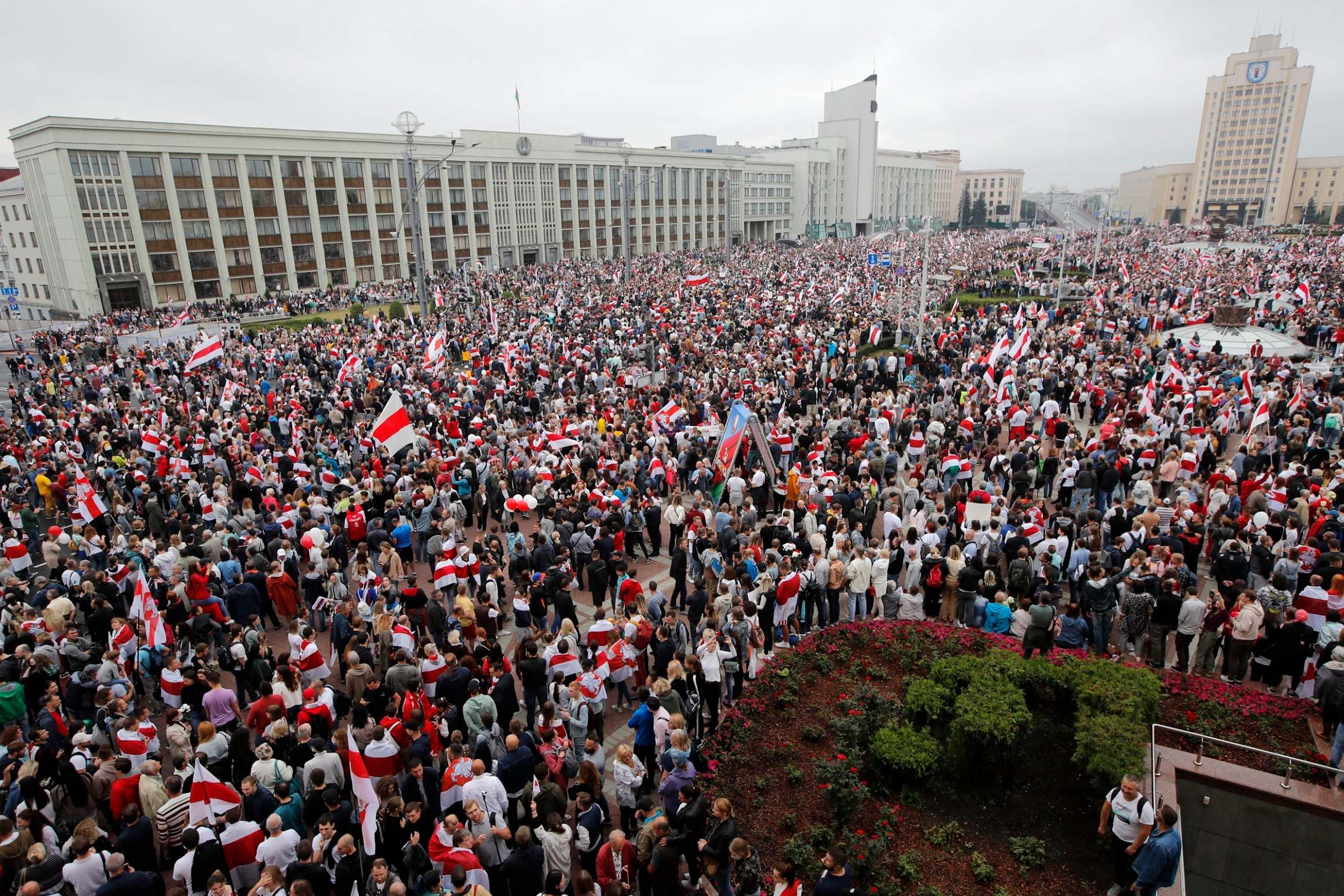 Streaming down the central Minsk streets as far as the eye could see, anti-government protesters on Sunday sent the clearest of messages to Alexander Lukashenko, the grizzly authoritarian who they believe stole an election three weeks ago.
By the end of the day, Mr Lukashenko sent back a message of his own, with his press service releasing astonishing showing him wielding a Kalashnikov rifle at his residence in the capital.
Before Sunday's rally and march, many believed the protest movement had lost momentum, squeezed by a campaign of harassment from the state. Predictions of bad weather and the appearance of troops across town only added to a sense of foreboding.
In the event, some estimates put the protesters' numbers at more than 200,000 – which would mean it eclipsed last week's protest, itself believed to be the largest in Belarusian history.
After occupying most of the streets in and around Independence Square, at approximately 4.30pm local time (2.30pm BST) crowds marched on to the city's war memorial, the location of last week's march. There they were met by lines of barbed wire, police and interior ministry troops.
By 6pm, most protesters had left, but a smaller number began a march towards the official presidential residence about a kilometre away -- before turning back.
Mr Lukashenko seemed to take the threat seriously. As news of the protesters' intentions to march on his residence filtered through, his regime made an obvious show of force. Riot police were seen running through central Minsk. A wall of heavy military equipment and mesh appeared at the residence. At approximately 7pm local time, a helicopter was observed landing in the compound.
Remarkable footage released later confirmed Mr Lukashenko was aboard the helicopter. Videos showed the autocrat circling above the protest, referring to demonstrators as "scuttling rats," and then stepping out of the helicopter with an automatic rifle in hand. His 15-year old son Kolya, long rumoured as his preferred successor, was one of those accompanying him on the flight in full combat uniform and Kalashnikov.
All throughout the day, authorities attempted to stem the numbers by cutting off avenues leading into Independence Square, the main focal point for the rally.
Army vehicles and riot police vans also sealed off the south side of the square, meaning many protesters had to take an extended detour to join.
In a menacing message released 15 minutes before the beginning of the rally, the Belarusian defence ministry said it "would not hesitate" use force if necessary.
"We warn you that if the peace is disturbed you won't be dealing with the police, but the army," it said.
A short while later, the head of the Minsk police joined in, claiming he had information protesters were planning provocations. "Youthful maximalism and rebellious behaviour are inappropriate and dangerous," he added.
In reality, the Belarusian protests have been remarkable for their law-abiding nature – and in the face of the egregious violence of the government. Protesters stop at red lights, pick up their rubbish, and go home at an arranged time. Sunday was no different.
Authorities have not yet found an effective way to answer that challenge. At the Sunday rally, they tried to persuade people to leave with increasingly threatening messages, blurted on the loudspeakers overlooking Independence Square. Then they turned to playing rousing war songs – but these were drowned out with calls for Mr Lukashenko to be locked up.
"You might think all this absurd," says 33-year-old protester Anna Korneichuk, "but this has been our reality for the last 26 years."
Ms Korneichuk was holding a banner condemning the recruitment of Russian journalists to state TV, in defiance of a strike by local journalists. It is one of hundreds on display, with slogans ranging from the angry to the outright cheeky.
"Alex, have some tea," read one, a reference to the apparent poisoning of Russia's leading opposition politician, Alexei Navalny, in a drink. Others bring attention to the torture that went on in Mr Lukashenko's jails, with many promising a trip to The Hague.
On Saturday, a volunteer search party announced they had found one man who had been missing since 12 August. Mikita Kryuchou was found dead in a forest in Minsk, with evidence he had been beaten, bringing the official death toll to five.
Seven people are still missing following the crackdown of 9-12 August.
Join our commenting forum
Join thought-provoking conversations, follow other Independent readers and see their replies