Wavering soldiers and striking workers pile pressure on Lukashenko as Belarus protests take revolutionary turn
Embattled autocrat warns Belarusians to stay off the streets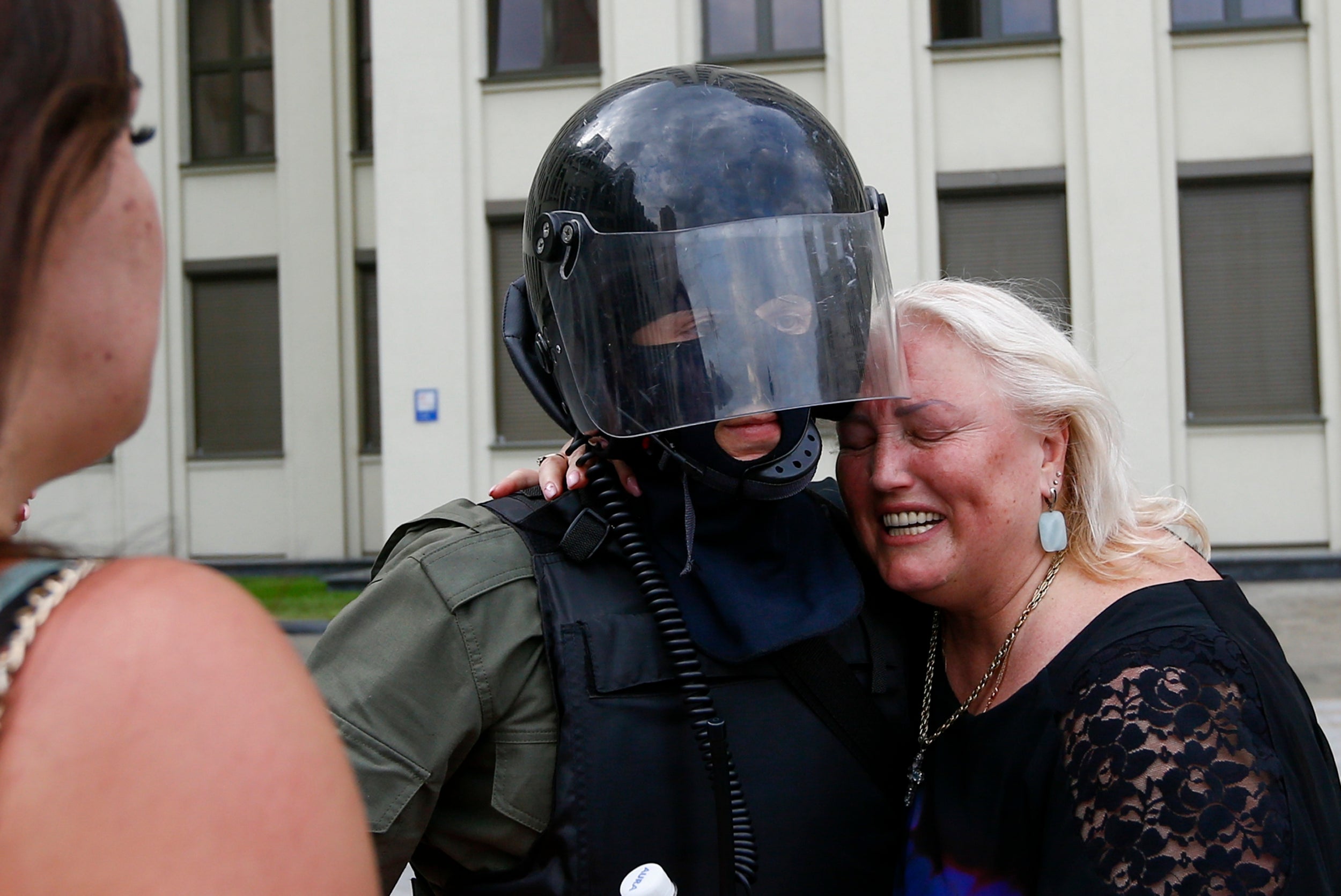 The stand-off between "Europe's last dictator" Alexander Lukashenko and protesters took a revolutionary turn on Friday as thousands of striking workers joined the demonstrations.
In central Minsk, a group of soldiers even appeared to side with the protesters. The soldiers, who were protecting government buildings on Independence Square, gestured to lower shields at the request of the crowds shortly before 6pm local time. As they did so, people rushed to embrace them in gratitude.
Some police forces across the country also appeared to endorse the protests. Footage from Zhabinka in western Belarus showed an officer handing flowers to the demonstrators. In Lida, also in the west, police cars were filmed honking – a symbol of the past week's protest.
Mr Lukashenko emerged from a security council meeting at 7pm with an ominous statement ordering Belarusians to stay at home. He claimed the protests were being organised by external forces and criminal elements inside Belarus, and promised action. 
"What should a military man do in this situation? You want me to hang around for Minsk be to turned upside down?"
The developments continued on a dramatic day that saw the opposition pile pressure on the man who has been the country's president for the last 26 years. 
Earlier in the day, striking workers from the Minsk Tractor Works, the largest factory in the country, headed an impromptu march to the city centre. They refused a meeting with the prime minister, who had been dispatched to the factory for crisis talks.
The last time central Minsk witnessed a workers' march was a full three decades ago in 1990, just as the Soviet Union was falling. Those dramatic times have obvious parallels with the situation in Belarus today, with the country in deep crisis since Sunday's elections that Mr Lukashenko claimed to have won with a landslide.
The opposition candidate Svetlana Tikhanovskaya, who likely won comfortably, was forced to leave Belarus on Tuesday following threats to her family. On Friday, she broke her silence to call for Mr Lukashenko to enter talks with the opposition.
Mr Lukashenko's withering post-election crackdown has left 7,000 arrested, more than 300 injured and at least two dead. For much of the last week, the country has been without internet access. On Thursday, new evidence emerged about shocking levels of violence against prisoners in his jails.
None of this has dampened the protest mood against Mr Lukashenko's rule. On the contrary, it has encouraged defiance – and left the former collective farm manager's reign in the balance.
The horrific testimonies of torture, abuse and threatened rape inside detention centres breathed new life into opposition calls for mass strikes. On Friday, workers at most of the country's leading enterprises staged full or partial walkouts. Up until then, there had only been a lukewarm response to the calls.
Speaking with Tut.by, an independent local publication, striking workers at the factory said had been "driven crazy" by what they saw. "Everyone had a chance to see the video," said one worker.
"They saw what they did with our money and taxes, how they beat them. It's just awful."
Joining the Minsk tractor factory on Friday was the city's automobile plant – its workers drove trucks towards the centre of town with slogans saying "Stop beating people!" and "We want peace!" – the tyre factory, steelworks, motor plant and metro among others. Similar actions were observed in 30 other towns and cities.
The country's military complex was involved for the first time too, with workers at MZKT, a plant that produces military trucks, staging a partial walkout. Reports said they had been angered by the fact a vehicle produced by their factory had been used in clashes with protesters, resulting in a five-year-old girl being taken to hospital.
The symbolism of the strike being led by workers of state enterprises will have enraged Mr Lukashenko, said Valery Karbalevich, a journalist who wrote the definitive biography of the authoritarian leader.
"These factories were central to his vision of a socialist economic model," Mr Karbalevich told The Independent. "It was because of their specific needs that he stopped any kind of market reform, and now they are putting his regime under threat."
Thanks to years of privileged wages and benefits, Mr Lukashenko can still count on the support of most of his security state. But with few obvious moves, and none without significant risk, Mr Lukashenko will need a lot of luck to manage the stormy seas ahead.
The self-styled dictator has historically shown himself to be a canny operator, manoeuvring from crisis to crisis, and often by playing Russia off against the west. Recent signs suggest he has lost his touch – and connection with reality.
On Friday, Mr Lukashenko derided the threat posed by striking industrialists.
"I'm told that 20 people decided to give people their opinion, give up work and leave," he claimed. "The management said OK, leave, we've got enough people who want the wage. And so the men turned around and went back to work."
A short while later, the country's election committee published its version of the final results from Sunday's election. These updated figures increased Mr Lukashenko's supposed percentage to 80.1 percent, against 10.1 percent for Ms Tikhanovskaya.
"It's absurd," said Mr Karbalevich. "Not even his supporters believe it."
Join our commenting forum
Join thought-provoking conversations, follow other Independent readers and see their replies