Belgian 'Isis fighter' taunts authorities saying he slipped out of country 'like knife through butter'
A jihadist calling himself Abu Mariya Belgiki claims to be in Iraq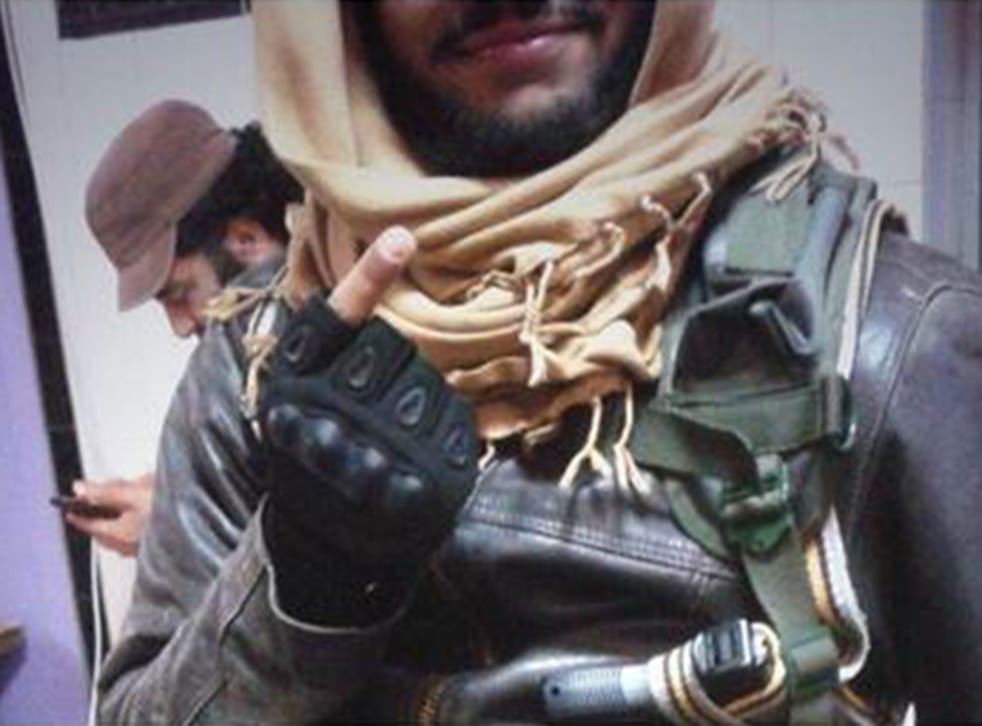 A Belgian man claiming to fight for Isis in Iraq has ridiculed the country's security forces for letting him slip out the country "like a knife cutting through soft butter".
The jibes on Twitter emerged as two suspected jihadists were shot dead in the town of Verviers as special forces foiled an "imminent" attack on police and another 30 people were arrested on suspicion of terror across Europe.
The man, calling himself Abu Mariya Belgiki – not his real name – taunted authorities last week while documenting his new life supposedly living under the "Islamic State".
"Don't want to hurt anyone's feelings, but Belgian intelligence agency is the laziest and the dumbest in the world probably...they kept me under surveillance since I was 14. And I passed through Brussels airport like a knife cutting through soft butter," he wrote on 9 January from the account, which has since been suspended.
As the mounting terror unfolded in France after the massacre at Charlie Hebdo's offices, Belgiki praised the gunmen.
He said he was told the news by his "ameer" (leader) as he got ready for bed.
"Was going to bed yesterday, my ameer yells and says 'France you know France?' I said yes it's south of Belgium. He said 'yes I know'," he wrote.
"He said 'ikhwa [brothers] did operation there and killed 12'. I was like whooaaaaaaa what are the ikhwa in belgium waiting for......:)"
Belgiki said he had gone from a life in Belgium "under oppression" to living under the "flag of unity" in Iraq, describing fighting rival group Jabhat al-Nusra and claiming to be armed with M16 rifles stamped "US property".
In pictures: Counter-terrorism raid in Belgium

Show all 10
He wrote in Flemish that he had met a 16-year-old Dutch boy who was fighting for Isis after leaving home, according to the MEMRI Jihad and Terrorism Threat Monitor.
The website, which originally spotted the tweets, said a message from 5 January talked of his daily routine "making Wudu [prayer], jets …hanging clothes in the sun, jets… playing with cats in the garden, jets".
Belgiki's last messages before his account was taken down contained threats to Egypt, Libya, Yemen and Algeria vowing that the "khilafa (caliphate) is spreading as are the flames of war".
His last post read: "To France with much hate: the fighting has just begun."
A spokesperson for Belgium's federal magistrate confirmed to The Independent that an investigation into the claims had been started but would not comment further.
It was unclear whether Belgiki knew of the two suspected terrorists shot dead in Belgium on Thursday, who were believed to be friends who had fought for Isis in Syria.
Searches suggested they had been planning to dress as police to launch a deadly gun and bomb attack on police officers in the street or inside stations.
Special forces who raided a property in the town of Verviers, killing the two men as snipers patrolled the rooftops, found Kalashnikovs, handguns, ammunition, falsified documents, cash and bomb-making equipment among police uniforms.
The same type of gun was used by the Kouachi brothers in the massacre at the offices of Charlie Hebdo in Paris.
Eric Van der Sypt, a federal magistrate, said that Belgian authorities had averted a "second potential Paris" by stopping the attack, which would have taken place "in a matter of hours".
The dead suspects' identities have not been officially confirmed but Belgian newspaper Sudpresse reported that the families of Redwane Hajaoui, also known as Abu Khalid al-Maghribi, and Tarik Jadaoun, also known as Abu Hamza Belgiki, were concerned.
A total of 13 suspects are being held in Belgium and two more who were targeted in the same investigation have been detained in France.
Up to 300 Belgian nationals have gone to fight with extremist Islamic groups in Syria and it was unclear how many have returned.
Register for free to continue reading
Registration is a free and easy way to support our truly independent journalism
By registering, you will also enjoy limited access to Premium articles, exclusive newsletters, commenting, and virtual events with our leading journalists
Already have an account? sign in
Register for free to continue reading
Registration is a free and easy way to support our truly independent journalism
By registering, you will also enjoy limited access to Premium articles, exclusive newsletters, commenting, and virtual events with our leading journalists
Already have an account? sign in
Join our new commenting forum
Join thought-provoking conversations, follow other Independent readers and see their replies