Meat just as unhealthy as fizzy drinks, chips and pizza, new 'food pyramid' campaign warns
'We want to make it clear that we don't need these products'
Narjas Zatat
Friday 06 October 2017 16:16 Comments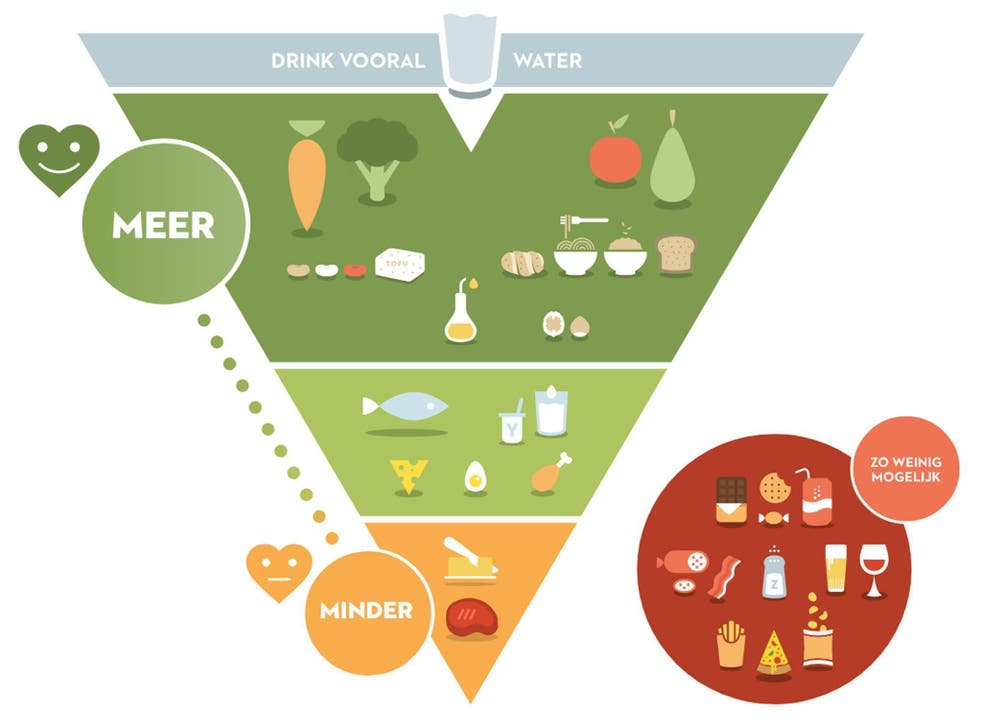 A food pyramid released by a Belgian health organisation has made it clear its citizens should be eating less meat, by placing the food group next to soft drinks, chips and pizza.
The graphic, created by The Flemish Institute for Healthy Life, uses the traditional format of a food pyramid but turns it upside down, to offer guidance about diet.
At the top of the pyramid sits an abundance of vegetables, beans and grains, as well as water. Beneath it are dairy, eggs, fish and chicken, followed by red meat and butter at the lowest end.
Outside the pyramid is a circle labelled 'sentenced to sit' (in Flemish), filled with processed meat, pizza, biscuits, red wine and sweets.
"We want to make it clear that we don't need these products," Loes Neven, of the institute, told Flanders Today.
"We don't forbid them, but they should be rather an exception than rule."
Last year in a controversial move, the World Health Organisation released a report warning that processed meat caused cancer, and red meat was also "probably" carcinogenic.
Dr Kurt Straif, head of the International Agency for Research on Cancer (IARC), said: "For an individual, the risk of developing colorectal cancer because of their consumption of processed meat remains small, but this risk increases with the amount of meat consumed.
"In view of the large number of people who consume processed meat, the global impact on cancer incidence is of public health concern."
A paper entitled 'Is Meat Killing Us?, written by doctors from the Mayo Clinic in Arizona corroborates the argument that a diet rich in vegetables is healthier for the body.
In fact, they go so far as to argue that a vegan diet, in some cases has been able to "reverse" cardiovascular disease, reduce blood pressure and the risk of diabetes.
How to pack a healthier lunch

Show all 6
The NHS currently advises people in the UK who eat 90 grams of processed and red meat a day to cut it down to 70 grams, and insists that "red meat is a good source of protein and provides vitamins and minerals such as iron and zinc".
Register for free to continue reading
Registration is a free and easy way to support our truly independent journalism
By registering, you will also enjoy limited access to Premium articles, exclusive newsletters, commenting, and virtual events with our leading journalists
Already have an account? sign in
Register for free to continue reading
Registration is a free and easy way to support our truly independent journalism
By registering, you will also enjoy limited access to Premium articles, exclusive newsletters, commenting, and virtual events with our leading journalists
Already have an account? sign in
Join our new commenting forum
Join thought-provoking conversations, follow other Independent readers and see their replies