Belgium terror raids: Suspected jihadists shot dead wanted to launch attack on police as 'second Paris' averted
Kalashnikovs and bomb-making equipment was found with police uniforms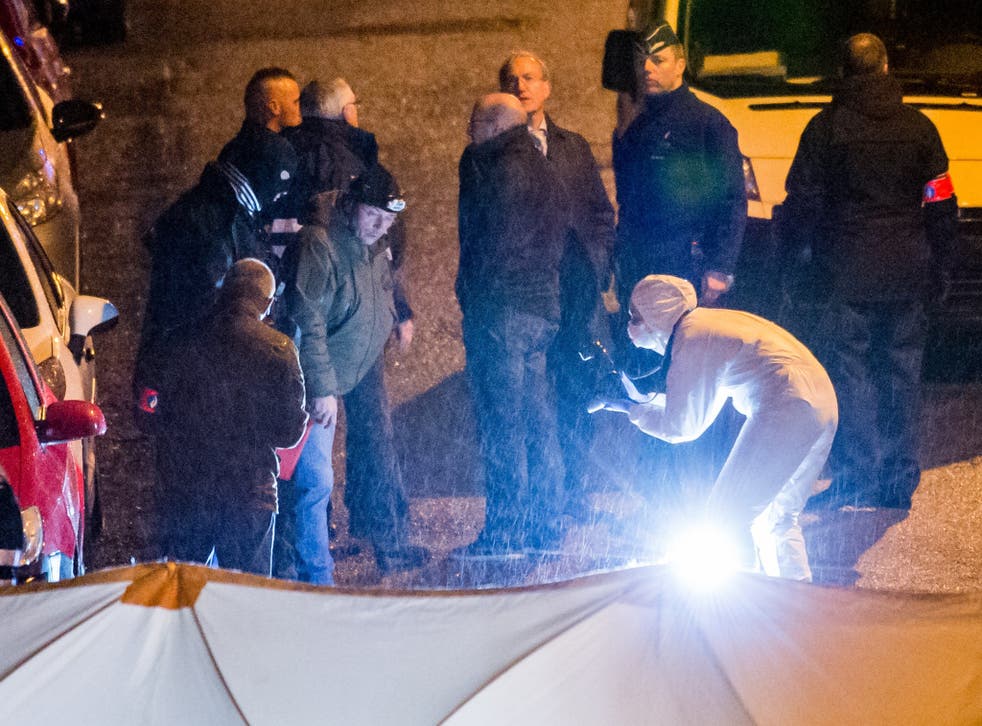 The suspected terrorists shot dead by special forces during a raid in Belgium last night may have been planning to dress as police to launch a deadly gun and bomb attack, it has emerged.
Special forces who raided a property in the town of Verviers, killing the two men as snipers patrolled the rooftops, found Kalashnikovs, handguns, ammunition, falsified documents, cash and bomb-making equipment among police uniforms, La Libre reported.
The same type of gun was used by the Kouachi brothers in the massacre at the offices of Charlie Hebdo in Paris last week.
Eric Van der Sypt, a federal magistrate, said that Belgian authorities had averted a "second potential Paris" by stopping the planned attack, which would have taken place "in a matter of hours".
The dead suspects' identities have not been officially confirmed but Belgian newspaper Sudpresse reported that the families of Redwane Hajaoui (alternatively spelled Redouane Hagaoui), also known as Abu Khalid al-Maghribi, and Tarik Jadaoun, also known as Abu Hamza Belgiki, were concerned.
On his Facebook page Hajaoui had posted a series of pictures he claimed were taken in Aleppo in October and November 2014.
Several showed him posing with another man, believed to be Jadaoun, holding Kalashnikovs while wearing combat gear and posing outside an Isis-administrated Sharia court decked in the group's flags.
He captioned one photo "on the trail of Allah!" and described himself as a "servant of Allah" in the "work" section of his Facebook profile.
In pictures: Counter-terrorism raid in Belgium

Show all 10
Belgian authorities said Thursday's raid on the former bakery and other locations was sparked by phone taps and intelligence suggesting an attack on police was "imminent".
It came on a night of anti-terror operations across Europe that saw at least 30 people detained in France, Belgium, Germany and Austria.
Paris police arrested 12 people overnight suspected of providing "logistical support" to the three gunmen who shot dead 12 people at Charlie Hebdo's offices, a police officer and four hostages at a Jewish supermarket.
The city's Gare de l'Est train station was also evacuated on Friday morning during a bomb scare sparked by unattended luggage.
In Germany, two men were arrested on suspicion of recruiting fighters to join Isis in Syria and a 14-year-old Austrian boy was detained for allegedly planning to fight with the extremist group in the Syrian war.
A total of 13 suspects are being held in Belgium and two more who were targeted in the same investigation have been detained in France.
The operation in Verviers targeted a group of three young men who had recently returned from Syria, where they were believed to have fought with an Islamist group.
Two people were killed and another injured during a shoot-out shortly before 6pm (5pm GMT) and one suspect at the property, later named as 25-year-old Marouane E, was arrested.
He denies being a member of a terrorist group or plotting attacks against security forces, Belgian media reported, and will appear in court within the next five days.
Alexandre Massaux, who witnessed the raid from his home nearby, said there was a shoot-out between suspects with automatic weapons and police punctuated by explosions.
"As soon as I opened the window, you could smell the gunpowder," he added.
"It sent shivers down my spine to think about [the fact they had come back from Syria]."
Footage posted online showed the building being rocked by blasts, gunshots and sirens as a fire sent smoke billowing into the air.
No police were wounded in the clash, which occurred at the height of rush hour in a busy part of the former industrial town of 56,000 about 80 miles south-east of the capital, Brussels.
Mr Van der Sypt confirmed the suspects had opened fire, calling them "extremely well-armed men".
"They were on the verge of committing important terror attacks," he said.
"The investigation... has shown that these people had the intention to kill several policemen in the street and at police stations.
"The operation was meant to dismantle a terrorist cell...but also the logistics network behind it."
Police continued searches in Verviers and the greater Brussels area into the night as part of an investigation that started well before the terrorism spree last week that led to 17 deaths in Paris.
Earlier in the day, prosecutors said they had detained a man in Belgium who they suspected of supplying weapons to Amedy Coulibaly, who killed four people at a Jewish supermarket last week.
The Belgian operations do not appear to be linked to the French atrocities but the national terror alert level has been raised from two to three – the second-highest state of alert.
Prime Minister Charles Michel said the increase in the threat level was "a choice for prudence."
"There is no concrete or specific knowledge of new elements of threat," he added.
Up to 300 Belgian residents have gone to fight with extremist Islamic groups in Syria and it was unclear how many have returned.
Anti-terrorism operations continue today as several French media websites struggle to recover from crashes apparently caused by Islamist hackers.
Le Parisien, L'Express, 20 Minutes, France Inter, Mediapart and Marianne have all been hit by problems - with users seeing error messages when they try to access the sites.
Up to 19,000 French sites have been targeted by pro-Isis hackers since the massacre at Charlie Hebdo on 7 January.
Additional reporting by AP
Join our new commenting forum
Join thought-provoking conversations, follow other Independent readers and see their replies