Benoit Hamon wins runoff to become French Socialist presidential nominee
Former education minister backs universal basic income and legalising cannabis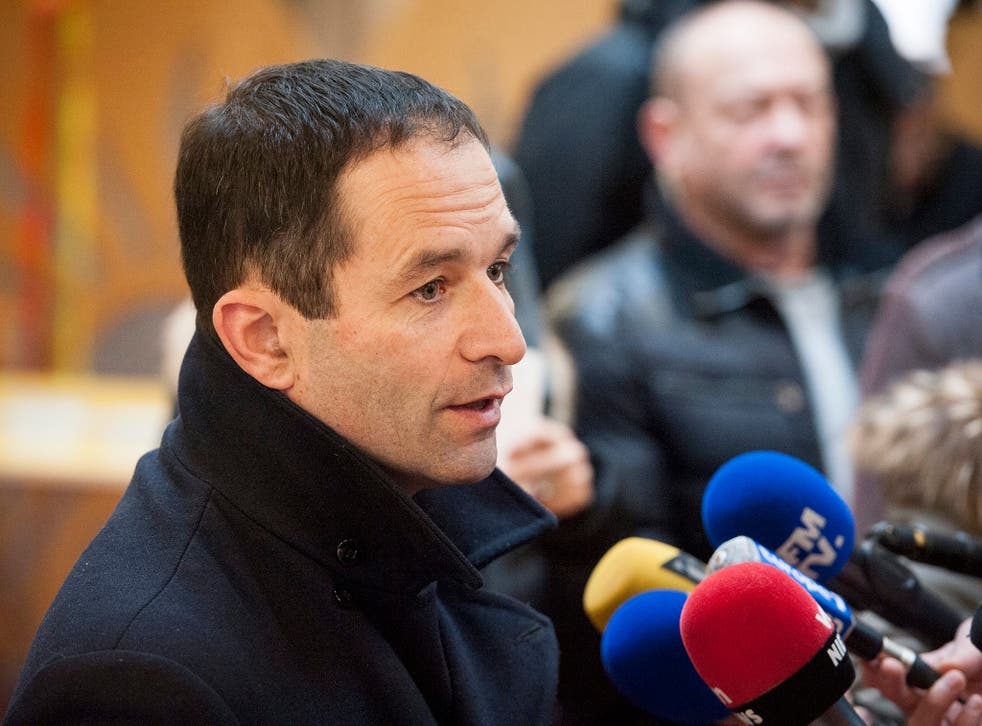 A partial vote count has shown hard-left candidate Benoit Hamon has comfortably beat his rival Manuel Valls to become the presidential nominee of France's ruling Socialist Party.
The count from 60 per cent of voting stations shows Mr Hamon won 58 per cent of Sunday's run-off vote with the former Prime Minister Mr Valls trailing with 41 per cent.
The win for Mr Hamon – who is in favour of a universal basic income, legalising cannabis and backing investment in renewable energy – demonstrates a rejection of the course followed by current President Francois Hollande who rolled back some of the more left-wing proposals during the second half of his presidency after public outcry.
Mr Hamon resigned as education minister in August 2014 because he believed Mr Hollande had abandoned the socialist agenda of the party after reneging on certain campaign promises such as an 85 per cent income tax.
Speaking to his supporters, Mr Hamon said he represented a left which could "hold its head again" and "look to the future".
He said: "I believe that faced with a conservative right that represents privilege and a destructive extreme-right, our country needs a left that thinks of the world as it is, and not as it was, a left that can bring a future people want."
Frequently compared to Jeremy Corbyn in the UK and Bernie Sanders in the US, Mr Hamon is a representative of a new wave of populism which is sweeping the left as the party rejects its centre-left New Labour style policies of the past few years.
He was the most left-wing candidate out of the seven who ran for the party's nomination and experienced a surge in popularity after indicating he supported a repeal of a law making it easier to hire and fire French workers passed last year.
Mr Valls' credibility was damaged during the contest due his role in Mr Hollande's administration and he called Mr Hamon's universal basic income – which would guarantee a minimum basic income of 750 euros paid to every adult – unrealistic and ruinous.
World news in pictures

Show all 50
But Mr Hamon triumphed in the open primary which was participated in by over two million French voters – participants did not have to be Socialist Party members to vote, they just needed to ascribe to the party's values.
Mr Hamon's victory means the divided party will face an uphill battle to overcome their dire approval ratings and fend off a challenge on the left from another former Socialist minister, Emmanuel Macron, who is standing as an independent.
Many French observers believe the right-wing Republican party's Francois Fillon and hard-right Front National candidate Marine Le Pen are likely to get into the second round run-off.
A recent opinion poll by Frenching polling firm Kantar Sofres put Mr Hamon in fourth place with just 15 per cent of the vote.
A quarter of voters polled backed Ms Le Pen, who has called for a referendum on EU membership and restrictions on Muslim immigration, with Mr Fillon and Mr Macron narrowly behind on 22 and 21 per cent respectively.
When it comes to the second round run-off, the polling showed Mr Fillon and Mr Macron both beating Ms Le Pen comfortably as supporters of smaller parties rallying to block her path to the Elysees Palace – just as they did in 2001 when her father Marie Le Pen unexpectedly got through the second round.
The first round of the election will be held on 23 April.
Additional reporting by agencies
Join our new commenting forum
Join thought-provoking conversations, follow other Independent readers and see their replies