Berlin attack: Anis Amri's family appeal for suspect to give himself up as manhunt continues after massacre
Hunt intensifies after suspect's fingerprints found on lorry used to kill 12 people at a Christmas market
Lizzie Dearden
Berlin
Thursday 22 December 2016 13:27 Comments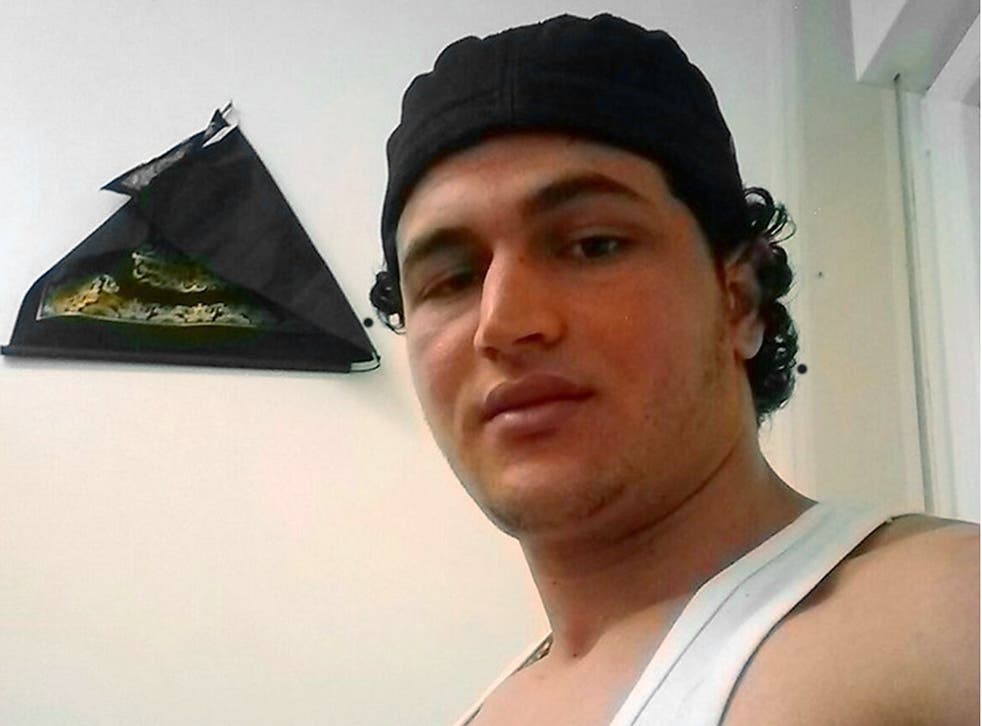 The family of the suspected Berlin attacker have urged him to give himself up to police amid mounting evidence he was the terrorist behind the massacre.
Anis Amri, a 24-year-old Tunisian man, remains at large three days after a lorry ploughed into a German Christmas market, killing 12 people in injuring at least 50 more.
His fingerprints have reportedly been found on the vehicle's door, while Amri's asylum documents were discovered under the lorry's driver's seat.
The suspect's family said he left Tunisia several years ago for Europe and kept in contact with his brothers via Facebook and phone, but they have not heard from him since Monday's attack.
Abdelkader Amri said his brother may have been radicalised while serving a prison sentence for setting fire to a school in Italy, where he moved to during the 2011 Arab Spring.
"I ask him to turn himself into the police. If it is proved that he is involved, we dissociate ourselves from it," he told the Associated Press.
Abdelkader said the whole family was "in shock" and struggling to come to terms with the possibility his brother may be behind the massacre.
"If he's guilty, he deserves every condemnation," he told the AFP news agency. "We reject terrorism and terrorists - we have no dealings with terrorists."
Amri's estranged father told a Tunisian radio station his son had a lengthy criminal past, being sentenced in absentia to five years in prison for aggravated robbery in his hometown of Oueslatia.
Isis has gained a foothold in Tunisia, where its supporters have launched attacks at the Bardo Museum and at a beach in Sousse, where a gunman murdered 38 mostly British tourists.
The terrorist group is known to target young criminals with propaganda offering redemption through jihad, in what analysts call an emerging "crime-terror nexus".
Berlin Christmas market lorry attack

Show all 18
Amri arrived in Germany in July 2015 but his application for asylum was rejected in June, when authorities were unable to deport him because Tunisia had no proof of his nationality.
The necessary paperwork did not arrive until Wednesday.
Anger at security services was growing after it emerged Amri was known to be a terror threat and had been investigated over a previous plot, but not arrested.
Prosecutors launched a probe into claims Amri was planning a break-in to finance buying automatic weapons for an attack, but surveillance that started in March failed to reveal evidence of a terror plot and was stopped in September.
Separate probes into extremist preachers operating in Germany showed Amri had offered himself a as a suicide bomber, Der Spiegel reported, but the wording of the messages was not deemed conclusive enough to warrant an arrest.
He also raised a red flag for counter-terror agencies in the US, which put Amri on a no-fly list after finding he had conducted online research into making improvised explosive devices and communicated with Isis members on the Telegram messaging app.
Islamic State claims responsibility for Berlin truck attack
Stephan Mayer, a politician from the CSU party, said the new suspect had ties to a network of Islamic extremists, reported to include a hate preacher known as Abu Walaa, who was arrested as part of a cell of Isis supporters sending militants to Syria earlier this year.
Amri was also said to have followed an extremist preacher known as Boban S, who was arrested in Dortmund on suspicion of supporting Isis in November.
A house was raided in the city early this morning, according to local reports, and police have also searched Amri's former accommodation in Emmerich, North Rhine-Westphalia.
A European arrest warrant issued for the suspect gives six different aliases, showing Amri going under different names, birth dates and even nationalities.
The technique has previously been used by Isis militants including the Paris and Brussels attackers in attempts to throw authorities off their scent.
Prosecutors are offering a €100,000 (£85,000) reward for information leading to Amri's arrest, warning people not to approach the "violent and armed" suspect.
Isis has claimed responsibility for the Berlin massacre, calling the perpetrator a "soldier of the Islamic State" who was obeying calls to attack supporters of the US-led coalition launching air strikes on its territories in Syria and Iraq.
Coming after two previous Isis terror attacks by asylum seekers earlier this year, the massacre has fuelled increasing anger against Angela Merkel's government over its decision to open the borders to refugees last year.
Register for free to continue reading
Registration is a free and easy way to support our truly independent journalism
By registering, you will also enjoy limited access to Premium articles, exclusive newsletters, commenting, and virtual events with our leading journalists
Already have an account? sign in
Join our new commenting forum
Join thought-provoking conversations, follow other Independent readers and see their replies