Berlin 'attack' latest: Police tell city's residents to stay at home after lorry kills several at Christmas market
Police also urged people not to 'spread rumours about the event'
Will Worley
Monday 19 December 2016 21:58 Comments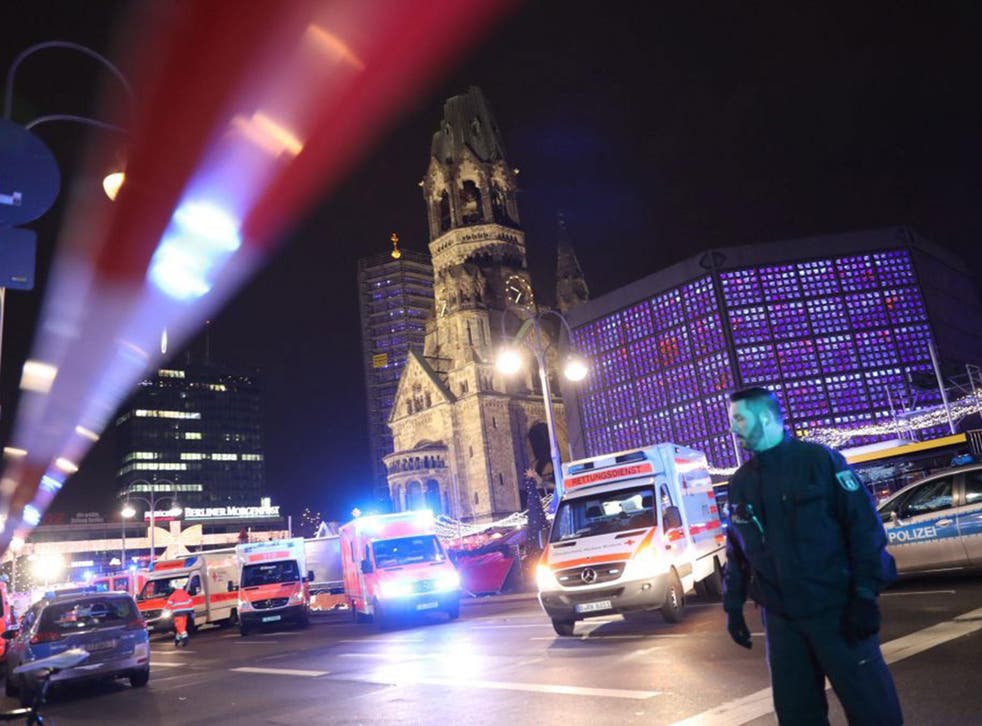 Berlin police have advised residents to stay at home after a truck ploughed in a Christmas market, killing at least nine people and hurting many more.
The announcement was made on Twitter.
Police also urged people not to "spread rumours about the event".
Officials have said the event will be investigated as a terrorist attack and that they have arrested the driver.
Another person was found dead in the lorry, which was reportedly hijacked as it drove to Germany from Poland.
Chancellor Angela Merkel was being briefed by the Interior Minister and Berlin mayor on the situation, a government spokesman said.
Facebook activated its 'Safety Check' feature so its users in the city could identify as safe to family and friends.
However, police said there were no further indications of "dangerous situations" elsewhere in the city.
The authorties urged people to stay away from the area.
Berlin Christmas market lorry attack

Show all 18
Mike Fox, a tourist from Birmingham, England, told The Associated Press at the scene in Berlin that the large truck missed him by about three meters as it drove into the market, tearing through tables and wooden stands.
"It was definitely deliberate," Mr Fox said, adding that he helped people who appeared to have broken limbs, and that others were trapped under Christmas stands.
Dozens of ambulances lined the streets waiting to evacuate people, and heavily armed police patrolled the area.
Register for free to continue reading
Registration is a free and easy way to support our truly independent journalism
By registering, you will also enjoy limited access to Premium articles, exclusive newsletters, commenting, and virtual events with our leading journalists
Already have an account? sign in
Join our new commenting forum
Join thought-provoking conversations, follow other Independent readers and see their replies