Berlin attack: German police 'launch manhunt for Tunisian man' after finding ID under truck driver's seat
A 'notice of temporary stay' document reportedly found following the attack that killed 12 people and injured dozens more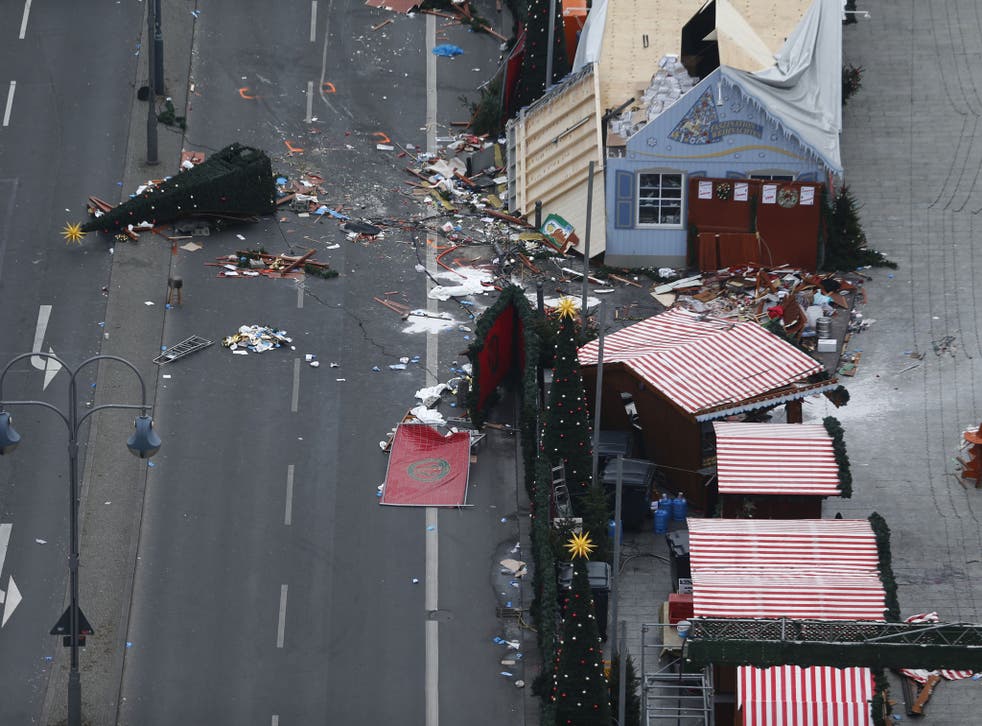 Police are reportedly hunting a Tunisian man over an attack in Berlin where a lorry ploughed into a German Christmas market after his asylum documents were found in the vehicle's cab.
Der Spiegel reported that a "notice of temporary stay" document was found under the driver's seat following the attack that killed 12 people and injured dozens more.
It is said to name a Tunisian citizen called Anis A, who was born in 1992, although the suspect is also believed to go under at least two aliases, giving differing dates of birth.
Video shows immediate aftermath of Berlin lorry attack
The document found is given to asylum seekers in Germany, allowing them to legally remain in the country while their claim is decided.
The Allgemeine Zeitung reported that the Tunisian suspect was registered under the name Ahmed A, 21, in the district of Kleve, in North Rhine-Westphalia.
It was unclear when the suspect arrived in Germany but a confidential security database entry from February seen by Der Spiegel showed authorities believed he had links to Isis, which was reported to be using his hometown of Tataouine as a transit base for fighters last year.
Anis A, who posed as Egyptian and Lebanese under various fake names, was reportedly classified as a terror threat and put under increased surveillance before a court in Ravensburg issued an order for his deportation in July. It was unclear how he remained in Germany.
The federal public prosecutor's office, which is leading the terror investigation, could not be reached for comment.
Police were reportedly searching hospitals in Berlin for the suspect, who is believed to have been injured in a fight with the Polish driver of the lorry, which was hijacked hours before the massacre.
Berlin's RBB television reported that police were using DNA retrieved from the vehicle's cab in efforts to trace the culprit in hospitals.
Berlin Christmas market lorry attack

Show all 18
The Polish driver, Lukasz Urban, was found shot and stabbed to death inside while the attacker fled the scene on foot.
A Pakistani asylum seeker originally arrested on suspicion of being the driver has been released after no evidence was found against him, leaving the attacker at large and possibly armed.
The gun used to shoot Mr Urban has not been found, prompting fears the extremist could pose a continued risk to Germany.
Investigators are looking into the possibility the attacker was injured in a fight with Mr Urban as he desperately tried to stop the hijacked lorry being ploughed into crowds of Germans and tourists enjoying a popular Christmas market.
Lukasz Wasik, the manager of the lorry company, told TVP television Mr Urban was a "good, quiet and honest person" who was devoted to his work, adding: "I believe he would not give up the vehicle and would defend it to the end if were attacked."
Islamic State claims responsibility for Berlin truck attack
The lorry's GPS tracking showed it had been hijacked, being started up during a mandatory break and moving backwards and forwards "as if someone was learning how to drive it". It left a parking area at around 7.40pm (6.40pm GMT) and drove around six miles to the Christmas market.
Berlin Police said they had received more than 500 tips by Tuesday night, including 80 being followed up as leads as Germany continues to mourn the atrocity.
Isis claimed responsibility for the massacre on Tuesday evening, calling the perpetrator a "soldier of the Islamic State" who was obeying calls to attack supporters of the US-led coalition launching air strikes on its territories in Syria and Iraq.
Germany's federal prosecutor, Peter Frank, told a press conference the attack mirrored the method used by an Isis supporter in Nice and followed recent instructions released by the group to incite more terror attacks in Europe.
"There is also the prominent and symbolic target of a Christmas market, and the modus operandi that mirrors past calls by jihadi terror organisations," he said.
Angela Merkel joined hundreds of mourners at a memorial service at the Kaiser Wilhelm Memorial Church on Tuesday night, after the lorry's wreckage was taken away for forensic testing.
Hundreds more were unable to enter the packed service, gathering inside the deserted Christmas market instead and holding makeshift vigils under the watch of heavily armed police in Breitscheidplatz.
Michael Müller, the mayor of Berlin, said it was "good to see Berliners aren't being intimidated" as Christmas markets and festive events continued under the watchful eye of armed police.
"I don't think there's any need to be afraid," he told ZDF television. "The police presence has been significantly heightened ... and of course other measures taken to find the perpetrator quickly."
Mr Müller said security would be increased in the German capital but that measures must be "appropriate" and not constrain everyday life.
"It wouldn't be our free and open life any more if we escalated security measures so much that people worry about going anywhere, that there are strict entry checks," he said.
Register for free to continue reading
Registration is a free and easy way to support our truly independent journalism
By registering, you will also enjoy limited access to Premium articles, exclusive newsletters, commenting, and virtual events with our leading journalists
Already have an account? sign in