Berlin attack: Russian President Putin tells Angela Merkel, 'crime is shocking in its savage cynicism'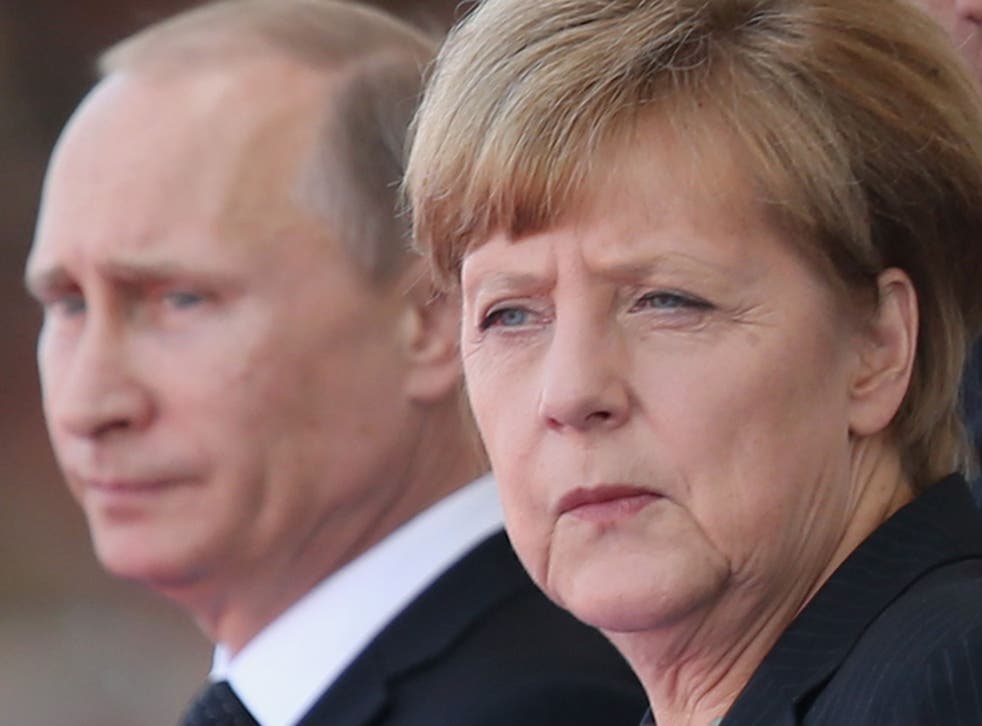 Russian President Vladmir Putin has responded to the Berlin truck attack, which killed 12 people and injured 48 more.
"This crime against peaceful civilians is shocking in its savage cynicism," Mr Putin wrote to German Chancellor Angela Merkel and President Joachim Gauck, according to a statement on the Kremlin's website.
A Pakistani refugee, named as 'Naved B', was arrested in connection with Monday evening's attack, when an articulated lorry drive into a Christmas market next to the Kaiser Wilhelm memorial church.
Merkel on Berlin attack: 'We must assume it was terrorism'
Ms Merkel herself said she was "shocked, shaken and deeply saddened" by the attack and told reporters it would be "particularly sickening" if it turns out the attacker was an asylum-seeker who sought refuge in Germany.
Tributes also poured in from around the world.
Boris Johnson, British Foreign Secretary, wrote on Twitter: "My thoughts & condolences are with the people of Germany following tonight's terrible tragedy in Berlin, leaving so many dead & injured."
And the Mayor of London, Sadiq Khan, said: "My thoughts and prayers are with everyone affected by the awful suspected attack on Berlin last night, particularly those who were injured, the families and friends of those who were killed and all the emergency responders.
"All Londoners stand in solidarity with the people of Berlin today - this was an attack on our shared values, freedoms and way of life."
President Barack Obama spoke with Ms Merkel on the phone about the attack.
Berlin Christmas market lorry attack

Show all 18
According to Ms Merkel's spokesman Steffen Seibert: "President Obama assured the German Chancellor that the United States would support Germany in the investigation."
A White House statement released on Monday night by the National Security council said the United States " condemns in the strongest terms what appears to have been a terrorist attack on a Christmas Market".
The statement continued: "We send our thoughts and prayers to the families and loved ones of those killed, just as we wish a speedy recovery to all of those wounded.
"We also extend our heartfelt condolences to the people and Government of Germany."
Berlin attack: Suspect arrested by German police
Meanwhile, President-elect Donald Trump sent a message from his Florida residence about condemning the attack and blaming jihadi militant group Isis.
"Our hearts and prayers are with the loved ones of the victims of today's horrifying terror attack in Berlin," Mr Trump said. "Innocent civilians were murdered in the streets as they prepared to celebrate the Christmas holiday.
"ISIS and other Islamist terrorists continually slaughter Christians in their communities and places of worship as part of their global jihad. These terrorists and their regional and worldwide networks must be eradicated from the face of the earth, a mission we will carry out with all freedom-loving partners."
French President Francois Hollande, whose country also suffered a truck attack in Nice earlier in the year, said: "The French share the mourning of the Germans who are facing this tragedy, which hits all Europe."
Foreign Minister Jean-Marc Ayrault said he was "horrified" by reports on the attack, stressing that "France stands alongside Germany at this dark and painful moment."
Register for free to continue reading
Registration is a free and easy way to support our truly independent journalism
By registering, you will also enjoy limited access to Premium articles, exclusive newsletters, commenting, and virtual events with our leading journalists
Already have an account? sign in
Register for free to continue reading
Registration is a free and easy way to support our truly independent journalism
By registering, you will also enjoy limited access to Premium articles, exclusive newsletters, commenting, and virtual events with our leading journalists
Already have an account? sign in
Join our new commenting forum
Join thought-provoking conversations, follow other Independent readers and see their replies