Berlin attack: Lorry's automatic braking system stopped more deaths during the Christmas market assault
Investigators find system stopped Anis Amri continuing rampage that killed 12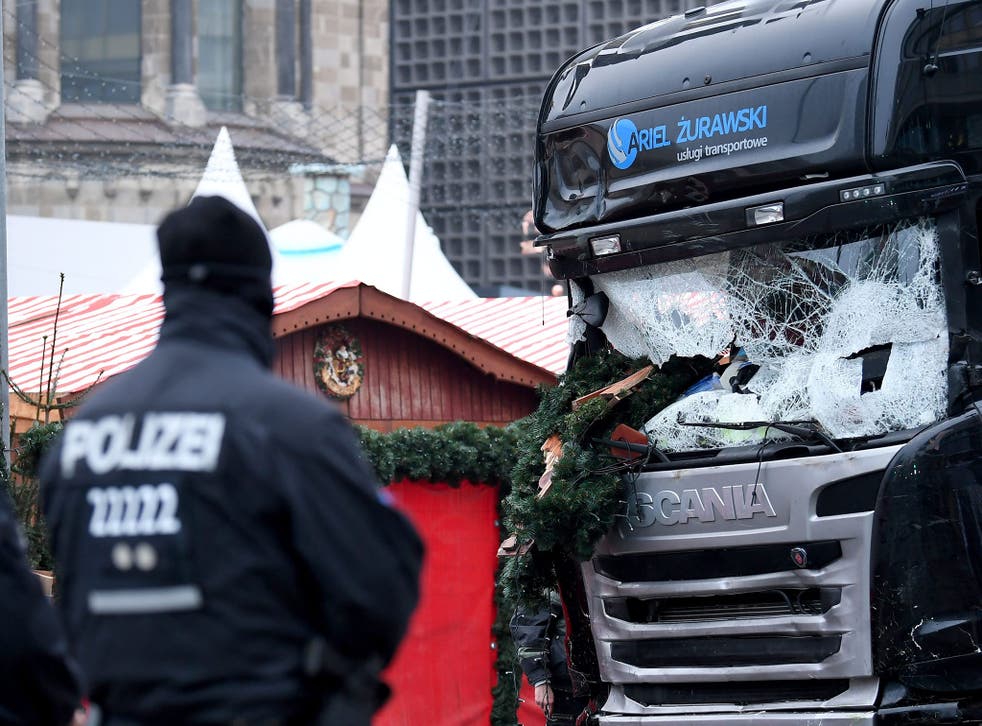 An automatic braking system fitted to the lorry used in the Berlin attack prevented the deaths of many more victims, investigators have found.
Anis Amri, a Tunisian Isis supporter, is believed to have hijacked the vehicle from its Polish driver in the German capital before ploughing it into a busy Christmas market on 19 December.
Twelve people were killed by the lorry and more than 50 others injured, being caught under the wheels or crushed by debris before it came to a stop.
Video surfaces of Berlin attack suspect Anis Amri
Investigators now believe the driver was only able to push a maximum of 260ft (80m) into the market because of the vehicle's emergency braking system.
It kicked in after detecting obstacles and no response from the cab, bringing the lorry to a stop as quickly as possible given its forward momentum.
"The technology saved lives," a Berlin local government official told the Süddeutsche Zeitung.
An older lorry used in the Nice attack was not equipped with the system, allowing Isis supporter Mohamed Lahouaiej-Bouhlel to kill 86 people and injure 400 more after driving into densely packed crowds celebrating Bastille Day.
His rampage lasted at least five minutes, while the Berlin attack happened in a matter of seconds after the lorry accelerated off a main road next to the Christmas market on Breitscheidplatz, according to witnesses.
There was initial speculation the lorry's driver, Lukasz Urban, may have fought the hijacker in an attempt to prevent the attack but a post-mortem found he had been shot in the head at least two-and-a-half hours before and would have been unable to intervene.
The hijacker fled on foot and was later identified as Amri, whose wallet, identification, phone and fingerprints were found at the crime scene.
Berlin Christmas market lorry attack

Show all 18
Minutes before the attack, he reportedly sent a message reading: "My brother, all is well, according to God's will. I am now in a car, pray for me my brother, pray for me."
It was sent along with a selfie taken in the lorry's cab to a contact, who remains unidentified after 40-year-old Tunisian man who arrested in Berlin was freed.
"Brother" is frequently used to address other Muslims, rather than exclusively relatives.
Frauke Köhler, a spokesperson for Germany's federal prosecutor's office, said the gun Amri used to fire at officers was of the same calibre as the weapon used to kill Mr Urban.
Investigations have also confirmed a video of Amri pledging allegiance to Isis that was released by the group following his death to be authentic.
Amri was shot dead in a gun battle with Italian police in Milan on Friday after days on the run as the most wanted man in Europe.
The 24-year-old Tunisian man had a lengthy criminal history, including armed robbery in his home country and arson in Italy, where he was jailed for four years after arriving in Europe by boat in 2011.
Italian authorities attempted to deport Amri after he finished serving his prison sentence in 2015 but Tunisia refused to take him and he was released from a detention centre after the 60-day legal limit.
Amri's brothers believe he was radicalised during his imprisonment, travelling onwards to Germany where he became part of an Islamist network including two hate preachers in Dortmund and Hildesheim who have since been jailed for supporting Isis.
Having flagged as a terror risk, he was put under surveillance over a separate attack plot in March but the investigation stopped in September after uncovering drug dealing and minor crime but failing to reveal evidence of extremism.
Security services rated Amri as a "five" on an eight-point danger scale and did not believe an attack was likely, Süddeutsche Zeitung reported, despite having evidence he volunteered to commit a suicide bombing and researched making explosives, and updating his file just five days before the Berlin attack.
Amri's asylum application was denied in June but Germany was unable to deport him because Tunisia refused to accept the expulsion without documents proving his nationality.
Prosecutors in North Rhine-Westphalia also opened a fraud investigation after Amri was suspected using two of at least eight identities he employed in Germany to claim refugee benefits in two towns.
Detlef Nowotsch, a spokesman for prosecutors in Duisburg, told The Independent Amri applied for public funds in both Emmerich and Oberhausen in late 2015. But an investigation started in April was shelved in November because his whereabouts were unknown.
Authorities across Europe are attempting to piece Amri's movements together through Germany, and then on his route via the Netherlands and France to Italy as he fled following the attack.
Italian police have also searched homes in and around Rome where he may have stayed after leaving a detention centre in Sicily in 2015, seizing mobile phones.
"No particular networks have emerged in Italy," said Prime Minister Paolo Gentiloni, acknowledging Amri was most probably radicalised in the country.
Italy's anti-terror prosecutor, Franco Roberti, told La Repubblica that Amri "found the convictions of his radicalisation path" in prison, "in desperation, isolation and marginalisation".
Amri was shot dead after firing on police who stopped him in the Milan suburb of Sesto San Giovanni in the early hours of Friday morning.
Investigators are trying to establish whether Amri was attempting to reach another country when he was shot or had been seeking shelter with contacts in the city.
He was carrying a Dutch SIM card that had been given out days before as part of a promotion in the Netherlands, leading prosecutors to believe he transited through the country.
Dutch investigators have traced Amri to Nijmegen, where he boarded an overnight bus to Lyon in central France, then boarded a train from Lyon-Part-Dieu to Chambery on Thursday, and travelled on to Milan.
EU nations have vowed to work to increase security cooperation, while Angela Merkel ordered a sweeping security review to identify any necessary reforms in Germany.
Join our new commenting forum
Join thought-provoking conversations, follow other Independent readers and see their replies