Berlin Christmas market attack: Italian police arrest five linked to 2016 terrorist
Detentions mark uptick in recent operations targeting suspected extremists
Thursday 29 March 2018 14:54 BST
Comments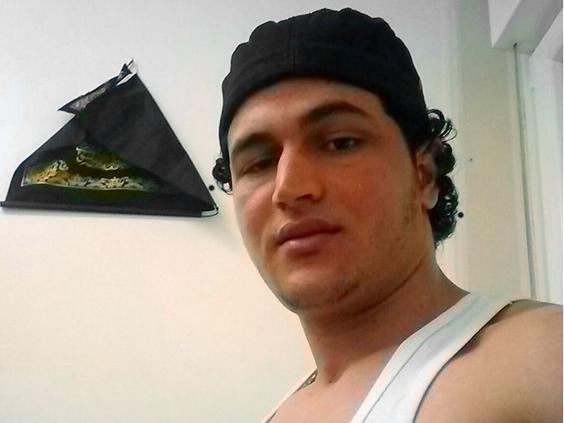 Italian police have arrested five people connected to Anis Amri, the Tunisian who carried out the 2016 Berlin Christmas market truck attack and was later killed in a shootout with police in Italy.
In a statement on Thursday, police said one of the five was believed to have procured the fake Italian identity papers that allowed Amri, a failed asylum seeker, to move around Europe.
Amri killed 12 people when he hijacked a truck and drove it into a crowded Berlin Christmas market on 19 December 2016.
The attack was later claimed by Isis. Using fake documents, he fled to Italy and died in a shootout with police near Milan four days later.
"A vast anti-terrorism operation" was being carried out by special investigation forces based in Rome and the nearby town of Latina, police said in a statement on Thursday.
The arrests were the latest in a marked uptick in recent police operations targeting suspected extremists.
Police identified the five as a Palestinian and four Tunisians and said one of the Tunisians, Akram Baazaoui, obtained the false documents for Amri.
Sources told Reuters there was no evidence the suspects participated directly in the Berlin attack or that they were preparing any imminent attack in Italy.
Berlin Christmas market lorry attack
Show all 18
As part of their operation, police were carrying out searches in Rome, the southern port city of Naples and the central and southern towns of Latina, Viterbo, Caserta and Matera, the sources said.
On Wednesday anti-terrorism police arrested an Italian citizen of Moroccan origin who they said was an Isis sympathiser planning a truck attack.
nterior Minister Marco Minniti said the security threat to Italy from Isis supporters was higher than ever because more foreign fighters were attempting to return to Europe via Italy after the jihadist group suffered defeats in Syria and Iraq.
So far this year, 29 foreigners, mostly Muslims, have been expelled from Italy as suspected threats to national security.
AP and Reuters
Join our commenting forum
Join thought-provoking conversations, follow other Independent readers and see their replies