Berlin Christmas market attacker 'killed while trying to reach accomplices'
'We have to ask who may have helped him and why he was so keen to get to Milan'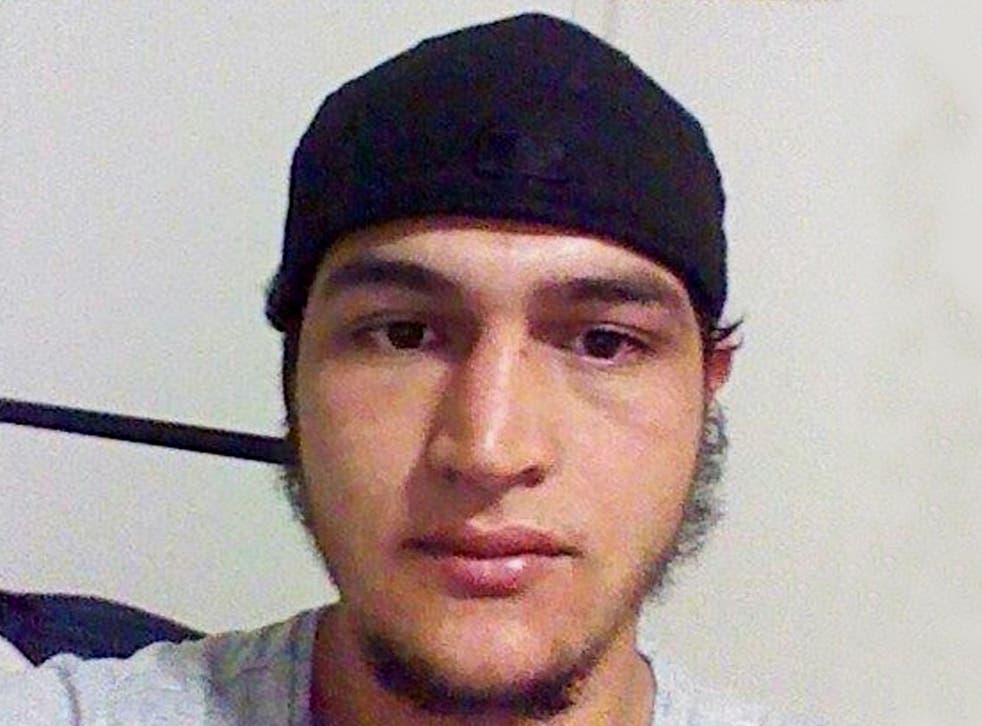 Counter-terrorism officials believe that Anis Amri, the Berlin killer, had terrorist accomplices and was likely to have been trying to reach them when he was shot dead by a police officer in Italy.
Amri, who it has emerged pledged allegiance to Isis and its leader Abu Bakr al-Baghdadi before carrying out his attack on a Christmas market in the German capital, made a 1,000-mile journey across Europe through three countries before the fatal encounter in a Milan street in the early hours of the morning.
Tunisian-born Amri was found in the district of Sesto San Giovanni which has a large Muslim population, mainly from North Africa, during what the police described as a routine check.
Security agencies in Italy have now begun to examine the movements and communications of Islamist suspects to search for any links with Amri.
Milan has been connected with Islamist terrorist plots in the recent past. Four people were arrested in April over plots to carry out attacks on the Vatican and the Israeli embassy in Rome. The main suspect, Abderrahim Moutahrrick, was alleged to have received his instructions from an Isis-held area in Syria in the name of al-Baghdadi. A second man, Abderrahmane Khachia, also of Moroccan background was subsequently detained.
The following month, a Pakistani man was arrested in Milan, along with two Afghans in Bari – one of whom was subsequently freed – in an investigation into an alleged terror cell planning to carry out attacks in Italy and London with airports and hotels as potential targets.
Berlin Christmas market lorry attack

Show all 18
A team of detectives from Berlin has travelled to Milan.
Thomas De Maizière, the German interior minister, said: "This manhunt, which has ended with success, doesn't end the investigation – we have to investigate further.
"Unfortunately the terror threat has not changed, it is still at high risk."
Germany's federal prosecutor, Peter Frank, stressed that the main focus now was on establishing whether Amri had accomplices.
Dashcam footage captures the moment truck crashes into the Berlin Christmas market
He said: "For us it's important to know whether the person being sought had a network of support or help in preparing and carrying out the attack and also when he fled, whether there were others that knew or gave him help.
"That is now of central importance for us, also to understand his escape route."
Amri, 24, was regularly in touch in Germany with the Iraqi-born cleric Ahmad Abdulaziz Abdullah, who, preaching under the name of Abu Walaa, has praised Isis and exhorted his followers to join the jihad in Syria.
Abu Walaa was arrested earlier this year, but, according to German security officials, the network he helped set up continues to function.
Angela Merkel reacts to shooting of Berlin market attack suspect
Antonio De Iesu, Milan's police chief, said Amri was like "a ghost" as he was not carrying any documentation or a mobile telephone.
However, he was carrying a pistol, believed to have been used in the murder of a Polish driver whose truck was used in the Berlin massacre, a small knife and a small amount of money.
Mr De Iesu said his force was investigating what had brought the wanted fugitive to the city, undertaking a journey across, Germany and France.
Amri's only known Italian connection was to the island of Lampedusa, where he had stayed in a refugee camp, and Sicily where he had served a prison sentence.
Robert Emerson, a security analyst, said: "A lot is being said about security flaws in the Schengen system with Amri getting out of Germany and then getting to two other countries.
"But this wasn't a journey without risk and we have to ask who may have helped him and why he was so keen to get to Milan.
"It's unlikely he had gone all that way to go on an attack spree with a .22 pistol and a small knife; the Italian police and the intelligence guys will be working hard to find his possible points of contact."
Join our new commenting forum
Join thought-provoking conversations, follow other Independent readers and see their replies