Berlin attack: Isis claims responsibility for Christmas market massacre that killed 12
Language of claim matches that used for previous lone wolf attacks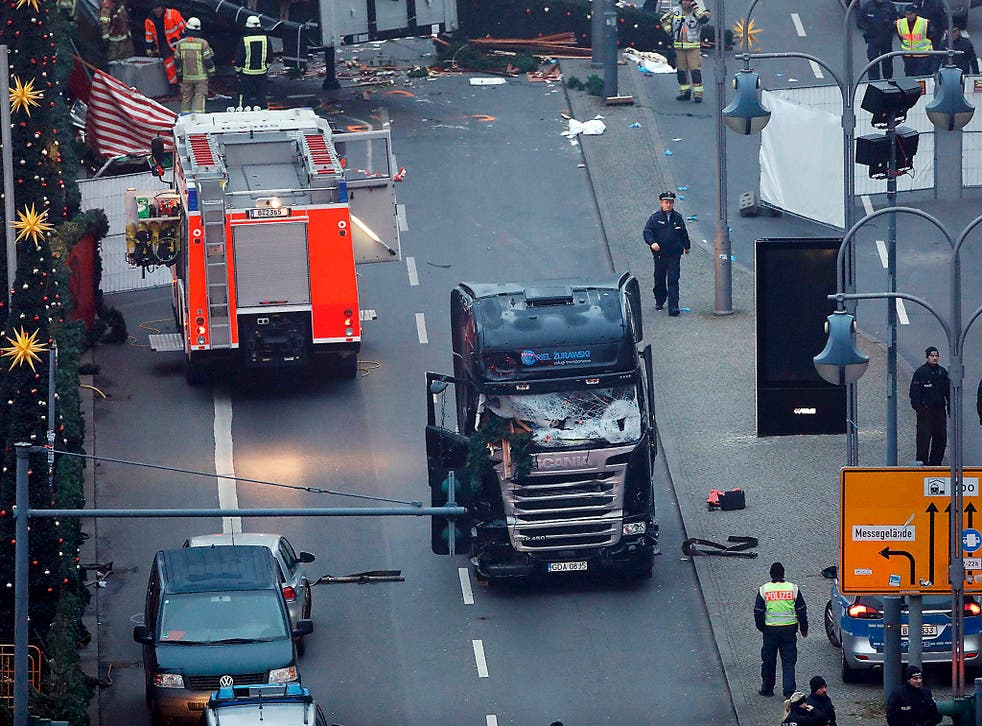 Isis has claimed responsibility for the lorry attack on a crowded Christmas market in Berlin.
Through its Amaq news agency, the jihadi group has claimed the attacker is a "soldier of the Islamic State".
The phrase matches that used to claim previous lone wolf attacks, such as those in Orlando and Wurzburg.
The statement also said the attacker "carried out the attack in response to calls to target nationals of countries in the international coalition".
It did not name the attacker.
Berlin Christmas market lorry attack

Show all 18
Speaking after the Isis claim, German Interior Minister Thomas de Maiziere said investigators are following several leads.
"We just heard about the supposed claim of responsibility by this so-called Islamic State that is in fact a gang of terrorists," Mr de Maiziere told ARD broadcaster.
"There are several leads that investigators are following now," the minister added.
Mr de Maiziere added that "nobody will rest until the perpetrator or the perpetrators are caught".
Merkel on Berlin attack: 'We must assume it was terrorism'
Earlier on Tuesday, German authorities released a Pakistani asylum-seeker who was suspected of driving a truck into the market, killing 12 people and injuring 48.
The interior minister said the perpetrator of the attack is probably still on the run.
He said the man arrested earlier was released due to lack of evidence.
Witnesses saw only one man flee from the truck after it rammed into the crowd at the Christmas market, smashing wooden stalls and traveling 60 to 80 meters (200 to 260 feet) before coming to a halt.
Six of those killed have been identified as Germans, and a man found shot and killed in the truck's passenger seat was Polish.
The other five people killed have not yet been identified. Twenty-five people remained in hospital, 14 with serious injuries.
Chancellor Angela Merkel has insisted the attack cannot change Germans' way of life.
"Twelve people who were still among us yesterday, who were looking forward to Christmas, who had plans for the holidays, aren't among us anymore," she said in an emotional, nationally televised statement before heading to the scene of the attack in downtown Berlin.
"A gruesome and ultimately incomprehensible act has robbed them of their lives."
Ms Merkel, who has been criticised for allowing in huge numbers of migrants last year, addressed the possibility that an asylum-seeker was responsible for the carnage head-on.
"I know that it would be particularly hard for us all to bear if it were confirmed that a person committed this act who asked for protection and asylum in Germany," Ms Merkel said.
"This would be particularly sickening for the many, many Germans who work to help refugees every day and for the many people who really need our help and are making an effort to integrate in our country."
Register for free to continue reading
Registration is a free and easy way to support our truly independent journalism
By registering, you will also enjoy limited access to Premium articles, exclusive newsletters, commenting, and virtual events with our leading journalists
Already have an account? sign in
Register for free to continue reading
Registration is a free and easy way to support our truly independent journalism
By registering, you will also enjoy limited access to Premium articles, exclusive newsletters, commenting, and virtual events with our leading journalists
Already have an account? sign in
Join our new commenting forum
Join thought-provoking conversations, follow other Independent readers and see their replies