Berlin protest: Thousands rally against coronavirus restrictions in German capital
Sceptics gathered closely together despite warnings over social distancing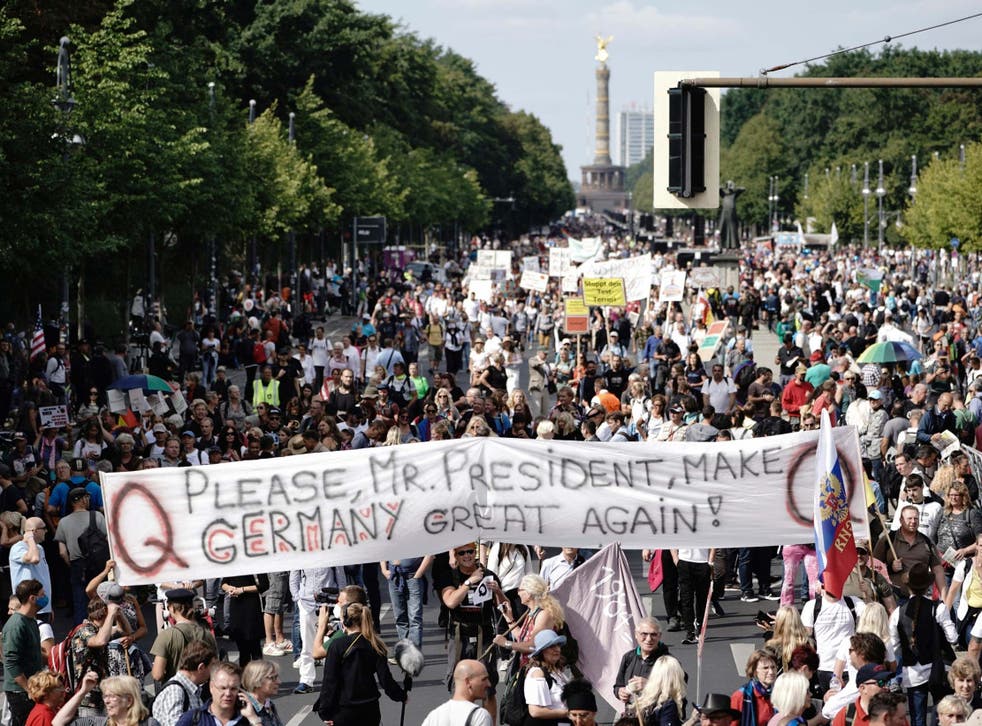 Thousands of people turned out to a rally in Berlin opposing the German government's coronavirus measures the day after a ban on the protest was overturned in court.
Police said they more than 3,000 officers would be on duty in the capital on Saturday as an estimated 18,000-strong group of virus sceptics gathered by the Brandenburg Gate.
Some protesters wore T-shirts and waved flags and banners marked with the emblem of the QAnon conspiracy theory, while others carried the flag of the German empire before the end of the First World War.
Signs depicting Angela Merkel as a prisoner and branding her "Schuldig", or guilty, were also popular with protesters. Signs of the same design were also mocked up for Olaf Scholz, the vice chancellor, Christian Drosten, a virus expert who has informed the government's pandemic response, Karl Lauterbach, a leading epidemiologist and politician, and even Bill Gates, who has been the subject of conspiracy theories partly on account of his large donations to vaccine research.
Local reports said officials put an end to the protest at around midday as participants were ignoring social distancing regulations despite repeated requests to comply.
Police announced that the demonstration was to be dissolved over loudspeaker after trying "repeatedly in vain" to enforce distancing, Berliner Zeitung reported.
The demonstration had initially been banned by police but was permitted after a court battle came down on the side of organisers. Berlin's mayor Michael Muller defended the ban, citing concerns that protesters did not plan to observe social distancing rules and would undoubtedly spread the virus at a time when cases have already been rising.
"The demonstrators go back, they take the local public transport home, they go to work, they go to their family. And everywhere in these contacts they endanger others again," said Mr Muller.
Coronavirus cases have risen in Germany throughout August, reaching daily infection rates not seen since April and leading the government to halt the lifting of restrictions.
Andreas Geisel, Germany's interior minister, faced calls to resign from the far-right AfD party after he expressed his support for the ban, which the party's Berlin chair said was an attempt to suppress freedom of expression.
After the ban was lifted Mr Geisel said: "The decision of [the court] has not changed anything about the pandemic situation. I therefore expect the people who demonstrate in Berlin to do everything to protect against infection."
Mr Geisel also expressed concern over the involvement of the far-right in the rally: "I am still very concerned about the Europe-wide mobilisation among right-wing extremists, which took place in advance, regardless of the discussion on the ban. I appeal to everyone to gather in Berlin without violence."
Register for free to continue reading
Registration is a free and easy way to support our truly independent journalism
By registering, you will also enjoy limited access to Premium articles, exclusive newsletters, commenting, and virtual events with our leading journalists
Already have an account? sign in
Register for free to continue reading
Registration is a free and easy way to support our truly independent journalism
By registering, you will also enjoy limited access to Premium articles, exclusive newsletters, commenting, and virtual events with our leading journalists
Already have an account? sign in
Join our new commenting forum
Join thought-provoking conversations, follow other Independent readers and see their replies