More than 120 police officers injured as Berlin anti-gentrification protest turns violent
Around 3,500 demonstrators marched through the district to protest for squatters' rights
May Bulman
Monday 11 July 2016 17:52 Comments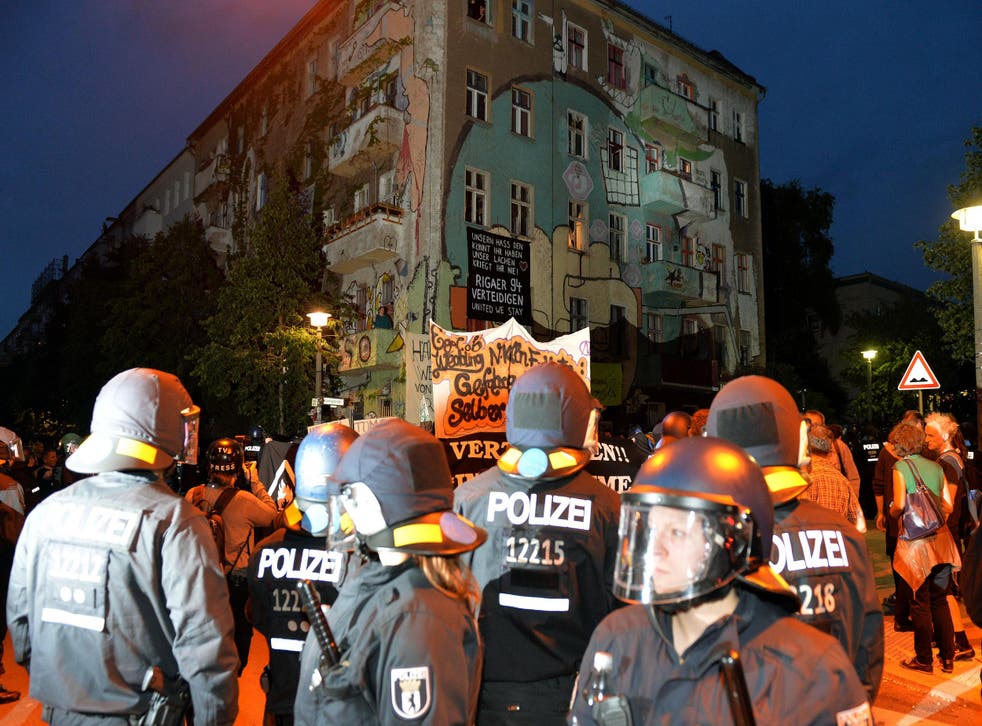 More than 120 police officers have been injured and 86 protesters detained in what local police have described as Berlin's most violent protest in five years.
Rioting broke out in the German capital as protesters demonstrated against the redevelopment of Friedrichshain, an area in the east of the city.
Around 3,500 demonstrators marched through the district in protest against the evitction of squatters.
Police say 1,800 officers were deployed at the anti-gentrification protest, which began peacefully but soon escalated into violence.
Footage of the incident shows protesters throwing glass bottles as they clash with police officers in the street.
Police fired tear gas as shop windows were shattered and several police cars damaged.
At the centre of the demonstration was the eviction of a popular left-wing squat known as 94 Rigaer Strasse last month.
Squatters had refused to leave the block of flats, claiming the evictions were gentrifying the district and driving the rent prices up.
Tensions have risen over the rapid gentrification of the area since moves to evict squatters began in June, and there have already been a number of smaller demonstrations throughout the city.
Berlin officials have condemned riots, with city interior minister Frank Henkel describing them as a "leftist orgy of violence".
Register for free to continue reading
Registration is a free and easy way to support our truly independent journalism
By registering, you will also enjoy limited access to Premium articles, exclusive newsletters, commenting, and virtual events with our leading journalists
Already have an account? sign in
Join our new commenting forum
Join thought-provoking conversations, follow other Independent readers and see their replies