Berlin's yet-to-open airport weighed down by expensive problems
The monthly cost of air-conditioning and lighting the terminal site is £20m
Tony Paterson Comments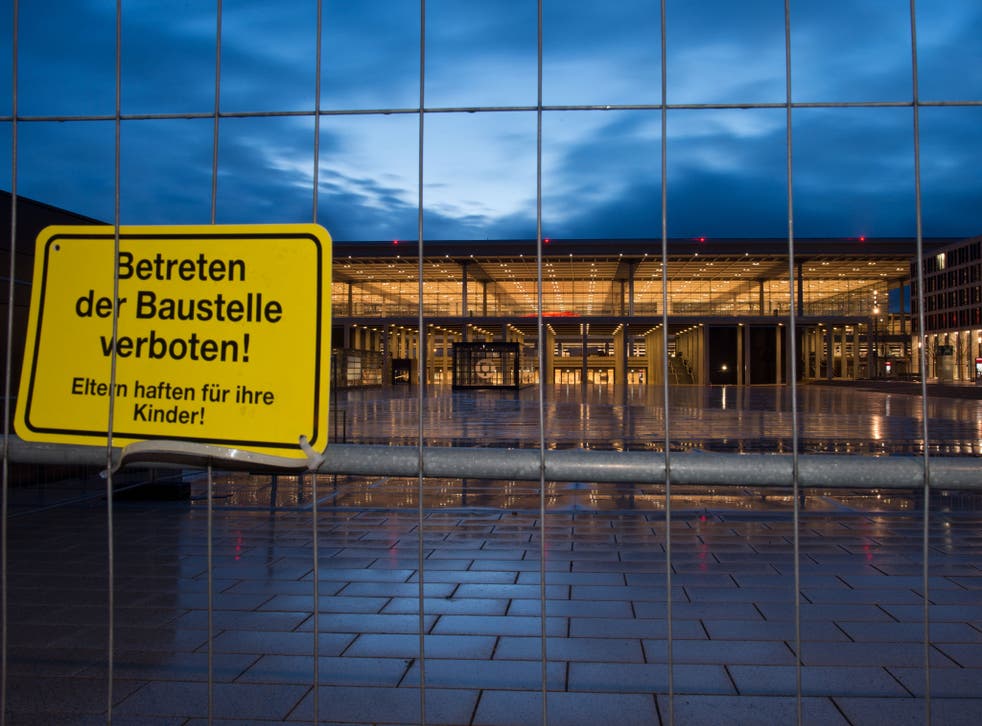 Berlin's new – but as yet unopened – international airport was dubbed Germany's most expensive building site after it emerged that its 24-hour lighting and air-conditioning systems had driven costs to €20m (£17m) a month, without a single aircraft taking off or landing.
The capital's Berlin Brandenburg Willy Brandt Airport has become the laughing stock of the nation. A year ago, its widely advertised opening had to be cancelled at the last minute because the fire-prevention system was deemed totally inadequate. The airport was initially scheduled to open in 2010.
A year on and with the project's board of governors apparently too anxious about delays to name a new opening date, the ghost airport has assumed the role of a seemingly never-ending, yet highly expensive, farce. "It has become the most costly, non-operational construction site in the country," as Der Spiegel magazine has described the airport.
Energy misuse has been singled out as the main expense. The empty main terminal building and the airport runways are illuminated round the clock by scores of powerful arc lights, although there are no aircraft and no passengers.
Last month Horst Amann, the airport's technical director, said it had proved impossible to turn the lights off: "It has to do with the fact that we haven't progressed far enough with our lighting system to be in a position to control it."
Work on completing the main terminal building came to a standstill last year. Since then, inspectors have been struggling to identify a string of construction defects and design errors, including faults in its fire prevention, baggage handling, runway lighting and check-in systems, and simple cracks in floor tiling.
Details of a financial inquiry commissioned by the airport's new director, Hartmut Mehdorn, a former Deutsche Bahn boss, revealed that the non-functioning airport's energy costs were higher than that of Berlin's existing 65-year-old Tegel airport, where over 400 planes take off and land each day.
The inquiry showed that the spiralling costs were incurred by lighting runways and roads and keeping the new airport's air-conditioning system running flat out in the main terminal and other adjacent structures.
No one from the airport was prepared to comment on the findings of the financial inquiry. Klaus Wowereit, Berlin's Social Democrat Mayor, an airport board member and one of the project's most ardent backers, said last week he had "no idea" that the airport would not open on time.
Berlin-Brandenburg International was meant to become the German capital's air hub replacing Tegel and Berlin Schönefeld airports and the now-closed Tempelhof airport.
Register for free to continue reading
Registration is a free and easy way to support our truly independent journalism
By registering, you will also enjoy limited access to Premium articles, exclusive newsletters, commenting, and virtual events with our leading journalists
Already have an account? sign in
Join our new commenting forum
Join thought-provoking conversations, follow other Independent readers and see their replies