Berlin spy scandal: Angela Merkel takes hit as US revelations escalate
Germany shocked and alarmed while Chancellor faces further political embarrassment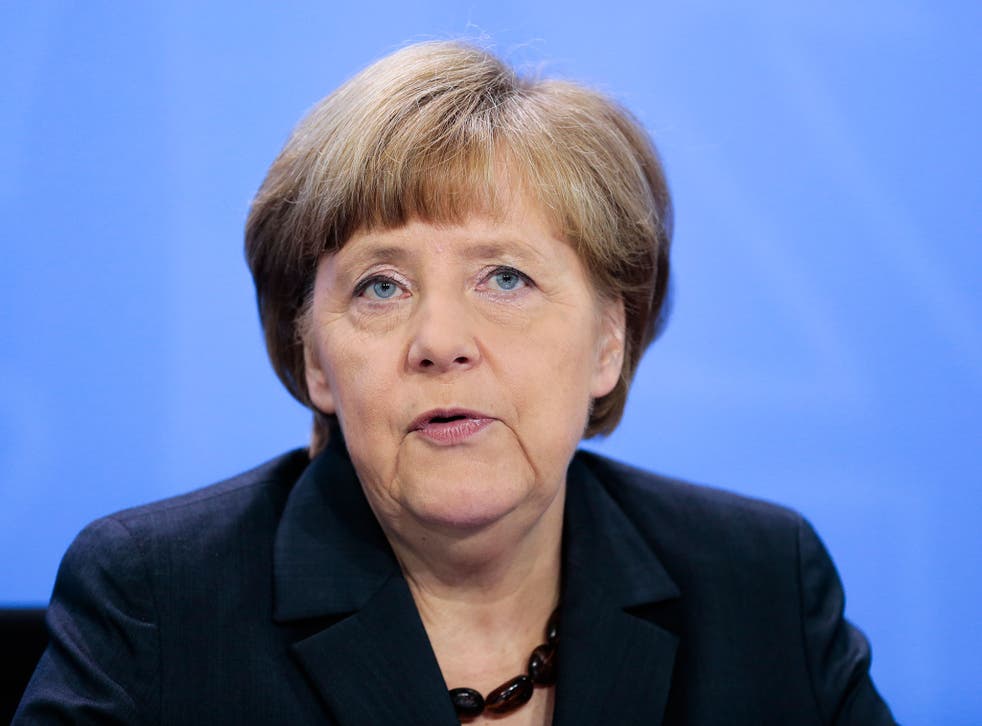 Chancellor Angela Merkel is set to face further political embarrassment over Berlin's spy scandal following new revelations that US intelligence planned to obtain unlimited access to Germany's main internet cable networks in its attempt to achieve saturation surveillance.
The plan, revealed by intelligence sources to Die Welt newspaper on Friday, was put forward in 2008 by America's National Security Agency and was an attempt to "widen" an already allegedly dubious co-operation agreement the agency held with Germany's BND intelligence service. Sources said that although Ms Merkel's office rejected a request to tap the country's main internet cable junction in Frankfurt, her knowledge of the plan showed that she knew that German and US intelligence gathering co-operation had "clearly exceeded what German citizens and companies deemed acceptable".
Ms Merkel is already under fire following disclosures last week that the BND actively co-operated with the NSA to spy on European politicians and companies from their joint "listening post" at the former US military intelligence gathering centre in Bad Aibling in Bavaria.
The disclosures have shocked and alarmed Germany where, for many, spying is synonymous with the activities of Hitler's Gestapo or Communist East Germany's all-pervasive Stasi secret police. Eighteen months ago at the height of the first of Germany's recent US spying scandals, revelations that the NSA had tapped Ms Merkel's mobile phone prompted the German Chancellor to declare publicly: "Spying among friends – this is just not on." A deep rift in US-German relations ensued.
But in the wake of last week's evidence, Ms Merkel's earlier condemnation of NSA phone-tapping has left her looking at best politically naïve and at worst hypocritical. Ms Merkel's deputy, the Social Democrat vice-Chancellor Sigmar Gabriel, has called for a "through investigation". The former communist Left party has accused Ms Merkel's office of allowing Germany to be turned into a "puppet" of US intelligence.
The women who are shaping our world

Show all 27
But apart from announcing her willingness to appear before a parliamentary committee of inquiry to testify, Ms Merkel has refused to say what she knew or did not know. "We are still discussing the matter with the United States," she told reporters.
However, in what appeared to be a tacit admission that rules had been broken, the government agreed last Wednesday to restrict BND co-operation with the NSA. "Merkel wants to show that she is doing something, but the mistakes really lie in the past," said Konstantin von Notz, a Green Party intelligence expert.
Further evidence of alleged illicit spying co-operation between the BND-NSA is due to be supplied by BND staff to a parliamentary committee of inquiry next week.
Experts say that, since the end of the Cold War, the BND has aimed to be regarded as an equal to the so-called "Five Eyes" spying network comprised of US, Britain, Canada, New Zealand and Australia from which it is currently excluded. They say that as a result, the BND may have been over-zealous in its efforts to please it US counterparts.
Join our new commenting forum
Join thought-provoking conversations, follow other Independent readers and see their replies