Berlusconi silences TV critics ahead of elections
Programmes investigating Italy's PM hit after changes to rules for broadcasters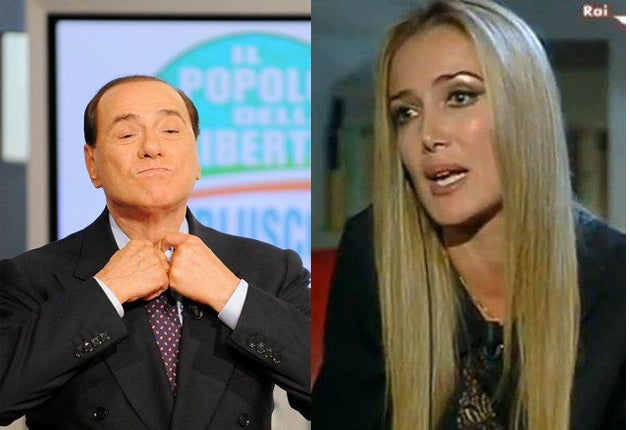 Silvio Berlusconi's supporters in the Italian parliament last night outraged opposition MPs and journalists with a controversial clampdown on political talk shows ahead of next month's regional elections.
The ruling PDL Party's majority on the parliamentary watchdog that oversees public broadcaster RAI forced through rules that mean the state broadcaster's most popular talk shows will have to scrap their political content – or face a transfer from mid-evening to graveyard shifts. Programmes such as Ballarò and Annozero, which have frequently held Mr Berlusconi to account for alleged sex scandals and even Mafia links, will be the main victims of the month-long clamp down that prompted accusations of censorship.
Political content will be allowed – but only if all 30 or so parties standing in the elections are represented on every show, which programme-makers said would make their formats unworkable.
The rules will apply from 28 February until 28 March, when the country's regional elections are held. Government supporters said the rules were needed to ensure political neutrality during the election campaign. Marco Beltrandi of the PDL said: "The rules mean that the analysis programmes can choose. They can give political platforms [to everyone] or be broadcast at different times and in different ways."
The Prime Minister, whose Mediaset empire owns three of the six principal Italian terrestrial TV channels – some of which have been censured for pro-government bias – has often complained that RAI shows attack him unfairly.
But Fabrizio Morri of the opposition Democratic Party said the ruling centre-right coalition had "voted for the suppression of journalistic analysis". "This sort of censorship wouldn't happen in a proper democratic country," he said. "I doubt very much whether the communications watchdog will cancel Matrix or any other of Mediaset's political shows," he added.
"They're threatening the very purpose for which public service broadcasting exists. It's absurd," said Carlo Verna, secretary of the RAI journalists' union, before calling for strike action.
The ill-feeling between state TV and the government has been mounting. Last October, a furious Mr Berlusconi rang the live Ballarò talk show, hosted by Giovanni Floris, and let rip against the programme to boos and cheers from the studio audience.
The Prime Minister began his surprise intervention by hitting out at his perceived nemesis, the left-wing judiciary, before launching into a spectacular rant against the programme and RAI. Earlier that month Mr Berlusconi described RAI's other flagship debate show Annozero as a "criminal use of public television" after it broadcast the first live interview with the call-girl Patrizia D'Addario, in which she dismissed the premier's claims he was unaware she was a call girl when they slept together.
The hostility against Annozero was further exacerbated after it devoted programmes to the claims made by Mafia informers that Mr Berlusconi had had links with the Mob.
But opponents of Mr Berlusconi say his own Mediaset shows are not above targeting people who have made enemies of their media-mogul owner.
Join our commenting forum
Join thought-provoking conversations, follow other Independent readers and see their replies