Bettencourt affair suspect attempts to take his own life ahead of Bordeaux trial
He is one of ten men who are accused of defrauding L'Oréal's chief shareholder, Liliane Bettencourt, 92,  by 'abusing her mental weakness'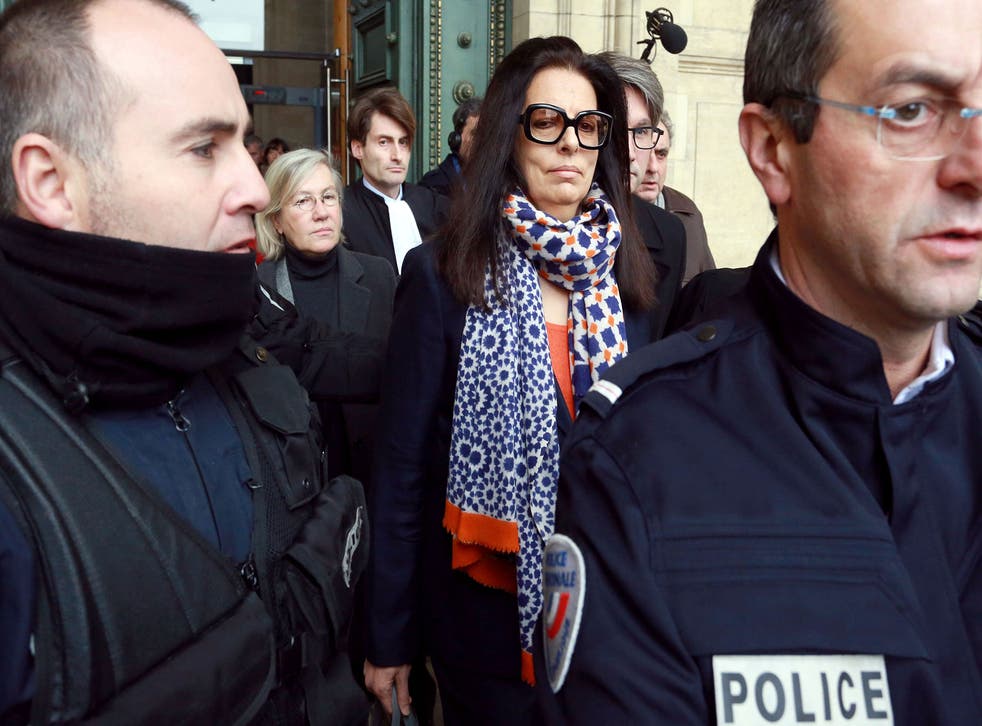 One of ten people accused of fleecing France's wealthiest woman attempted to take his own life before the start of a long awaited trial today.
Alain Thurin, 54, is a relatively minor player in the "Bettencourt affair" – a real life, political and high-society soap opera which has gripped France for the last seven years.
The court in Bordeaux was told that he had tried to hang himself in woodland near his home south of Paris on Sunday.
He is one of ten men who are accused of defrauding L'Oréal's chief shareholder, Liliane Bettencourt, 92, by "abusing her mental weakness".
The others include Eric Woerth, Ex-President Nicolas Sarkozy's campaign treasurer in 2007 and former budget minister.
The hearing, expected to take a month, began with lengthy procedural wrangles. Defence lawyers hope to derail or at least delay the trial.
The world's top 20 wealthiest people

Show all 20
Mr Thurin, Ms Bettencourt's former nurse, is accused of persuading her to give him a 10 million Euro savings account when he knew that her mental faculties were weak. He denies the charge and insists that the billionairess created the account without his knowledge.
Mr Sarkozy's former campaign treasurer, Mr Woerth, is accused of receiving large campaign donations in cash from Ms Bettencourt's financial adviser, Patrice de Maistre – who is also on trial. Both deny all wrong-doing.
Mr Sarkozy was, for a time, also formally accused of "abusing" Ms Bettencourt's weakness of mind by allegedly pestering her for illegal campaign contributions in 2007. The accusations against him were dropped for lack of evidence.
The principal defendant is François-Marie Banier, 67, a gay socialite and photographer, who was a close friend of the billionairess and her husband for many years. The affair began in late 2007 when Mr Banier was accused by Ms Bettencourt's daughter of taking over Euros1bn – that is one billion - from her mother.
Mr Banier is accused of defrauding the elderly woman of 400 million Euros in cash and art works. In settlement of a separate civil claim, he has already returned art works and other "gifts". His lawyers will argue that she gave him the still disputed money willingly, long before there were any doubts about her mental condition.
Mr Banier will present character testimonials in writing from a series of high-profile friends, including the actress Vanessa Paradis and the fashion mogul, Pierre Bergé.
Defence laywers are expected to try to turn the case into a de facto trial of Ms Bettencourt's daughter, Françoise Bettencourt-Meyers. They will claim that the whole affair is a mother-daughter feud which span out of control.
In particular, they will challenge the admissibility of "bugging" evidence against several of the accused, including ex-President Sarkozy's ally Mr Woerth.
This evidence came from a listening device installed in a sitting room at Ms Bettencourt's mansion near Paris by her butler - allegedly at her daughter's instigation.
Defence lawyers will also object to the absence on medical grounds of one of the chief prosecution witnesses, Ms Bettencourt's former accountant, Claire Thibout.
It was Ms Thibout who turned the affair into a political scandal in 2010 by alleging, amongst other things, that Mr Woerth and Mr Sarkozy himself, had received envelopes stuffed with Bettencourt family cash.
Ms Thibout is now under formal legal investigation herself for alleged perjury. This separate inquiry by an investigating magistrate is also looking into allegations that Ms Thibout received payments from Ms Bettencourt's daughter, Ms Bettencourt Meyers.
Defence lawyers will argue this morning that the trial cannot proceed without Ms Thibout, who sent a medical certificate last week to justify her absence. They will also argue that the separate investigation of Ms Thibout should be completed before the trial goes ahead.
Finally, defence lawyers will challenge the accuracy of a psychiatric report which concluded that Ms Bettencourt was suffering from a form of Alzheimer's disease and was not responsible for her actions. The lawyer will protest that the expert who examined Ms Bettencourt was a allegedly a friend of the investigating judge.
Mr Banier's lawyers will argue that, in any case, he was first promised the Euros 400m, in the form of savings policies, in the period 1998-2002.
At this stage in her life, they will argue, no one suggests that Ms Bettencourt was anything other than an eccentric, extremely rich woman who wanted to be kind to a close friend.
The trial is taking place in Bordeaux rather than in Paris because evidence emerged in the period 2008-11 suggesting that the Sarkozy administration had tried to influence the original investigation. The whole affair was put in the hands of an investigating magistrate 330 miles away.
A second investigation of Mr Woerth and other people for alleged illegal campaign financing has yet to come to trial.
Register for free to continue reading
Registration is a free and easy way to support our truly independent journalism
By registering, you will also enjoy limited access to Premium articles, exclusive newsletters, commenting, and virtual events with our leading journalists
Already have an account? sign in